Youthful, trendy, fast-growing and under-supplied, the German capital is the top real estate market to watch this year. Berlin scored highest on all of our survey categories: investment, development, and prospects for rental and capital growth.
As we're preparing the launch of our annual study Emerging Trends in Real Estate, we've decided to reveal the top cities to watch in the real estate sector for 2017.
In a post-Brexit Europe, Germany takes the lion's share
Berlin, Hamburg and Frankfurt occupy the top three places in our league table, with Munich ranked fifth. For most investors, Germany is about to replace the UK as Europe's number 1 safe haven.
Berlin takes the gold for the second year in a row. Business and population growth go hand in hand, so both offices and housing are hot markets. Prices are steep, but plenty of buyers are ready to pay well for property in a rising market when growth is low elsewhere.
Although on the third position, Frankfurt is this year's star, after going up 17 positions from last year. Investors in the city have good reason to be optimistic. Frankfurt has gained a twofold benefit from the Brexit vote in the UK: not only is it perceived as a stable market in unsettled times, but a number of interviewees believe it could also provide an office destination for bankers relocating from London.
Top European cities in terms of real estate prospects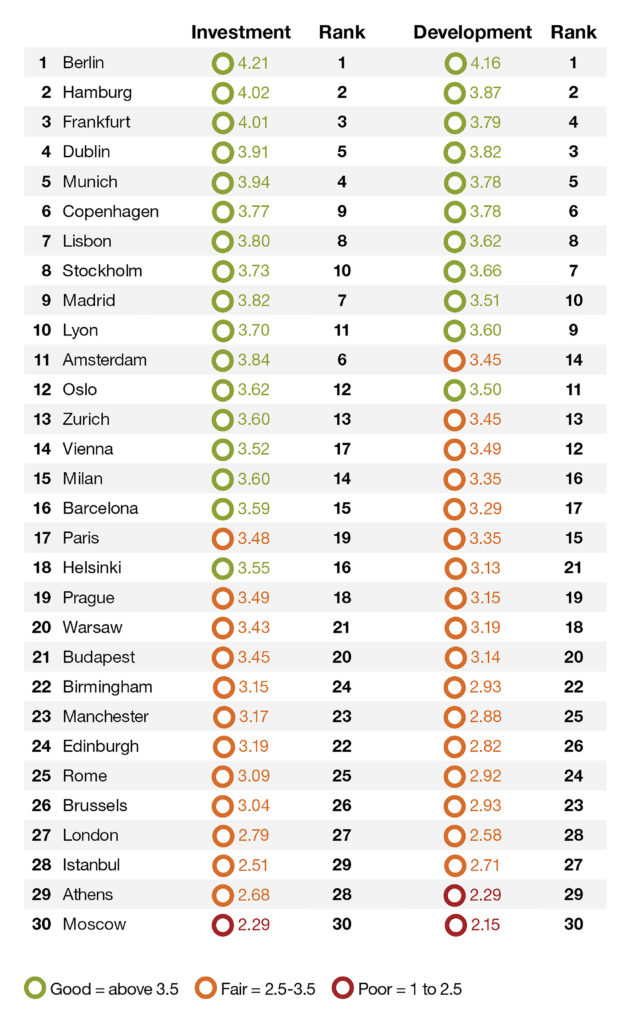 Stay tuned for more interesting findings and trends coming next week on THE BLOG!