No sector or business is in any way immune from the impact of Artificial Intelligence. Global GDP will actually be 14% higher in 2030 as a result of it. This makes it the biggest commercial opportunity in today's fast changing economy. We examined the real value of AI for your business and how you can make the most of it.
Artificial Intelligence in a few words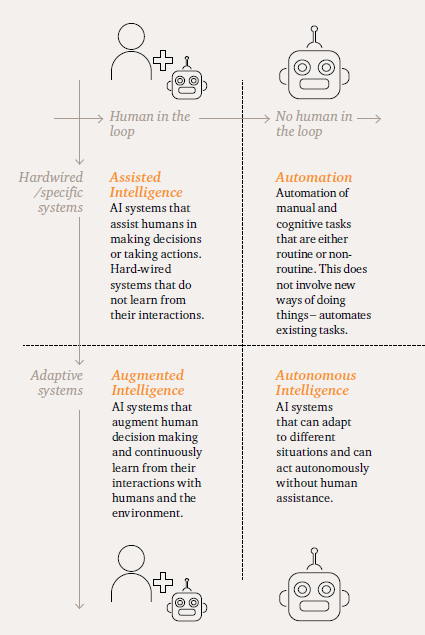 Broadly speaking, Artificial Intelligence (AI) is a collective term for computer systems that can sense their environment, think, learn, and take action in response to what they're sensing and their objectives. Forms of AI in use today include digital assistants and chatbots. AI works in four ways:
Automated intelligence: Automation of manual/cognitive and routine/non-routine tasks.
Assisted intelligence: Helping people to perform tasks faster and better.
Augmented intelligence: Helping people to make better decisions.
Autonomous intelligence: Automating decision making processes without human intervention.
As humans and machines collaborate more closely, and AI innovations come out of the research lab, the transformational possibilities are staggering.
Artificial Intelligence will transform our lives
Artificial Intelligence will contribute USD 15.7 trillion to the global economy in 2030. This is more than the current output of China and India combined. In addition, labour productivity improvements will account for over half of all economic gains from AI over the period 2016-2030. Increased consumer demand resulting from AI-enabled product enhancements will account for the rest.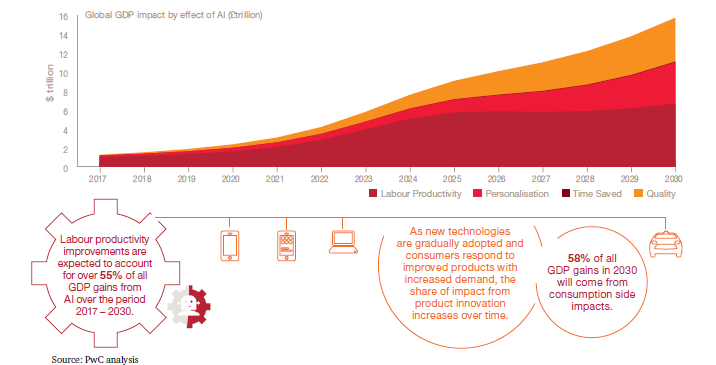 Globally, the greatest economic gains from AI will be in China (26% boost to GDP in 2030) and North America (14.5% boost). This is the equivalent of USD 10.7 trillion and accounting for almost 70% of the global economic impact.
Overall, the biggest sector gains will be in retail, financial services, and healthcare, as AI increases productivity, product value and consumption.Other areas where AI will make a difference are image-based diagnostics, on demand production and autonomous traffic control.
The impact on productivity alone could transform and even disrupt the competition. Therefore, businesses that fail to apply AI could quickly find themselves being undercut on turnaround times, as well as costs and experience.
Still some hurdles to overcome
Businesses still have to figure out how to secure the right talent, technology and access to data to make the most of this opportunity.
In addition, effective controls need to be built into the design and implementation phase to ensure AI's positive potential is secured. This could also address stakeholder concerns about it operating beyond the boundaries of reasonable control.
Discover what the potential of AI is for your sector in our report: Sizing the prize.