Technology transforms the world and the financial sector. Digitalisation takes competition and innovation capacities to new levels. For those of you still hesitating on embracing the digital wave, here are five reasons to make the leap:
1. FinTech is not just a buzzword; it's a winning strategy
Over 80% of financial institutions feel threatened by innovators. A similar percentage is ready to team-up with a FinTech company in the following years to enhance its service offer and build more sustainable relationships with its customers. One of our recent reports, Redrawing the lines: FinTech's growing influence on Financial Services, shows how heavily this new trend disrupts the financial sector. Many of the participants in the survey have identified boosting internal innovation as a solution, but for smaller players cost implications are high. The alternative could be creating partnerships with FinTech firms, which would mean direct access to tested solutions and quick reactions to market changes. How will these digitalisation efforts pay off? The survey shows an expected return on investment (ROI) of 20%.
Luxembourg respondents are more optimistic when it comes to expectations around FinTech creating additional revenues. Our 2016 survey, Blurred lines: How FinTech is shaping Financial services in Luxembourg shows that financial services providers are sitting on a goldmine of untapped data. They believe powerful, low-cost analytical tools and computer technology introduced by FinTech will enable them to mine Big Data and identify emerging trends. Participants also think that digitalisation will prove helpful in differentiating from competitors and improving customer retention.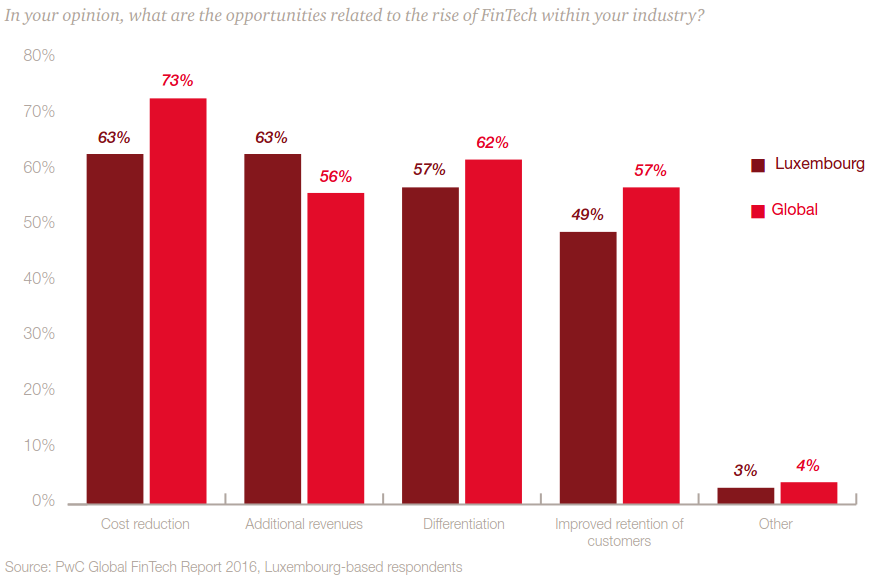 2. Investors bet on digitalisation
95% of the 550 investors we surveyed in our 2017 Global Investor Survey believe technology could change everything in the near future. They're more likely to put their money in companies proving adaptability, creativity, innovation and problem-solving capabilities than otherwise. Investors pay attention particularly to automation, artificial intelligence and cybersecurity solutions, as they think they will have the biggest influence on the workforce and the security of their investments. Investors also believe understanding digitisation could be a competitive advantage since it adds efficiency and saves costs in the long term. They'd like to see more companies anticipating the impact of new technologies and automation and building up collaboration platforms between human employees and machines.
3. Your peers are already one step ahead
Business leaders worry about uncertainty coming from geopolitical trends, like terrorist threats, the rise of populism and surges in nationalistic views. When it comes to technology, they see it as an enabler. Our annual CEO Survey shows that globally CEOs are confident about technology enhancing human skills (e.g. access to continuous education), transparency, connectivity and competitiveness. They think that, if managed properly, digitalisation and the use of Internet can build trust in communities and society. Companies like AirBnB, BlaBlaCar and Uber are successful thanks to the trust built between costumers and service providers. So, financial services institutions are increasingly looking at ways to make the most of these new models.
In Luxembourg, financial-sector companies are preparing to embrace the digitalisation of their business models. 56% of CEOs in Luxembourg are planning to use technology to better interpret their customers' complex and evolving needs. As a result, they're on the lookout for developments in Artificial Intelligence, Big Data, Robotisation and Automation. Check the Luxembourg edition of our survey for more details.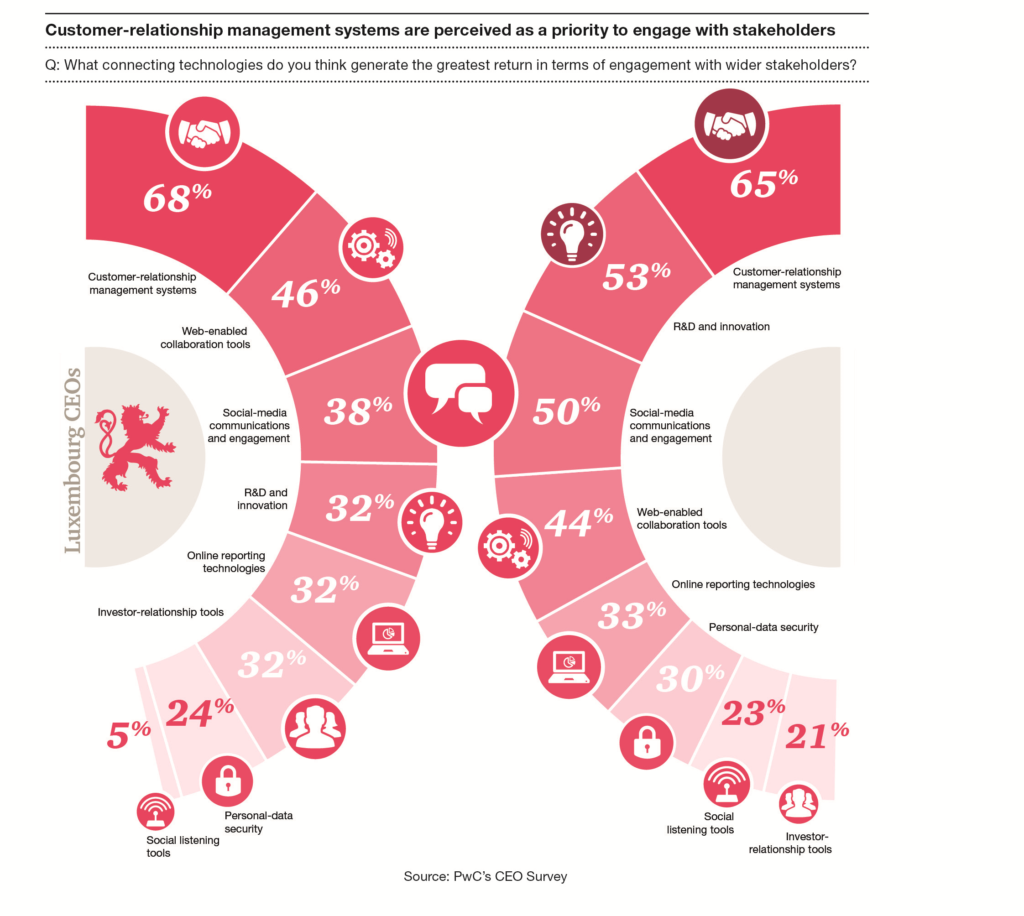 4. Your new customers demand more interaction and fewer intermediaries
How people consume and what they demand from their providers have dramatically changed in the past five years. The key word for businesses is, according to a research conducted by Strategy&, customer-centricity. Engaging with the customer and managing the relationship pro-actively have become key behaviours for a business looking to increase its revenues. Here's where digitalisation plays its part, with sophisticated customer interfaces, combining automated tools with human interaction, taking discussions to social media and within communities of interest.
To enhance relationships with their customers, Luxembourg business leaders bet on customer-relationship management systems and web-enabled collaboration tools. They're, however, less likely to use social media tools and strategies than their global peers.
5. Your workforce is changing and so are its expectations
Over half of the people we've interviewed in the survey The Future of Work believe technology will change how they perform their jobs in the next 5-10 years. They also foresee a shift in behaviours, anticipating that people will stop preparing for one job and a single career in their lifetime. 64% believe their job prospects will improve with the emergence of new technologies.
Technology and digitalisation increase transparency and facilitate access to new information and education tools: people become aware. This could explain another trend in terms of labour force: 65% of people around the world want to work for a socially responsible organisation and expected a better work-life balance. HR web-based tools, as well as IoT systems to monitor your building performance (energy consumption, air quality, water management, etc.), are just two examples of how technology can help you prepare for the expectations of your future employees and improve their experience.
Have we convinced you that digitalisation is worth your attention and resources? Feel free to share your thoughts with us. Leave a comment!