With more than 75% of UCITS funds distributed all over the world, Luxembourg is a global leader for cross-border distribution of investment funds. At this magnitude, new players have emerged: Management Companies. These companies can market funds using the passport throughout the European Union. Luxembourg hosts nearly 300 of them. All eyes on Management Companies.
What does a Management Company do?
A management company, a.k.a. ManCo, is a company that performs collective portfolio management services (e.g. portfolio management, administration and marketing) of UCITS and/or alternative investment funds. ManCos offer their services to people or entities other than investment funds under a mandate by the investors. As such, they can also act as wealth managers.
The financial sector supervisory authority in Luxembourg, a.k.a. the CSSF, has to approve any ManCo with a statutory head office in the country. The CSSF will require, among other things, that the ManCo has sufficient financial means to carry out its duties effectively. Company managers also have to justify that they're fit for the purpose to conduct their functions.
In Luxembourg, the majority of ManCos provide risk management and compliance services. They also do the oversight of the delegates. Central administration (e.g. transfer agent and fund accounting) and reporting are yet delegated to the group or to third parties.
Luxembourg – a hub for Management Companies
Luxembourg hosts nearly 300 ManCos with a UCITS or AIFM licence, or both. Last year, 20 new ManCos were created. In 2016, they confirmed their rise with a growth of 7%, according to our 2017 ManCo Index.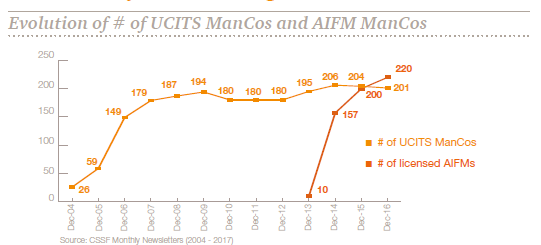 At the end of 2016, UCITS ManCos employed over 4,000 people and managed around EUR 2,949 billion of assets.
The number of ManCos with an AIFM licence has, for the first time ever, outpaced the number of UCITS licences. This confirms the success of the AIFM Directive transposition into Luxembourg law in July 2013. Case in point: 220 ManCos have an AIFM licence against 201 UCITS. There are, however, interactions between the two licences. Concretely, 85% of the top 20 UCITS ManCos have an AIFM licence, while 90% of the top 10 AIFM ManCos have a UCITS licence. Over a third of the 300 ManCos have both licences and 43 of them have an extended licence for MiFID activities.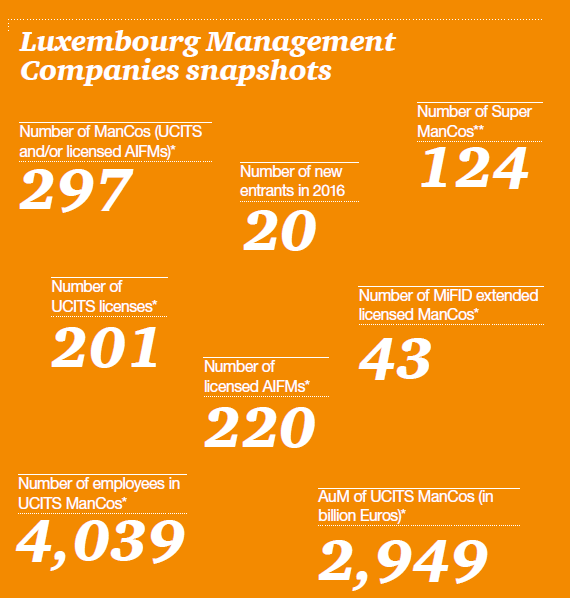 Over half of the AIFM ManCos are from Germany (26%), Switzerland (18%) and the United States (14%). The UCITS structures mainly come from Switzerland (20%), the United States (18%) and the United Kingdom (16%).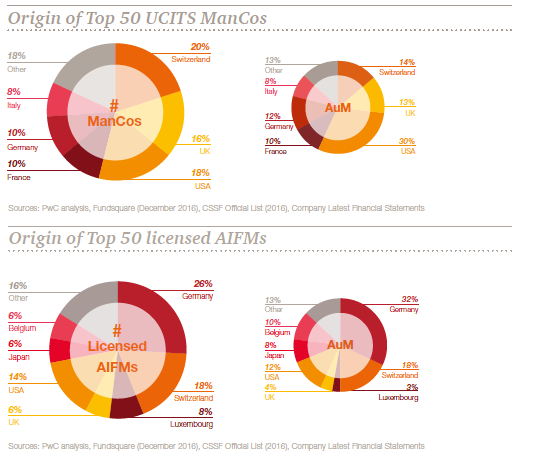 Discover our series of podcasts dedicated to ManCos in Luxembourg.
[*] As of 31 December 2016 [**]Management Companies with both UCITS and AIFM licences