Luxembourg has been ranked in the top 10 of the most attractive city in Europe for real estate investment, according to the 2018 Emerging Trends in Real Estate report. While the country's outstanding economic growth and political stability are undeniable arguments, Brexit has boosted Luxembourg real estate prospects. Though it's too early to say, the recent political crisis that has emerged in Germany will certainly have an effect on where UK-based Fintech and asset managers could relocate.
Brexit to underpin Luxembourg real estate prospects
As the exit of Britain from the EU is underway, UK-based businesses are examining their chances of surviving with a limited access to the European markets. Luxembourg – being the biggest fund centre in Europe – could be an alternative to London. We collected feedback from financial sector players, and this what they had to say:

We spoke with Nicolas Mackel, CEO of Luxembourg for Finance, who confirmed that some companies already revealed their objective to come to Luxembourg:
Nicolas Mackel, CEO of Luxembourg for Finance

A large number of financial institutions have confirmed their decisions to set up subsidiaries or divisions in Luxembourg or have confirmed that they will expand their existing activities in response to Brexit, including insurers AIG, CNA Hardy, FM Global, Hiscox, Liberty Mutual, RSA, Tokyo Marine, the asset manager M&G, Blackstone, Carlyle, Henderson Global, MJ Hudson as well as US banks such as Citibank, JP Morgan and Northern Trust. It is also worth pointing out that in many cases there will be no big announcements. In the fund industry, for example, nearly all asset managers are already present in Luxembourg. They will simply strengthen their existing presence.
German political crisis could reshuffle cards
Once more, Europe's future is up in the air. Brexiters who claimed that the European project is doomed continue to look wildly overstated. Whatever the outcome of the German political turmoil, the country faces long weeks of paralysis, with its government unlikely to make major policy decisions at home or on the European stage – including on Brexit. This political crisis happens right at a time when UK-based companies are looking to relocate in the EU. Would Berlin and Frankfurt still be on their radar? While the City will likely remain the ultimate European trading hub of most UK-based banks, Fintech and asset managers might look at other locations.
Overheating looming over Luxembourg real estate?
Luxembourg's robust economic health is a reassuring factor, with a GDP growth forecast of nearly 3.5% for 2017 – one of the highest in Europe[1]. The country's also very well positioned in many rankings: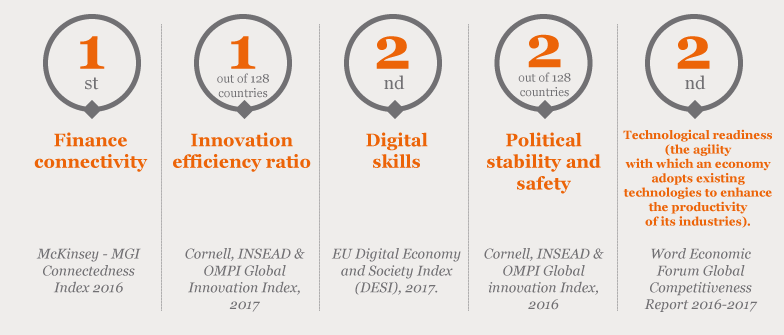 Yet, the country has to face a series of hurdles. First and foremost, the country is expensive to live in, especially when it comes to real estate. Case in point: the latest BIL IMMOindex, developed by BIL in partnership with PwC Luxembourg, warns the risk of overheating of the market.
As Marcel Leyers, BIL Chief of Corporate and Institutional Banking, explained: The ECB is cautious about a possible rate hike, so a rebalancing of the market could come from an increase to the housing supply rather than a drop in demand.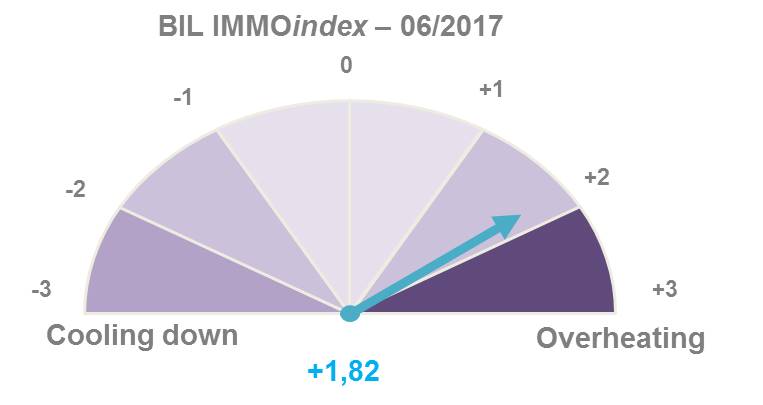 As for the office market, Luxembourg is also hard to place capital into for real estate investors. Yields are low for a small market. But, "they are supported by the trend of the economy and the tight market", says a fund manager. Yields could compress further. The best buildings in prime districts like Kirchberg or Cloche d'Or are priced at 4.35 percent and in secondary locations in the suburbs, 5-6.75 percent. Rents are €50 per m² per month for the very best new buildings, compared with €25-€27 per m² further out.
Another drawback concerns the lack of infrastructure. This being said the government has made, and will continue to make significant efforts. By way of example, the Tram in Luxembourg city and surroundings, to be soon on track, and the opening of international schools all around the country.
What we think
Julien Ghata, partner

Whereas Germany ranked four cities in the top 6 of the latest ETRE Report, the political crisis hitting the country might reshuffle the cards. In light of this environment, Luxembourg can boast itself with its historical political stability. Yet, the population and employment growth already creates a lot of challenges for the local real estate and infrastructure. And more are to come with the potential relocation of UK-based companies. Luxembourg ticks all the boxes to welcome Fintech and asset managers crossing the Channel. But when it comes to make final decision for relocation, human aspects become critical. And, the country has to further improve its offering to win the race.
Discover the 2018 European Emerging trends in Real Estate here
[1] EU Commission, Autumn 2017 Economic Forecast