Do we have the business leaders to guide us through these challenging times? If your answer is yes, we congratulate you on your optimism and your ability to see the world with a "glass is half full" mindset.
However, there are plenty "glass is half empty-ers" out there who have a growing lack of trust in governments, businesses and media in general. That makes "no" a reasonable answer as well. 
In this second case, the pertinent question would be: "Is this "no" merely based on the growing mistrust, or is it because the ability to nurture and identify leaders suddenly disappeared?" Another explanation could be that more than ever before people demand more from leaders, or simply that the views on what makes a leader have changed.
Blair Sheppard, Global Leader for Strategy & Leadership at PwC wisely said in this article,
The greatest challenge leaders face is managing a successful organisation today and simultaneously adapting that organisation for the future.
The world is changing at a faster and faster pace. Time isn't running faster, no señor, but our ability to shape the reality of the world is. Most businesses, then, struggle to keep up with technological developments and the growing demand for transparency and sustainable solutions while at the same time they have to provide faster, wider and more personal services and products. Sometimes it seems that by the time a company develops a business or service for the market, it is already obsolete! 
Leaders have to have the ability to adapt to a future that is now more uncertain than ever before. Because, let's face it, some of us believe the really good leaders have superpowers,  handily mapping and going down the road to success in the direction of an unclear future.
Unless you believe in sorcery, the future has been, and will continue to be, a blank page,  and that's a good thing after all. You can't face uncertainty and wish for success standing on your own. A business has better chances of succeeding if both leaders and employees work as one, when they share a common purpose and are driven by similar objectives. 
Establishing guidelines throughout all business operations — Sales, Human Resources, Logistics, Marketing — could be the start. Sure, under the current circumstances, we can merely prepare for the "big thing" that comes next, but businesses can start by taking into consideration issues and concerns at local, national and global levels, and include them in their business decision-making. 
According to this article, the current challenges businesses face can be identified under the acronym ADAPT.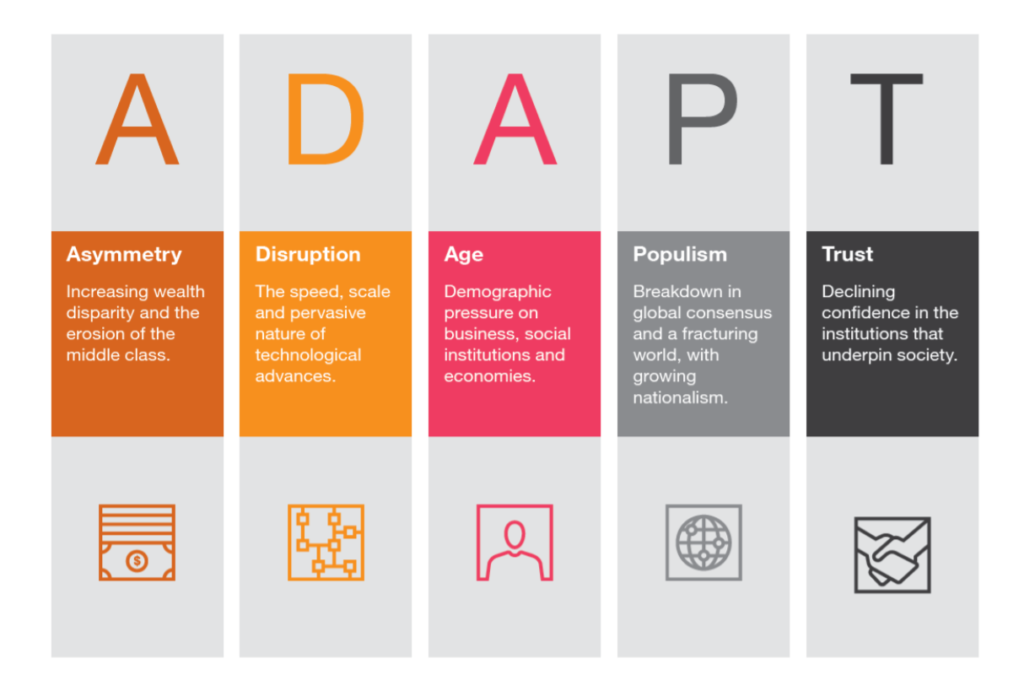 In the past, societies have sometimes tried to cultivate leaders' capabilities to deal with these issues, but in the modern day the challenge is much greater. The ADAPT issues are more extreme and more importantly the speed at which they are evolving is unprecedented. Nowadays, leaders are required to balance stylistic preferences that can seem at odds with each other. We call them paradoxes.
To be on the same page as leaders, employees need to be aware of the six "leadership paradoxes", understand them and take them into account when making the business decisions that correspond to their levels. These paradoxes will remain important in the future of businesses in general. 
In this article, we take a trip into these six paradoxes with a clear, easy-to-read infographic. It describes the current scenarios, the challenges they bring and the key to comfortably navigate through each paradox successfully. 
The six leadership paradoxes