New communication technologies, new sources of energy and new modes of transport – here are the drivers of the third industrial revolution, as seen by Jeremy Rifkin. With this revolution, we're entering a new age – the age of a circular economy, fuelled by smart technologies in a prosumer-focused social model. What might sound like Thomas More's Utopia today will gradually turn into reality in the following years and Luxembourg seems ready to ride the wave of transformation.
We've analysed the Rifkin report, released on 14 November, to see how Luxembourg will roll out the strategic actions proposed by the research team, what opportunities and threats lie ahead for business and what would be a realistic timeline for its implementation.
Spotlight on digital communication, renewable energy and automated transports
By 2030, there will be over 100 trillion sensors connecting people to the natural environment. Everyday objects have network connectivity, allowing them to send and receive data in what is called the "Internet of Things". Powered by data and algorithms, the internet of communication, renewable energy and transport will spread through every commercial sector, creating new economic opportunities and a favourable environment for a more sustainable, low-carbon society.
Giving access to the internet of renewable energy to Luxembourg businesses will provide them with many opportunities. They can become electricity prosumers in the future European liberalised energy market while lowering their marginal costs and reducing their ecological footprint.
The mix between digital communication and the internet of energy makes possible the deployment of an automated transport and logistics system. Cars, buses and trucks will be able to power up on the go thanks to charging stations installed across land masses or new electricity storage facilities. In addition, through sensors embedded in devices across road networks, as well as vehicles, users will have real-time and continuous access to logistical data that affect their value chain. Not to mention how easy will be to manage traffic flows, identify the best itineraries for automated vehicles, update delivery schedules and optimise delivery and storage arrangements.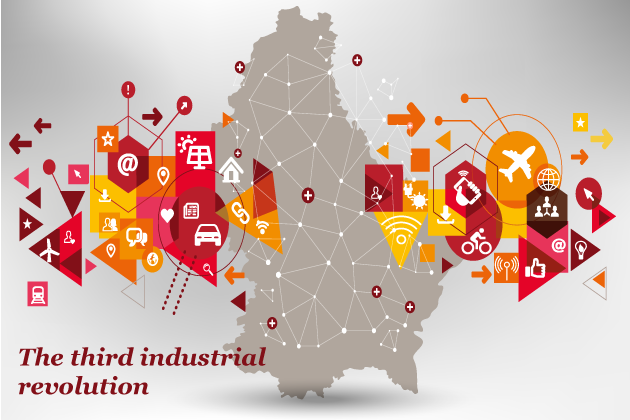 What impact on Luxembourg businesses?
Through its Smart Europe plan, the European Union has a heads-up compared to the other regional organisations, as it has already embarked on a bold journey towards an intelligent, green, digital economy. The third industrial revolution will be, in fact, a step-by-step evolution for countries responsive to change, such as Luxembourg.
Here are four opportunities and challenges to keep in mind:
Opportunities:
Big Data and analytics give Luxembourg companies a good chance to increase competitiveness while reducing marginal costs and their ecological footprint.
Businesses could strengthen their innovation capacity through public-private partnerships and co-located technology platforms hosting industry and research communities.
Increased connectivity brings benefits to employers and employees, such as remote working, flexible working hours and virtual teams.
As more people connect to the Internet of Things to produce and exchange goods/services among them, a sharing economy will take shape.
Challenges:
Internet of Things services require clear and strict privacy, data protection and information security standards.
Businesses will need to adapt their business model to the new interconnected landscape.
Companies have to strike the balance between sustainable growth and business KPIs.
The build-up of an intelligent infrastructure needs a skilled workforce, not only in commerce, construction and manufacturing, but also in R&D to develop adequate technology and materials.
What timeline from planning to action?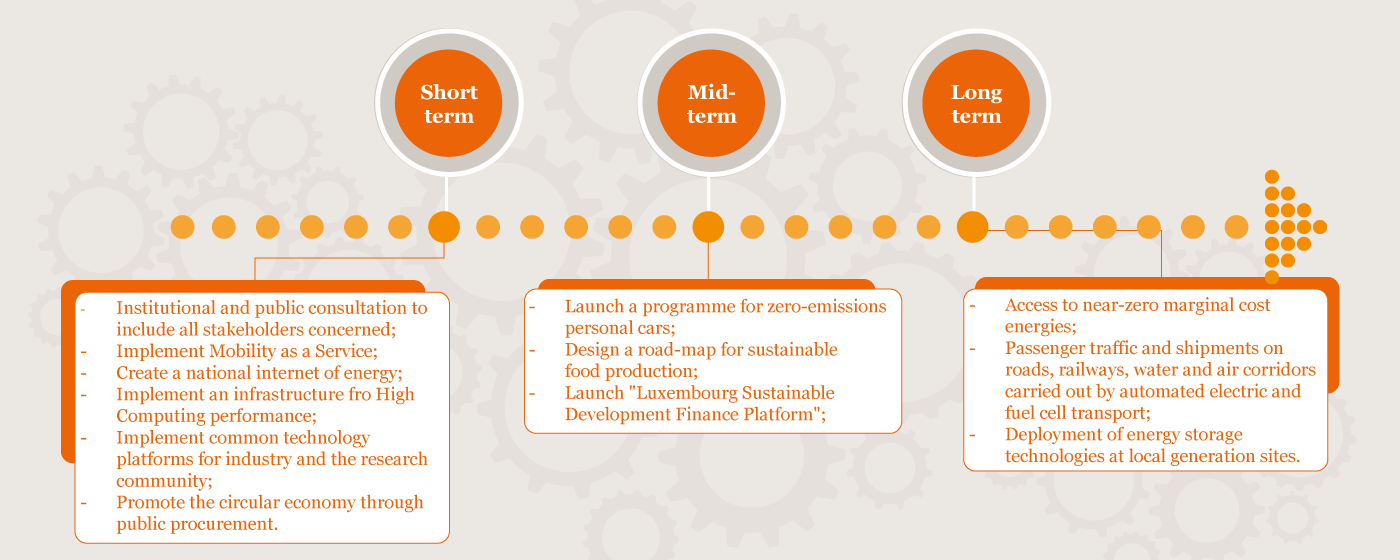 Check out Jacques Vandivinit's podcast (LU):
What we think
The Holy Grail of business is near zero marginal cost. Companies have long raced to obtain the best technologies that increase their productivity, reduce marginal costs and increase their competitivity. They've never imagined, however, that the digital revolution will prompt them to reshuffle their business model in a context where information, energy and many goods and services are virtually free and abundant. Through this industry revolution, people who used to be consumers enter the world of production and sharing. With this, a new hybrid category of customers is emerging: prosumers. They produce news on social media, exchange knowledge on Wikipedia and share cars on BlaBlaCar or apartments on AirBnB. They even install solar panels and then pump the surplus electricity into the grid.