There is something surprising about the 2019 edition of the Insurance Banana Skins Report published some weeks ago.
One would expect top risks impacting the insurance sector to be aligned in most countries. After all, the economy is less and less a local fief and it has grown used to the butterfly effect. Digital—and that means everything from artificial intelligence to drones to social media— knows few frontiers, and global warming and climate change have reached every corner of the Earth to touch every aspect of our planet.
However, what Luxembourg insurers consider as top risks differs considerably from what their fellow market players in other countries see as the bigger concerns for the industry. What's triggering these divergent points of view?
We've prepared this blog article aimed at finding the answers.
What's the Banana Skins survey?
This annual publication, conducted by CSFI and PwC, aims at understanding what insurance stakeholders see as the biggest industry threats, flagging danger areas in order of significance, and provoking a debate about key financial issues. The 2019 survey, interviewed 927 practitioners, regulators and observers of the insurance industry across 53 territories, including Luxembourg, with a record number of participants this year, 27. The Insurance Banana Skins is usually proven to be a valuable tool to capture anticipatively the relevant industry risks.
The Top 3 Banana Skins for Luxembourg insurers
Luxembourg insurers listed investment performance, guaranteed products and regulation as their top three banana skins. For the rest of the world's insurers technology, cyber risk and change management are the top three concerns.
See the table below. We made a comparison between the global 2019 ranked Insurance Banana Skins (risks) and the Luxembourg 2019 ranked Insurance Banana Skins (risks).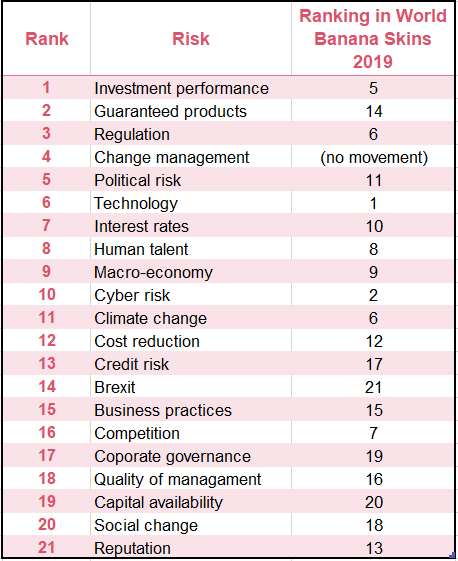 In search of an explanation for this divergence, we reached out to Matt Moran—PwC Luxembourg Insurance Industry Leader, Carlos Montalvo Rebuelta—EMEA Insurance Regulatory Leader who who was formerly Executive Director of EIOPA (The European Insurance and Occupational Pensions Authority) and Anthony Dault— PwC Luxembourg Insurance partner. These three experts in the insurance industry work closely together to advise local and global insurance clients and they use the Banana Skins report as a tool that offers them insight. Let's discover their opinions.
The short-term thinking business model
To Matt, the specifics of the local insurance market make the contrasting views of Luxembourg and global insurers, somehow, justifiable.
This is because, first of all, wealth-insurer activity is preponderant in Luxembourg. Secondly, Luxembourg insurers find themselves under pressure when they have to provide guaranteed solutions in a low- interest rate environment while constantly searching for better performing investments.
Carlos Montalvo's point of view is supportive of Matt's opinion. To him, investment performance, guaranteed products and regulation are closely interlinked because they represent risks vis-a-vis the Luxembourg insurers' business model, driven by shorter-term thinking. It's "How can the industry generate revenue today?", rather than, "How can the industry generate revenue tomorrow?" reflects Carlos.
Carlos also explains that making money is harder nowadays, so logically there's a need for taking more risks to be active and profitable with the products Luxembourg insurers are selling.
Mind the delay, but digital is coming to Luxembourg insurers
There is a second underlying reason that might be triggering the divergence. Matt argues that other territories needed to embark on more radical transformations earlier in the cycle.
The need for change, where digital plays a major role, hasn't fully touched the Luxembourg market, at least not quite yet. Veritably, technology appeared for the first time in 2017 and moved from number three to the top spot in the global survey. However, while just number six in Luxembourg, down one position with respect to the 2017 survey, this concern will continue to rise locally, foresees Matt.
Improving client experience, reducing the "cost-to-serve" and embracing digital transformation in the broadest sense, will push insurers to invest more in technology.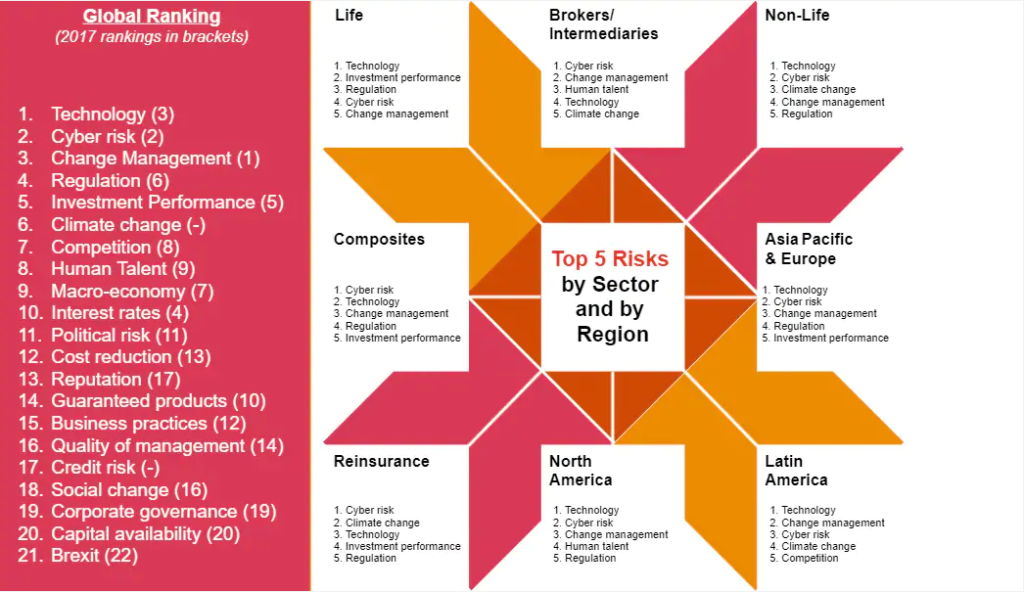 I remain and then I protect
"Who's going to attack me if my business is gone?"
Ranked only 10th in Luxembourg but second globally, cyber risks don't seem to keep local insurers up at night as much. Anthony has a thought-provoking approach to this situation. He raises the possibility that any concern over cybersecurity is debatable if insurers think they may be going out of business anyway as they cannot deliver. It's like thinking, "What shall I protect if my business is gone?"
Another surprising result is where Luxembourg insurers rank human talent.
Skills shortage and lack of talent readiness mainly linked to quick technological advancements are a worldwide recognised challenge. (Don't believe us? We googled "skills shortage" and from that alone the search results registered 18 million items on the internet). It's also a major topic in Luxembourg, regardless of the industry.
This divergence could mean that Luxembourg insurers are overlooking this risk, or that they are comfortable with their plan to address them. It also raises the question however, are they being over confident?
The truth is, there is a growing difficulty to attract people, partly because insurance is perceived as a conservative and old fashioned industry. This is a risk in an age characterised by human capital wars and rapidly-changing career landscapes that require rapidly-changing skill sets.
Regulation is a big concern
Luxembourg insurers ranked regulation third in 2019, climbing two positions with respect to 2017. Historically, regulation has been a concern for businesses established in this country. This is because of the growing regulatory burden that doesn't seem to offer up any truce.
On the other hand, certain European countries are challenging one of the EU market pillars, aiming to protect their national business champions. They are certainly challenging the freedom of establishment and the freedom to provide services to guarantee mobility of businesses and professionals within the EU. That also explains why political risks are ranked five.
During our conversation with Anthony, he referred to political risk as a big challenge for Luxembourg insurers and one that requires unity at all levels and beyond the mere local industry. To him Luxembourg has already an advantage. "There is a strong component of dynamism in the way that Luxembourg insurers conduct their business," he told us.
A big potential banana skin is social risk. How does it rank?
Pressure from social change is a fact. We can see it every single day in the news and around us. We can hear it in corridor conversations and inside our own heads as our perceptions, desires and behaviours change. However, both global and local insurers rank social change relatively low, in the 18th and 20th positions respectively.
Carlos Montalvo believes that the short-term approach also explains this result. Luxembourg insurers are thinking of their today priority-client but not necessarily of the client of tomorrow. Social changes are drivers of new ways of doing business, and lead to new client needs and demands. Failing to think of new ways to do business to address these needs is risky.
Due to social change, people are less docile when they feel unsatisfied. To this, we need to add the urgency variable that is taking over life in general. Don't you want to get things easily and instantly? This is what insurance clients want too.
The changing expectations of clients is a big potential banana skin fundamentally going forward.
Risks that can be turned into opportunities
Insurers need to offer better and fairer conditions to attract new clients and keep growing portfolio.
With the old insurance model, what we will see in terms of product development is a 15 to 20% rise in insurance costs using an old portfolio to subsidise the purchase of a new one. Or simply put, legacy clients are paying higher rates in order to substitute the lower rates needed to attract new clients.
The question of unfair treatment arises from pressure from supervisory and regulatory constraints. How is business conduct going to change? What will the business model look like?
On the other hand, reputation (ranked 21 on the Luxembourg insurers' list) is linked to quality service which leads to enhanced trust. It can play a pivotal role when Luxembourg insurers compete with global giants. When newcomers enter the market with lower pricing, giants may not offer the same quality service, giving Luxembourg insurers a differentiator —quality.
What we think
Carlos Montalvo Rebuelta, PwC Partner and EMEA Insurance Regulatory Leader

Insurers (in fact companies in most industries) need to come up with a new model of competitiveness. This will require new commerce and a cheaper and better product offer. In addition, some risks such as cyber, sustainability and climate change among others, which only a short time ago were labelled as emerging, can no longer be seen that way, because they are becoming an integrated part of business, and this will also force change.