Fear or uncertainty, which comes first? Which is the cause and which the effect?
Although this could trigger an egg-and-chicken-dilemma conversation, we simply wanted to find a convincing explanation of why CEOs' global economic growth expectations have changed considerably in 2019 compared to the 12 previous months.
We could have a nice philosophical discussion afterwards but, for now, hold on to what we have conclude when discussing this surprising change of CEOs' mood.
Two feelings elicit abrupt change in people's mind: fear and frustration. There are certainly more, but these two can be commonly seen in the business realm. Frustration ultimately puts businesses in "the innovation mood"; fear makes them back off and stay tentative and careful to better re-ignite when the danger has gone away.
CEOs are uncertain about the future. A wind of pessimism seems to be seeping silently through the windows of their offices. What made CEOs' perspectives on global economic growth drop so suddenly from one year to the other was fear. They are afraid, but of what?
This article dares to answer that question.
The predictive power of CEOs
CEOs' opinion on global economic growth matter.
Our 22nd Annual Global CEO Survey reveals their hidden power to predict global GDP growth.
For the past ten years, CEOs' outlooks and attitudes on the growth of their businesses are quite accurate in anticipating the actual global GDP growth over the next 12 months.
CEOs look in the mirror and see the world.
There's a robust and interesting correlation between CEOs' expectations for their organisations' revenue growth and the actual global economic growth the following year.
In other words, CEOs' revenue confidence can be considered an indicator of the direction of the global economy.
Take a look at the graphic below.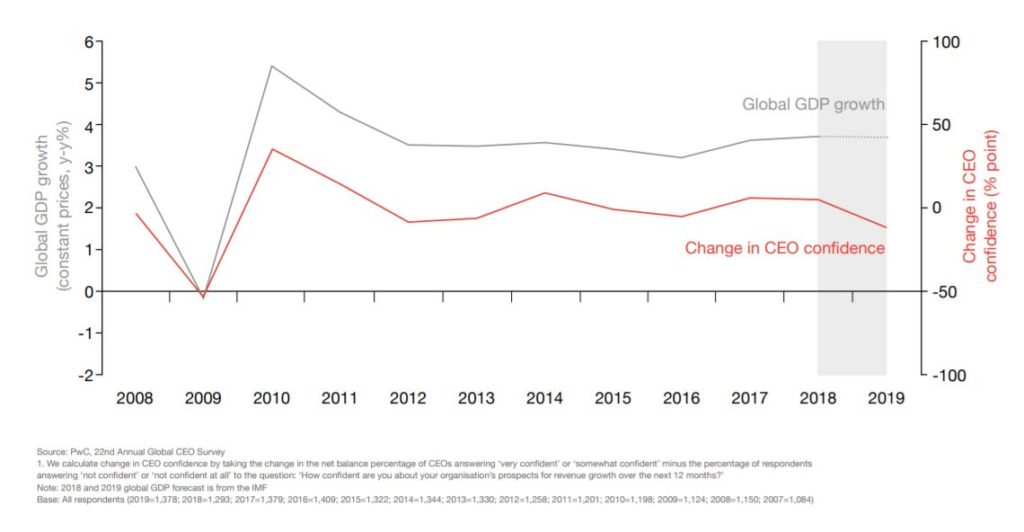 Will the correlation continue in 2019? Evidence says so, but we prefer to stay tuned. If there is a point in history when certainty is a scarce, precious feeling, that's this one.
We've noticed that Luxembourg's CEOs share the pessimism around the global economy, but it's mild compared to their global cohorts. However, what's noticeable is a certain polarisation of points of view. Luxembourg's CEOs foresee either an improvement or a decline in global economic growth.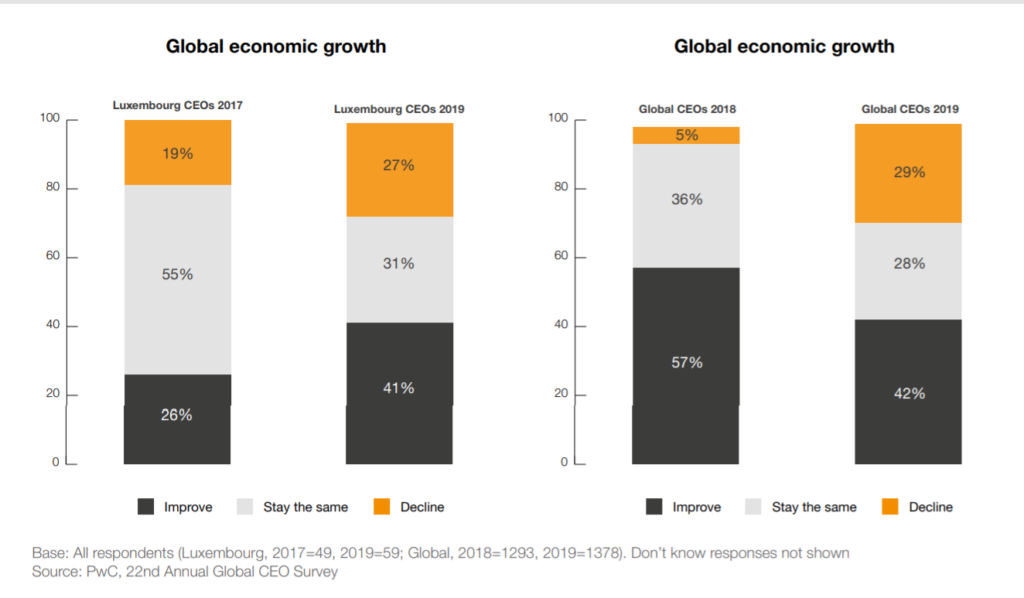 A reality check
Let's go back in time for a bit. In 2018's CEO Survey, we saw a record jump in optimism, especially in the areas of global growth prospects. In fact, compared to 2017, the percentage of optimism doubled.
According to our 21st CEO Survey The Anxious Optimist in the Corner Office, 2018 revealed itself to be one of the best years for global economy growth since 2011. Most of the world's major economies experienced a significant growth compared to previous years.
On that regard, Glenn Hubbard, economist and dean of Columbia Business School, observed:
We are in a cyclical recovery that has been going on for many years since the financial crisis. People have gotten more optimistic. I think in most parts of the world, CEOs believe that changes in policy are going to continue to improve growth.
However, was the optimism observed in 2018 an exercise of overconfidence and complacency? Because that feeling didn't last for long. This year, CEOs took a trip to the dark side.
There's a record jump in pessimism.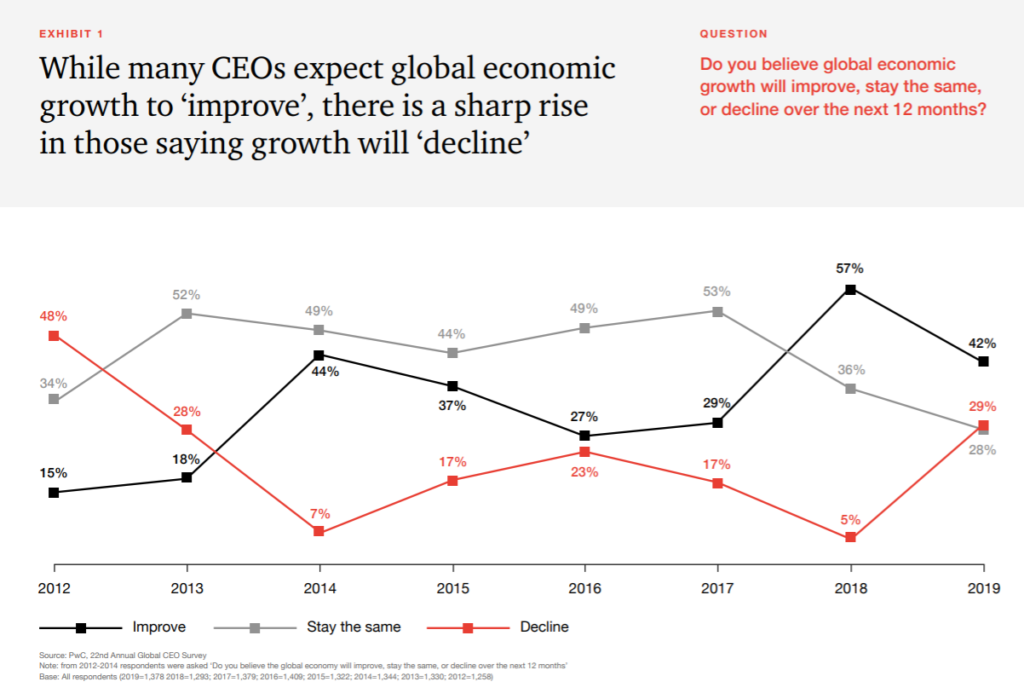 Indeed, CEOs' confidence in their own organisations' revenue prospects dipped, both for the periods of 12 months and three years. Coincidently, nearly 30% of CEOs anticipate a decline in global economic growth.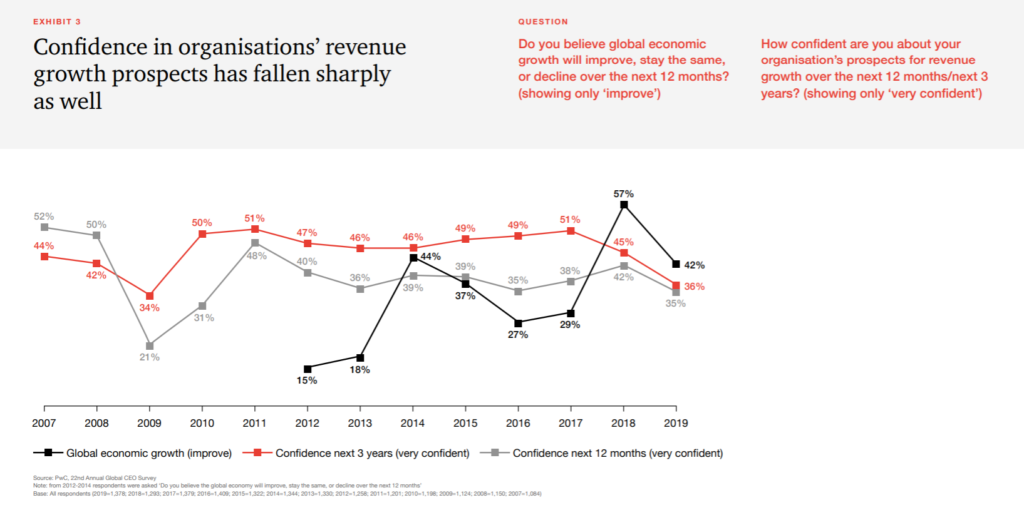 If we take into consideration the predictive power of CEOs as a leading indicator, the horizon doesn't have wuthering heights preventing a clear vision: the global economic growth is to slow down this year.
Bloomberg has already reported that "the 2019 growth rate would be the weakest since 2009, when the world economy shrank."
On the other hand, a still considerable 42% of CEOs keeps optimistic about an improvement in the global economic growth.
Why CEOs took a trip to the dark side
Bob Moritz, PwC's global chairman gave a possible answer at the World Economic Forum (WEF) in Davos this year. He mentioned that some of the reasons CEOs are losing sleep include:
The trade conflicts which are outside of their control per say, the policy issues when you think about the EU and Brexit and a combination of climate change and other aspects like that.
That matches what the United Nation's Economic Analysis & Policy Division has stated about the current state of the global economy:
It is "facing a confluence of risks, which could severely disrupt economic activity and inflict significant damage on longer-term development prospects. These risks include an escalation of trade disputes, an abrupt tightening of global financial conditions, and intensifying climate risks."
CEOs seem to have perceived this clearly. Business-related challenges are important, but issues that touch the economy at global or regional scale are increasingly keeping them up at night. Uncertainty is triggering fear because the mitigation of certain risks scape both their management and decision scope.
The latest survey unveils, indeed, that fewer CEOs are concerned about threats to their business, even if they have claimed to have lower confidence in their own prospect revenues. And, while over-regulation still occupies the first place as a 2019's main concern, this year's survey shows growing insecurity connected to trade wars, political tensions, policy uncertainty and slowing growth of several key markets, related to the ongoing U.S.-China trade war.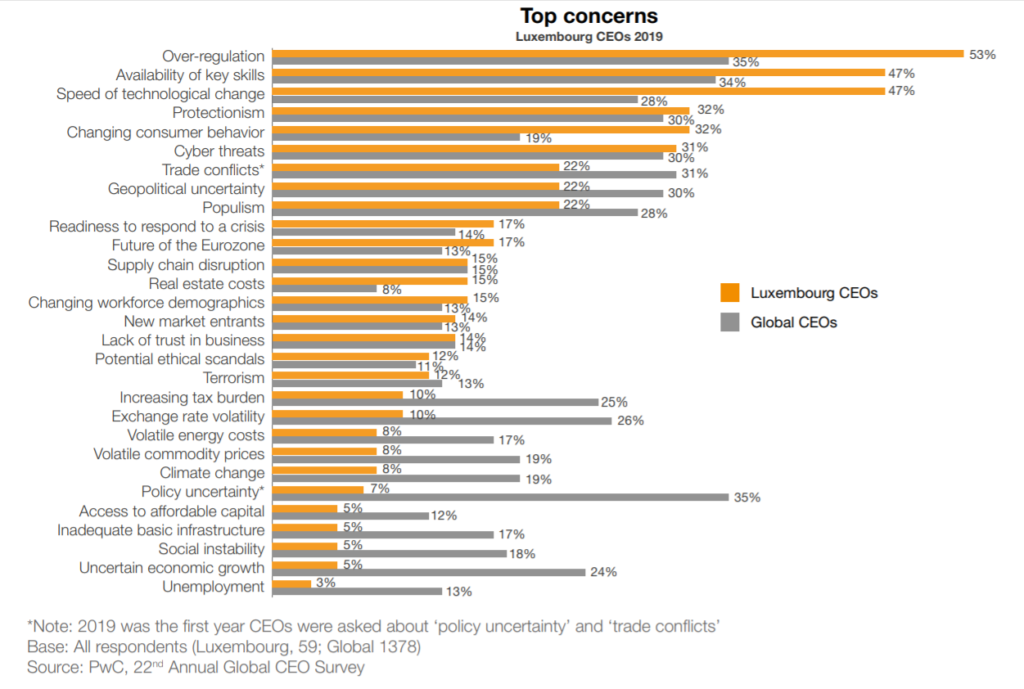 Amid a wave of populism and protectionism sweeping across the global sphere that they cannot control, CEOs are turning their focus inwards. They are obliged, anyway: the need to adapt to new market barriers both in trade and labour is an imperative. This explains why the availability of key skills now occupies the third place on the threats' list.
In short, this year, it's all about the ease of doing business in the markets they operate.
When asked how they were adjusting their operating model and growth strategy to adapt to these trade conflicts, most of the "extremely concerned" CEOs responded they aren't doing much beyond "adjusting their supply chains and sourcing strategies. Less than a third of these CEOs are "shifting their growth strategy or production to alternative territories", or "delaying capital expenditures", or even "foreign direct investment".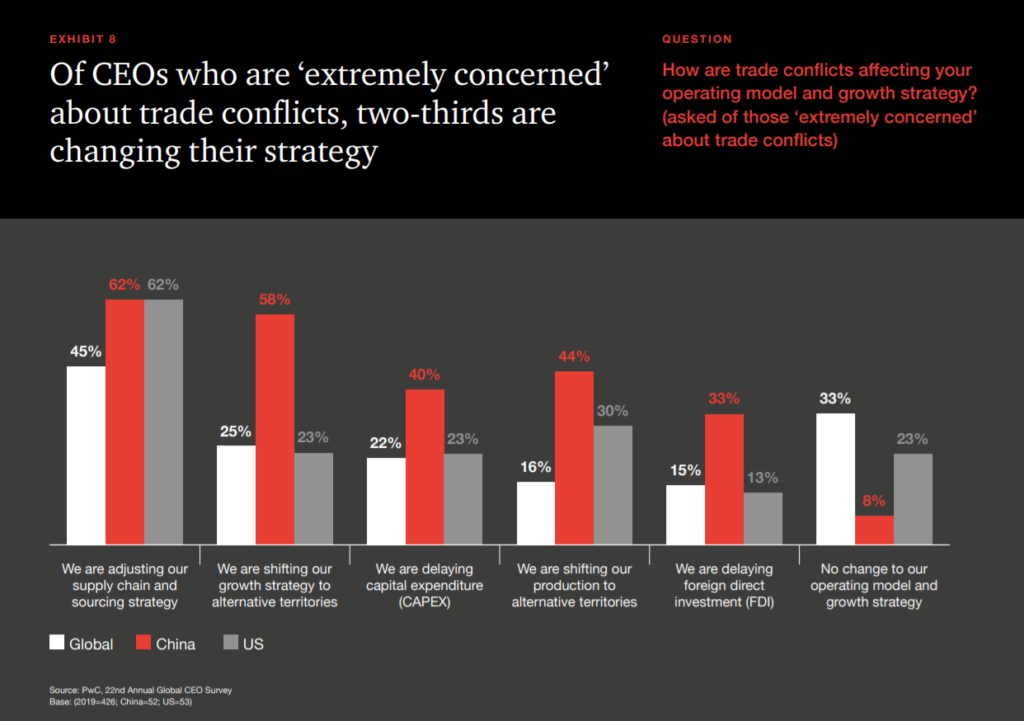 The return ticket from the dark side
What we call the dark side is just a useful euphemism to picture the mood of CEOs about the current state of the world.
Regardless how dark or light that mood is, we, as an organisation, are working on developing two virtues we firmly believe are applicable to all businesses.
Building resilience, and preparing your business "veins" –people, operations, management – to be agile. Resilience and agility are two skills that prepare us to face change but also to see it as an opportunity.
As our CEO, John Parkhouse puts it in the 2019's CEO Survey – Luxembourg Findings:
… while the results of the survey might paint a more pessimistic picture in terms of CEO's views on the global economy than previous years, we should remember that many see opportunities among challenges. Adversity often brings out the best in a company and many will use this time to act and test themselves. As Albert Einstein once said, "in the middle of difficulty lies opportunity".
Fear or uncertainty, which comes first?
Grab a glass of nice red wine. Now it's time for dilemmas.