Is Luxembourg the European business greenhouse? Judging by the confidence Luxembourg CEOs show when it comes to growth prospects and their readiness to assess business performance beyond profits, the Grand Duchy is a rock in an ocean of political and economic uncertainty.
Business growth in Luxembourg – yay; in the world – nay
53% of business leaders we've interviewed in our latest Luxembourg CEO Survey believe 2017 is a good year for economic growth. And their optimism is in line with the European Commission's latest economic forecast, estimating a 4% GDP growth for Luxembourg. At this rate, the country is set to grow more than any other Eurozone member state.
And when the country does well, businesses prosper. Luxembourg CEOs have an equally positive outlook on their companies' prospects for revenue growth this year. 51% of them feel very confident about it, which is a significantly high percentage when compared to their global counterparties (38%).
Their optimism fades away, however, when it comes to economic performance at a European or global level. With Brexit in sight and elections coming up in the largest member states, only 16% believe the economic situation will improve in the European Union. This suggests that Luxembourg CEOs are confident about the government's ability to maintain the fertile environment for business.
Luxembourg CEOs tap into the Greater Region
Luxembourg CEOs have their minds set on neighbouring countries when it comes to expanding their business. Germany, France and Belgium, followed by the UK and Italy are their top five destinations of choice. In terms of non-EU priority countries for growth, CEOs look to the US, Switzerland and China. The latter is actually the only emerging market they've cited as important for their overall growth prospects.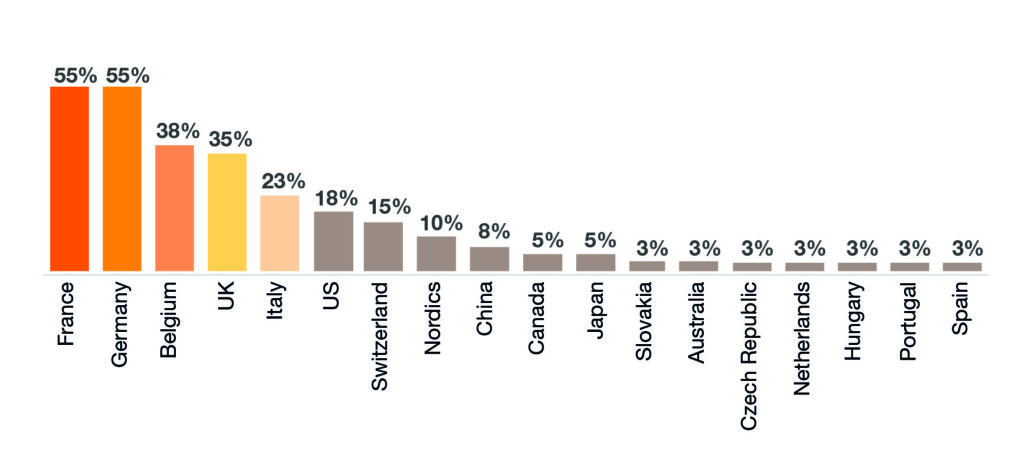 Moving beyond financial profit: responsible growth
Business leaders seem to understand that success in the 21st century will mean more than financial profit. They see their customers increasingly concerned with how companies conduct themselves in a global society. As a result, CEOs have started focusing on the broader effects their companies have on the communities they serve, and their impact on society. In Luxembourg, 92% of them believe successful organisations have to place corporate responsibility at the core of everything they do. They also consider it imperative to prioritise long-term over short-term profitability.
The question is: do CEOs walk the talk? Our survey shows that 55% of CEOs have either always had a broader purpose or they have recently enlarged it to factor in their impact on society. There are, however, 34% who haven't changed their purpose and aren't planning to do so in the future. The overall picture looks, however, encouraging. We've seen sustainability growing from almost nothing in the early 1990s to a dominant theme today. And the notion of "sustainable success" or "responsible growth" will keep gaining traction not only in Luxembourg but also all over the world.