Digital is like a horde, the clan of Attila in the XXI century. Almost like a herd of speeding steeds that make the ground tremble, shaking every bone of the business skeleton, including compliance. Regulatory compliance is more and more linked to processing large sets of data that, in turn, require suitable software technology to do it.  
IFRS (The International Financial Reporting Standard) hasn't escaped the horde. In this opportunity, we focus on IFRS 17 – Insurance Contracts that is set to mark a new epoch for insurance contract accounting. Indeed, it will result in significant changes to the way that financial information is presented, and adoption will require significant planning.
As of January 2022, all insurance companies reporting under IFRS will be impacted by IFRS 17. More specifically, IFRS 17 applies to insurance contracts that an entity issues; all reinsurance contracts (those an entity issues and those an entity holds); and investment contracts with discretionary participation features, provided that an entity also issues insurance contracts.
As with every new regulation, IFRS 17 represents both a challenge and an opportunity for insurance companies. While the standard opens up the doors to harness data more effectively, to implement better decision-making processes, and to an (almost) unavoidable improvement of the structure of businesses finance functions, it brings several challenges. 
This video summarises well this situation:
The working timetable —the additional calculation complexity and the data volume insurance companies have to deal with—is the first area of concern. The second is the granularity of data and how it will impact the flow and the output of the information. In addition to these, the systems impact and the picking of vendors to provide the right software are also considerable challenges.  
In this article, we've put together an infographic to help you select the right systems vendors for IFRS 17.
What type of IFRS 17 vendor do you need?
Insurance companies first need to determine whether they can reuse their existing system capabilities to achieve IFRS 17 compliance. Two insurers with seemingly identical books of business but distinct systems could come to very different vendor decisions. Understanding your existing architecture upfront can help you whittle your list of potential vendors.
First things first. Vendors are more ready now than they were a few months ago but, because of the newness of the standard, there isn't a one-size-fits-all solution. To face this situation, insurance companies need to assess what internal systems are suitable for IFRS 17 requirements, what needs to be developed internally and what they can get from the market.
When it comes to vendor selection, make sure that their solution has the following five key capabilities. Without all of them, a vendor won't be able to keep you fully compliant with IFRS 17.
Five critical vendor capabilities

What type of IFRS 17 vendor do you need?
Insurance companies want to understand their existing architecture before selecting potential vendors. The next key step is the "proof of concept". The infographic below help you evaluate your current system capabilities: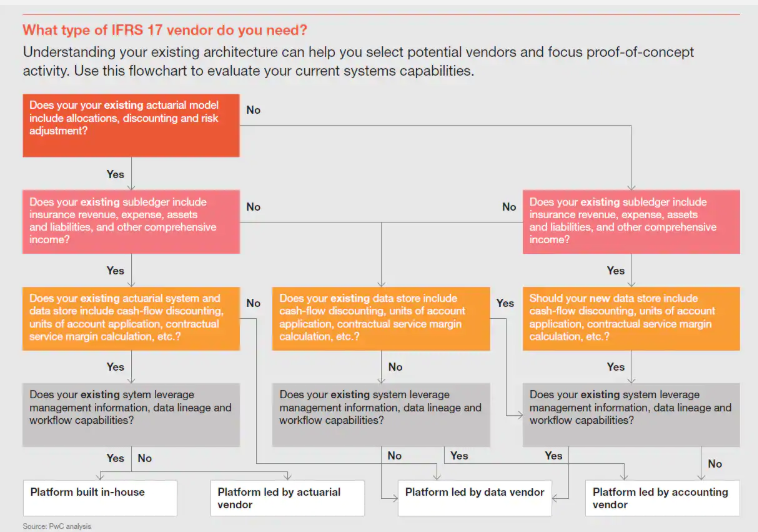 What we think
IFRS 17 projects give the opportunity to our clients to rethink their IT landscape. The quantity and quality of data needed to turn IFRS 17 into real for any insurance organisation is critical. We stand by our clients to support them into this transformation journey and provide them with relevant insights and advice from preliminary assessment to in-depth selection and to implementation.

 

Sylvia Pucar, Partner at PwC Luxembourg

Pavel Kostyuchenko, Actuarial Leader at PwC Luxembourg