Diversity at the workplace goes beyond hiring people with different characteristics; it's about ensuring everyone feels welcome, safe and accepted. To be truly inclusive, every diversity dimension must be taken into consideration but certain, sometimes, need more attention. This article focuses on why including LGBTQ+ talent matters.
Can we manage diversity, like, for real?
Consider the scenario: You're invited to a business dinner party along with eight other guests. Four of these guests, including yourself, have no dietary restrictions; the other three are vegan, allergic to gluten and seafood, respectively. If the host prepared a menu that includes pasta and oysters, she'll somehow exclude a third of her guests. The menu, however, is varied and fits everyone's needs.
This scene portrays not only what the difference between diversity and inclusion is, but also how interrelated they are. Diversity, in the dinner case, is each invitee and their characteristics. Inclusion is making sure all the guests enjoy a delicious meal and feel welcome and fairly treated.
Both diversity and inclusion are essential to any business, but they play a different role.
This Profiles in Diversity Journal article explains clearly the connection between the two:
Diversity means all the ways we differ. Some of these differences we are born with and cannot change. Anything that makes us unique is part of this definition of diversity. Inclusion involves bringing together and harnessing these diverse forces and resources in a way that is beneficial. Inclusion puts the concept and practice of diversity into action by creating an environment of involvement, respect, and connection—where the richness of ideas, backgrounds, and perspectives are harnessed to create business value.
Simply put, diversity is each one of us and the many ways we are different based on our physical or personal characteristics. Inclusion focuses on how families, societies and businesses foster an environment of acceptance and appreciation. In the case of the latter, an inclusive work environment translates into diverse employees openly sharing their experiences, speaking their minds and feeling part of the business because they count as both individuals and professionals.
Diversity cannot be managed. A business, instead, can make the difference by managing the inclusion of diversity.
A quick review of what can inclusion bring to business
Businesses have more chances to succeed if their working environment fosters diversity and actively includes it. It enables talent to thrive.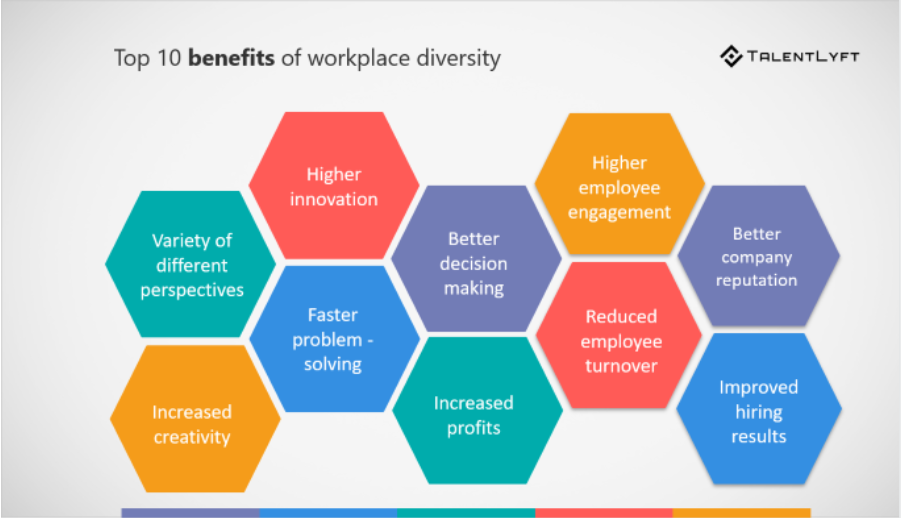 Creating an inclusive business is more than just improving reputation or promotion. Including diversity brings benefits related to the business core. Companies betting on inclusiveness outperform competitors and achieve greater profits because people, whatever their characteristics, find a solid ground to deploy their talent and potential.
Not all diversity dimensions are included, considered and treated equally though. Cultural and religious factors or racial differences have been in the business agenda for decades. Some countries have taken the "quota approach" when working on the racial dimension, for example. Gender diversity ranks high in the to-do list of diversity matters nowadays. But what about sexual orientation, likely the least tackled dimension?
Including diversity is a business imperative, not a mere HR programme. Availability of key skills is a growing concern for businesses worldwide. An inclusive approach can turn the talent war into HR innovation that, in turn, boosts business innovation.
LGBTQ…LGBT you?
Nobody said including diversity is an easy task because it calls for changing mindsets and ways of doing and, more importantly, for acknowledging stereotypes and fighting prejudices we all have been raised with. Unavoidably.
The more diverse a business becomes, the more the need to update business policies, human resources processes, and even operations. Unconscious appearance-based biases, relational problems linked to ethnic and cultural backgrounds, preconceptions based on gender, ageism, chauvinism, you name it, that's what business have to deal with when including diversity.
DADT. Do you know what this acronym means?
We bet you don't. Or do you? If you know it, please don't tell anyone. You must be a lesbian, gay, bisexual, transsexual, queer or any other LGBTQ+ member. It's better to keep quiet. "You know, your sexual orientation must stay at home."
Stereotypes and patterns are useful for the human brain. We understand the world based on them, we simplify and interpret the reality thanks to them. However, when a stereotype becomes socially accepted, there is a high risk of discriminating whatever that doesn't fall into that generalised idea.
A company is a world in miniature, and copies the patterns and biases that rule society. DADT – the official United States policy on gays, bisexuals, and lesbians doing military service – is a common approach to the LGBTQ + community in the business world.
If diversity makes us stronger by leveraging our mix of capabilities and leadership styles, why the LGBTQ+ diversity is commonly left behind?
Only when we feel physically and psychologically safe, we can express ourselves and deploy our full potential. It goes to the LGBTQ+ community too.
Don't fear the glitter, fear being in the spotlight on Twitter
People (and therefore businesses) succeed in an environment that enables diverse talent to thrive.
As we mentioned before, many corporations are focusing diversity and inclusion programmes on gender. An equal treatment to women is undoubtedly positive for business and for society in general. We highlight that fact in this article, giving ideas on what businesses want to consider for women to have equal career opportunities.
But society is changing and the social clamour towards the inclusion of LGBT+ diversity is growing. Increasingly, employers are required to move forward with LGBTQ+ inclusion, but there's work to be done when it comes to learning more about the needs and expectations of the LGBTQ+ talents.
Do you want to catch a LOT of flack on Twitter if you don't?
We truly believe that including LGBTQ+ diversity shouldn't only be triggered by what society wants; it should also be the result of a thorough understanding of why it matters to business and, more largely, to society.
There is no fun in suffering a backlash on twitter; however, denying the possibility of attracting talent because of sexual orientation is not only worse, it is risky in our current environment, when the search for talent is more challenging than ever before.
How LGBT inclusion makes the difference
Both business leaders and LGBTQ+ employees took part in a survey called OutNEXT/ PwC Out to Succeed, put together by our colleagues at PwC US. It highlights the extent to which a supportive and targeted focus on LGBTQ+ inclusion is a valuable brand differentiator, performance enhancer and talent draw.
See how LGBTQ+ inclusion could make the difference: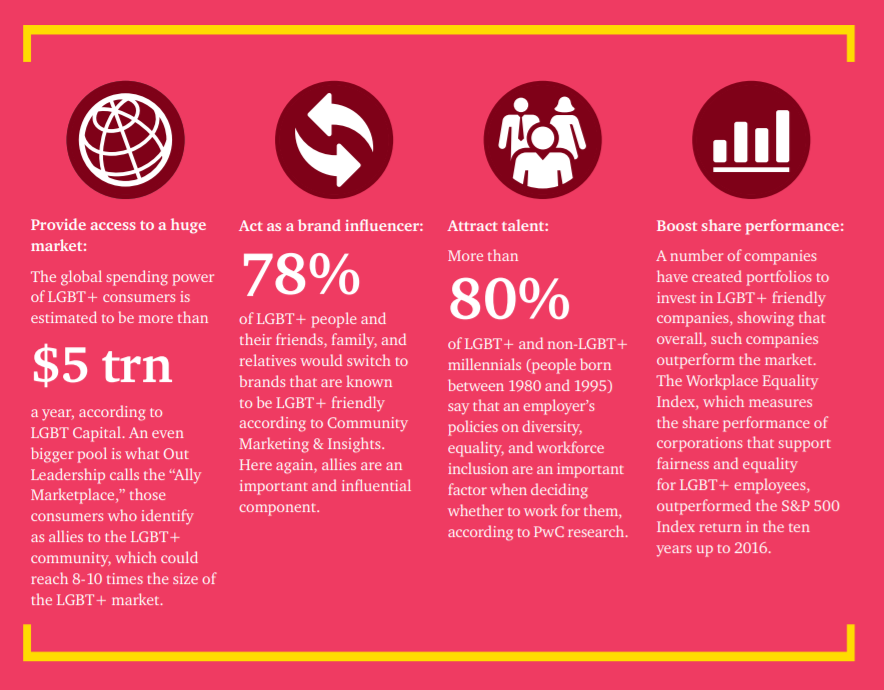 A stronger brand and access to the LGBTQ+ talent pool are two key benefits of actively including this community in the workplace.
Business could capitalise more on LGBTQ+ talent by identifying the different skills LGBTQ+ talent offer. Most of the LGBTQ+ employees in the survey believe that their personal and professional experiences helped to enhance their inclusiveness, resilience, authenticity, empathy, and adaptability. This reflects the experiences of many of the LGBTQ+ leaders, who believe that their own coming out process helped make them become more empathetic, more in tune with the people around them and, ultimately, better able to handle a wide variety of situations.
Studies published over the years have shown that LGBTQ+ talent is not only well-educated but also more engaged than average and often more empathetic. 80% of LGBTQ+ employers in our survey believe that having an openly supportive focus on LGBTQ+ has improved their business place in the market by being recognised as an inclusive employer.
Furthermore, nearly 90% believe that a supportive LGBTQ+ focus has enabled them to gain a better understanding of customer demands.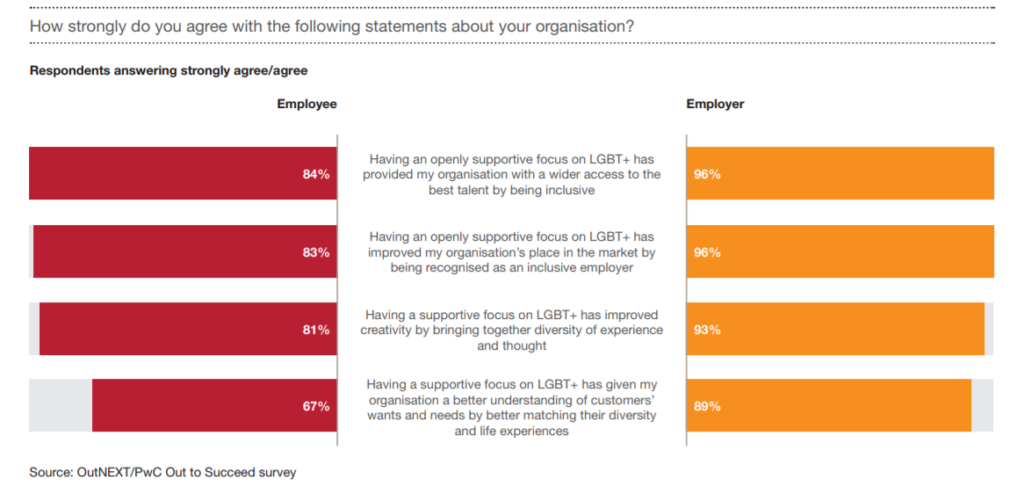 It's not only the business that wins with LGBTQ+ inclusion.
Inclusion boosts performance. More than 60% LGBTQ+ employees feel comfortable being out at work, and believe that it has improved their ability to do business and engage with customers.
This proves that despite the levels of discrimination and hostility that many LGBTQ+ employees still face on a daily basis, significant strides have been made towards a more accepting work environment.
Shining an inclusive light on LGBTQ+ diversity
While LGBTQ+ progress is being made, there's still a long way to go. How can businesses support equality and open up to the business benefits of LGBTQ+ inclusion?
Here are five practical things you can do to encourage LGBTQ+ talent at your workplace:
Set the right tone from the top and engage CEOs
Main driver: The leaders
While speaking out still carries risks in some parts of the world, in others there's a business risk not to speak out on inclusion. Through our survey, it came through that CEOs' personal experiences, family, friends and colleagues shaped their LGBTQ+ advocacy. "Reverse mentoring" by LGBTQ+ employees within a company might be the solution to help leaders gain a better understanding of the colleagues' experiences and their challenges. It's also essential to get the board-level attention, highlight the importance of positioning inclusion as a business issue that's fully aligned with the business objectives, to the board-level.
2. Create clear pathways for career progression
Main driver: The business
To create clear career paths for LGBTQ+ employees, businesses need to regularly monitor and review data on LGBTQ+ talent at each stage of the talent pipeline. By doing so, they can identify the issues most in need of tackling, such as image and career development. Measurement is more effective when there's a baseline of self-identified LGBTQ+ employees against which their job satisfaction and career development can be benchmarked and tracked. However, while measurement is the most effective way to benchmark and track employee rewards, job satisfaction and career advancement, it's also an option limited by the legal framework of the business physical location.
3. Stand up and advocate for equality
Main driver: The business
More than 90% of employees surveyed believe that it's important for their company to be visibly engaged in LGBTQ+ equality, and to leverage its reach to advance LGBTQ+ rights. Similarly, nearly 90% of employees see the sponsorship of LGBTQ+ organisations as important in creating an inclusive culture. Advocacy and active engagement should include awareness of the barriers that may hold LGBTQ+ employees back and active intervention to tackle them. It should also include awareness of the socio-political environment for LGBTQ+ people in the places where companies do business, some of which may have high discrimination levels. By showing LGBTQ+ talent and their friends and family that businesses are supportive is a clear signal that your commitment to inclusion is genuine and deep-rooted.
4. Build and empower ally networks
Main driver: Employees, teams
LGBTQ+ networks can help create a more inclusive environment by fostering engagement, advocacy and communication. Four out of five LGBTQ+ employees have a formal LGBTQ+ network within their organisation and more than 70% attend LGBTQ+ network events. Non-LGBTQ+ allies are also important in fostering understanding, solidarity, and advocacy. For example, if an employee finds that they're the only LGBTQ+ person on their team, it's reassuring to know that they have allies around them. Knowing colleagues would be supportive to them is the factor that participants cited as the most important in encouraging them to come out within their organisation
5. Create inclusive communications
Main driver: The business
Communications should be inclusive of LGBTQ+ people internally and externally. More than three-quarters of employees see advertising/marketing to the LGBTQ+ community as important in creating an inclusive culture. However, many companies talk about diversity and inclusion, but don't always take sufficient concrete actions. A possible starting point is seeking to be neutral in areas such as not assuming couples or parents are necessarily male and female. Many companies have gone further with great success by embarking on a full review of the language used in all their documents, policies, and advertising and marketing materials globally. Ultimately, inclusive communication is about understanding, authenticity, and giving people a voice, which requires engagement and dialogue.
Including LGBTQ+ : between concrete actions and long term perspectives
Looking regularly at the data around diversity is an absolute must. A data-driven approach to inclusion helps businesses understand how their actions are influencing the pursuit of a healthy fearless, safe and welcoming work environment. Track, for example, how LGBTQ+ professionals who openly identified themselves as members of the community evolve professionally.
Language is an ever-present challenge in a diverse workforce. Now, what about discriminatory jargon against LGBTQ+ people? If your business is already working on gender equality, women can tell you what it feels like being subtly discriminated. This is another practical action you can start working on.
But, don't fall into the trap of short-termism. Including diversity is a long-term commitment, and the sexual orientation dimension needs particular attention because of the innumerable prejudices that each culture has developed around it and transferred into business.
This is where both internal business policies and regulation can play a decisive role. For instance, implementing training on diversity and putting together outreach programs addressing the entire organisation are useful to start off.
It's crucial to speak up when inclusion in business falls short. We all need to be reminded that we shouldn't impose our beliefs to others. Although it's challenging, we want to learn how to share those personal beliefs when it comes to living in diverse environments.
Any organisational culture sticks to the business' collective memory, and attempts to change it are a long-term job. It is nearly impossible to accelerate the pace of cultural change in any business. Aiming at a work environment where including diversity goes beyond tolerance, acceptance and respect is, to us, the ultimate goal.
What we think
Marc Schernberg, Partner and SHINE Promoter at PwC Luxembourg

When the LGBTQ+ community is cherished, as female talent or people with limited mobility, to mention some, businesses honestly prove inclusion matters to them. More and more, talents search for inclusive work environments, places where individuals express freely, work safely and feel confident about being themselves. Judging what is different isn't only castrating, it is also wasting the opportunity to discover realities and people that can enrich us. The face of diversity is each of us; the face of inclusion is each of us, working together. That's needs to be part of the business core.
Vinciane Istace, Diversity Leader at PwC Luxembourg

Diversity is a good teacher about life and business cycles : no trend is linear and agility prevails.