Have you heard about the rule of 3? It suggests that, when there is a public conflict, we should avoid sending a third reply. Then, the apology and good intention you may have had when replying the first time becomes an argument. It could even escalate and become a media war. Neither you nor your business want that.
The now famous phrase – "knowledge is power "– coined centuries ago has been attributed to various speakers. However, if we wanted to adapt this saying for today, one could easily add "…and social media is God!" Like it or hate it, social media is a powerful tool that has changed the way the world communicates, creates, recreate, shares – or in some cases – withholds – knowledge. It can influence the rise or (more importantly) fall of empires, corporations and reputations.
Social media is far from being the bad kid on the block, though. It can be an invaluable ally to overcome brand reputation crisis and, most importantly, to prevent them. Speed, virility, ubiquity, easiness, is what makes it one of the main communication channels to manage crisis nowadays.
Many have learned the hard way that even the most risk-averse and cautious companies face reputation crisis. While all communication channels are relevant, the one where things happens fast and spread quicker is precisely social media. It's more and more necessary to have a social-media-ready crisis communication strategy handy than facing a momentous problem without any battle plan.
We wanted this article to be your handy go-to reference to manage social media crisis where your company's reputation is compromised. Let's have a look at it!
But is it really a social media crisis?
You may wonder what a social media crisis is. Receiving a couple of tweets with negative comments about any of your brands or the company itself isn't a crisis. After all, businesses face happy and unhappy clients every day in both the B2B and the B2C arenas. An unusual volume of tweets linked to a specific subject or hashtag mentioning your brand could be evidence of a social media crisis but let's go more in-depth to learn how to identify one.
A social media crisis commonly has 4 characteristics:

The crisis trigger may have started on social media, based on a company post or someone else's post where your brand is blamed for any particular situation. Alternatively, it could happen somewhere else like in one of your offices around the world and become viral on social media. Either way, accountability, honesty and speed are key to manage social media crisis.
A general recommendation is to assume the responsibility for the crisis when a corporate message or branded campaign has triggered it, or when a company's client-facing team member is involved. In that case, start addressing the situation with the help of a strong statement. On the other hand, when the factor causing the crisis is external – for example a financial failure, the intervention of authorities or regulators, acts of violence in your headquarters, the occurrence of natural disasters – analyse what's at stake and what's the best way to answer both media and the general public's concerns before speaking up. Don't remain silent for long time though.
When social media monitoring becomes a good ally for risk management
In our society, risk has a negative connotation but it's an unavoidable and necessary part of our lives. By pushing us to prepare for potential perils, it helps us bring about new strategies or technology, or search for alternative solutions. Managing brand risks isn't different. There is technology developed to monitor and tell you what people are saying about your points of sales, supply chains, top leaders, events or local and global stories that may be key for your company to follow. With ever-evolving algorithms, these tools use artificial intelligence to crawl the internet and offer you processed digestible information such as sentiment analyses of your brand and how it evolves over time and under particular risky situations.
As much as it is important to develop an engaged audience by creating and sharing relevant content on social platforms, it's equally essential to listen in the conversation. Tracking what's being said about you and even about your peers can provide valuable insight on how you're really perceived by your community and will help you shape your message accordingly in good times and in times of crisis.
The Private Equity case
Tracking brand reputation through social media is for B2B companies in financial services as important as it has been for retailers and consumer brands since years ago.
Let's take the example of Private Equity firms we've worked with that are monitoring both the strategy and the performance of their investments. This exercise not only includes watching what people say about the brand on the web (e.g. social media or blogs). They're also tracking investment trends, for example the shift towards investments aligned with sustainability and ESG and how the brand is perceived from an environmental or social point of view. This provides leaders with valuable understanding to make decisions along different stages of the investment cycle, from deal sourcing – or the identification of investment opportunities – to portfolio monitoring.
5 Planning-related tips to managing a social media crisis
"Choose your battles" may not be the most innovative tip but we decided to include it as an overarching recommendation due to its timeless relevance. It's all about resources optimisation. Not all crisis are the same; some of them don't require the board of directors or the CEO to get involved.
The tips we suggest below are helpful to choose your battles and, if the time to face crisis comes, to do it well.
Tip 1: Think of potential scenarios of social media crisis and prepare a response plan.
You and your teams should know what to do in case of a social media crisis. A pre-defined distribution of responsibilities helps you act faster. Think of people responsible for:
Crisis assessment
Giving responses (spokesperson or a response team) and characteristics of them (especially tone and voice). Your social media and client-facing teams need to be involved.
Monitoring the crisis and reporting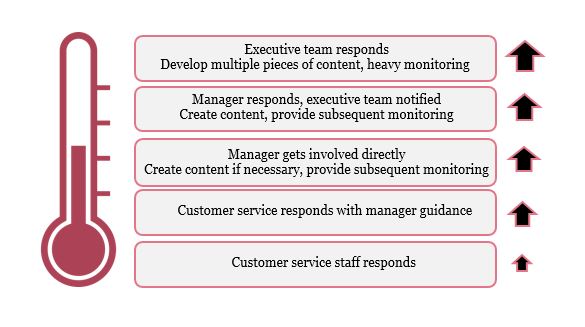 Tip 2: Think of an online resource where clients, stakeholders and the media can find accurate, up-to-date, first-hand information.
Some experts like to call it "Crisis cluster"; we like to name it "Online Operations Centre". It can serve as an escape valve where clients affected, if that's the case, can register complaints using a formal template. This helps centralise demands and manage them. You may want to share the link to the online resource via your social networks.
Tip 3: Choose the online soldiers to fight back
For this, and due to the volume of messages and the diversity of online channels, you want to use a social media monitoring software that helps you identify:
Hashtags related to the crisis.
Influencers, namely key people driving the tone of conversations around the crisis. You could later on reach out to them and convert an enemy into an ally with the proper argumentative.
Hotspots or place where the crisis needs to be first addressed.
Some specialised software is free though the depth and analysis is limited. You could also use free tools to monitor the conversation on Twitter, a platform where brand crisis aren't uncommon.
We actually recommend you use a set of tools (or soldiers!) that combined, give you a better overview of the situation and help you make decisions.
Tip 4: Appoint general and commanders: the social media committee
Put together a social media committee or, if you want to be more comprehensive, a digital committee involving different departments and people with different hierarchies. This committee could take the responsibility of scenario planning, software acquisition, defining the response plan, proposing crisis governance rules, among others.
Tip 5: Create a social media playbook
These "governance" guidelines contain principles the company follows when managing corporate social networks. Similarly, the playbook sets a "code of conduct" for employees using their personal social media to endorse the company or to complain about it. Be careful though! Protecting your company's reputation is legitimate but this cannot be detrimental to your employees' rights to freedom of expression.
Some key information the playbook should include are content criteria, official hashtags and how to choose them, style and tone and voice, and measures the company may take when brand reputation is at stake. For hashtag-based campaigns, do thorough research and select the ones that aren't related to any negative public perception of your brands.
Days when companies ignored social media or use it without purpose are far gone. On the contrary, most have embraced it and are using it wisely. Because of its nature, social media calls for an experiential, human approach, and the risk of facing a crisis is omnipresent. As we wrote before, risk is part of life, the silent voice that makes us care and be careful. Be "social" on social media, then; get ready to manage risk like a champion as well.
What we think
Benedikt Jonas, Director at PwC Luxembourg

In the vast amount of data that's produced every day, filtering out the noise is key so that companies can take actionable insights to improve business and marketing strategies. Technology allows us now to drill down into the data to better understand the competitive landscape as well as consumer preferences, pain points and behaviors.

Getting unprompted feedback from consumers through the use of social media data provides valuable insights for your product and distribution strategy.