Nothing beats being invited to a client appreciation event as a business partner. You know, the usual wine tasting experience, the "let's play golf" get-together, or even an exclusive tour to a historical sight, followed by an informal drink and walk-in dinner. Quite typical and safe activities, aren't they?
What if you were invited to do something atypical?
Sounds both intimidating and exciting , doesn't it?
Do you trust your business partner/advisor enough to get in a car race?
If you think about it, the steps to doing business and car racing are based on the same principles.
When doing business, you have to persuade your client or lead that your service or solution is the most suitable choice to solve their challenges.
To achieve this herculean task, you have to prove to the client that you can manage any potential business risk. And, to start doing that, your teams are key. Their expertise and acumen are likely the most solid reasons to trust them.
Ultimately, the client wants to know what's at stake when choosing you, much like in a car race where you are invited to be the copilot. You could choose the pilot with the best chance to win, the one with the lowest accident record or maybe you prefer a third one that combines the two of them because they fit your priorities.
When participating in a race, no matter the role played, the ones in the car have a tacit agreement whose values are shared, like constants in the relationships equation, if it existed: trust, security, cooperation, team building and commitment to engagement, present at all stages. Each stage includes particular tasks and routines that will prepare drivers and participants both mentally and physically.
We had a nice, informal talk over coffee with Gilles Vanderweyen, Partner, who's passionate about biking and engines. He has been an avid participant in the VW Fun Cup for a few years now. He explained to us, with contagious motivation, how sharing car racing experiences with clients is a unique relationship- building exercise and how it is engaging, amusing and unforgettable.
This article is the summary of Gilles' experiences when racing with clients, what he has learnt over time, and how it all comes back to the way we do business.
VW Fun Cup 2019
The Volkswagen Fun Cup is a 25-hour race that takes place at the Circuit de Spa-Francorchamps in Belgium. This year, it took place on 13-14 July. Because of the race's characteristics, it's a safe way to enjoy motor sport at the wheel of 120 VW Beetles. This iconic model, converted into a real race car, is both reliable and efficient.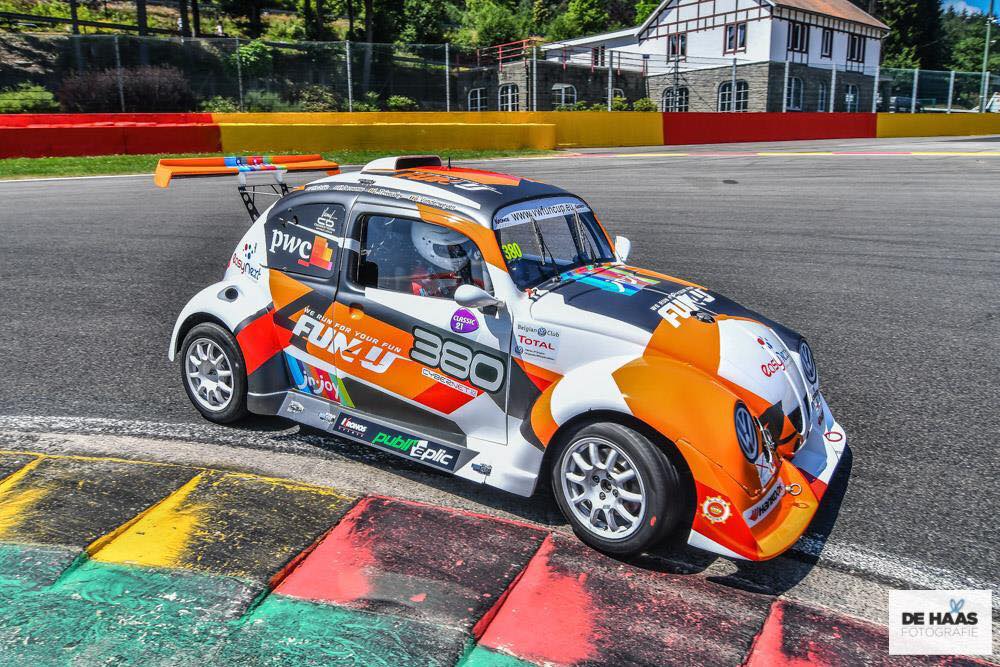 The best part of this unique racing concept is its target: it's aimed at all fans of motor sport, from beginner drivers to experienced racers and enthusiast passengers
In this year's edition, Gilles' team was composed of three drivers (including himself) and one client.
At the start, the team captain is chosen. Their responsibility includes the creation of a race strategy, the design of back-up plans in case of emergency, and establishing an over-night driving calendar. Remember, it's a non-stop 25-hour motor race!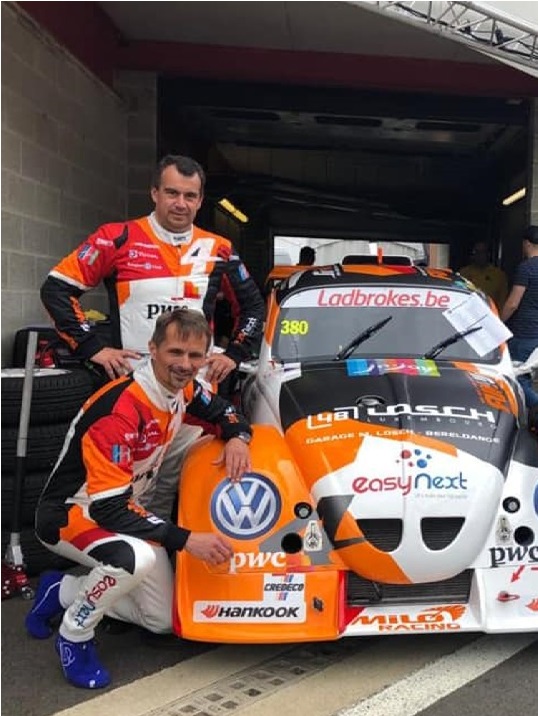 Racing and client engagement
It's really an event a bit atypical, since it's a special concept. You're in a racing car with a client next to you, instead of going out for a drink or playing golf with them, explains Gilles.
In business, we need to gain clients' trust. When you take your client to an unusual event like the Fun Cup, trust extends beyond professional relationships. And if it's hard to gain clients' trust in an environment they're familiar with, pursuing the same goal in a foreign environment raises the stakes a few notches.
So, where do we start?
By putting on the table details of how things will happen. For instance, showing the client the circuit where the race will take place, what the most challenging parts are, sharing lessons learnt from prior experiences, introducing other pilots and technical people.
Regarding the above, Gilles explains,
Seeing the racing circuit for the first time is always impressive for them. At the same time, it causes mixed feelings. There's excitement for sure, but also concerns. We have to make sure clients know the pilots' professionalism, that they are reassured everything is controlled and monitored to the last dot. After that, you want them to meet everyone who is involved in the race. Their minds are put at ease, at least temporarily.
The first step in building trust is reassurance.
During the "before departure" stage, the feelings of concern and anxiety rush back full force. Clients start questioning the decision to take part in the race.
At this point, the only thing we can do, together with the client, the team captain and the mechanics, is to develop a good race strategy, defining, for instance, the number of stops for car maintenance. We also try to predict possible issues or challenges that might arise during the race, and develop contingency plans in advance.
When building trust, a second crucial step is designing a solid strategy and promoting a safe environment.
For this cooperative machine to work seamlessly, a clear communication is crucial, especially during the race.
We have radio contact at all times in the car. Everything needs to be announced, from traffic to drastic weather changes, during the 25 hours.
It's during the race that people begin to reveal a different, frequently unknown part of themselves, one that remains quiet between the business wall and "formal" behaviour. This competitive, intense and sometimes stressful environment forces people out of their comfort zone. It's when they show an intimate, more personal side of them, making the race experience both refreshing and heartwarming.
Gilles elaborates on this matter:
For me, it's always very interesting to observe the clients and understand their attitudes throughout this journey. Their reactions when they first see the track, how their attitude changes bit by bit during the race. They deep dive into this experience, showing dedication, good mood and a positive attitude throughout the race.
Gilles reminds us that:
At the end of the day, the Fun Cup is a competition. It's in the midst of a collaborative environment with a sense of solidarity, but it's still a competition.
Racing and the way we do business
Indeed, doing business follows principles that resemble the ones of a car race. You want to reassure the client that your business or solution is the best opportunity for them to reach their goals.
In the business realm, you want to gain clients' support and build trust. To achieve that, proving that there aren't any high business risks at stake is a must-have. Show your expertise and the team that stands behind it, using tangible business cases as an example, and build a strong case on how you guarantee security.
We mentioned before that, when preparing the race, Gilles walks the participants through the upcoming exciting experience.
This brings reassurance.
During the race, the team members' common goal elicits collaborative work and triggers an even closer trust-based relationship among them. In a business context, strong, authentic team interaction is what you want to show to your client.
It's interesting to see how the roller coaster of feelings a car race can trigger, is comparable to the set of emotions once goes through when doing business.
Before the race – and before investing or starting a new project – there is anxiety, but fear of failure too, and we tend to pay close attention to potential risks. When revving your engines and hitting the track in a car race, there is excitement and, although the relationship among team members is set to get stronger, project and conflict management is important.
Doesn't the same thing happen when running a business project? When the car race has finished, and you live the aftermath, a sense of calmness invades the atmosphere leaving room for reflection, whether or not the result was the expected. It's time to write down the lessons learnt and show accountability.
Car racing with a client is, by all means, an atypical activity that might seem extreme. However, it is certainly one of the unique ways to show the values your business stands for. Moreover, to get to know your client better too.
In such a competitive scenario, participants gain more than just memories of an intense and fun event. They:
Advance their ability to work together in an efficient way
Improve communication skills, since it's crucial to put the strategy to work;
Learn how to keep motivated

, because they're part of something bigger than themselves

Develop problem-solving skills, as they face different challenges during the 25-hour journey.
Grow their confidence when dealing with unexpected problems and adapting to stressful situations.
What we think
Gilles Vanderweyen, Partner and ICT leader at PwC Luxembourg

I think car racing is a unique way of seeing the client through a different lens. What you feel when you participate in such activities, from the preparation stage to the finish line, is heartfelt and unique. It's an experience based on mutual trust, reliability and pure fun. And it's very, very gratifying to go until the end. I compare the race with auditing or advising. It starts by pitching and you want it to end up as a success.
Take a look at the After video of the Fun Cup 2019, featuring PwC's team!
Video made by: Arnaud CAVELIUS