Don't have time to read the whole blog entry? Then watch our "Blog in 1 minute" video for a quick summary of its main points:
It upholds that the history of social media started as early as May 24, 1844, when Samuel F. B. Morse sent a message from Washington to Baltimore via a telegraph machine. If you think about it, it makes sense. In fact, there were early versions of OMG and other social media acronyms back then. For instance, "G M" meant "good morning," "S F D," meant "stop for dinner." 
It may be so, but the consensus seems to be that it was the invention of the internet that truly paved the way for social media and digital marketing as we know them today. The internet quickly became a viable marketing tool where brands could advertise and sell their products and services at a lower cost, with less geographical constraints and more targeted, compared to traditional media.
Today, social media is omnipresent and is an imperative for every business that wants to remain relevant and visible. Yet, some still view it as a "nice-to-have" rather than a "must". We believe, to put it bluntly, this is a mistake. 
In this blog, we aim to demonstrate —through a bit of history and stats— why social media is the powerful tool  you need to achieve your business goals. We also share some things to bear in mind when you find yourself in danger of falling into the temptation of considering your social media strategy as just an extra.
A golden opportunity for business: the discovery
In their early days, social media networks such as Facebook, Twitter, YouTube, and LinkedIn, were mostly used by individuals who wanted to connect digitally with friends, colleagues, family members, and like-minded individuals they might never have met in person.
Undoubtedly, these platforms enabled us—and still do—to nurture and expand our social or professional networks, and experience the exciting world of "online me" (or digital persona, but that's for another blog entry).
While social media companies grew their user bases into the hundreds of millions, they also began developing their business applications, such as paid advertising capabilities—and with good reason.
The early-adopter businesses realised that social media companies had access to really valuable user data that they could take advantage of to target specific profiles. 
In addition to placing ads on social media platforms, these businesses also recognised the potential of cultivating an active, engaged social media presence. This was only possible, of course, with the introduction of Pages (as opposed to Profiles for individuals), which allowed brands to connect with, and grow, their audiences by regularly sharing their own informative or entertaining content on the social networks. 
Together, advertising —or paid social media marketing— and organic social media outreach matured into social media marketing, a digital marketing specialty.
Then came the "smartphones", the social media apps that could run on them and  high-speed wireless internet —real game-changers for businesses because now users could take their communities with them wherever they went (up until then it was mainly a desktop or laptop experience).
This new consumer mobility enabled businesses to provide their customers with new, simpler methods of interacting—and new ways of buying goods and services.
The power of social networks in numbers
According to Statistica, in April 2022, social networking sites reached 4.65 billion users worldwide, a number projected to increase to almost six billion in 2027. Moreover, on average, internet users spend 2.4 hours per day on social media and messaging apps, an increase of more than 30 minutes since 2015. Now, that's a lot of people… and time.
Looking into each social media platform, in January 2022, Facebook had 2.9bn monthly active users, making it the market leader, followed by YouTube with 2.2bn monthly active users, and Instagram with 2bn. 
While LinkedIn has a more modest number—250mn—it has evolved from a simple job search engine and resume site into a professional platform where industry experts share content, network, and build their personal brand. For many businesses, especially B2B, it's the preferred place to demonstrate thought leadership in their industries and attract talent.
The Luxembourg landscape
According to Luxembourg-based web agency DONE, in January 2021, 410,000 people in Luxembourg—or 65% of residents—regularly used social networks, and spent about one and a half hours per day on the platforms.  
If we look at the most used social networks in Luxembourg, Facebook is the winner with 330,000 users followed by LinkedIn (290,000), Instagram (240,000) and, lastly, Twitter (136,800).
Most popular social networks in Luxembourg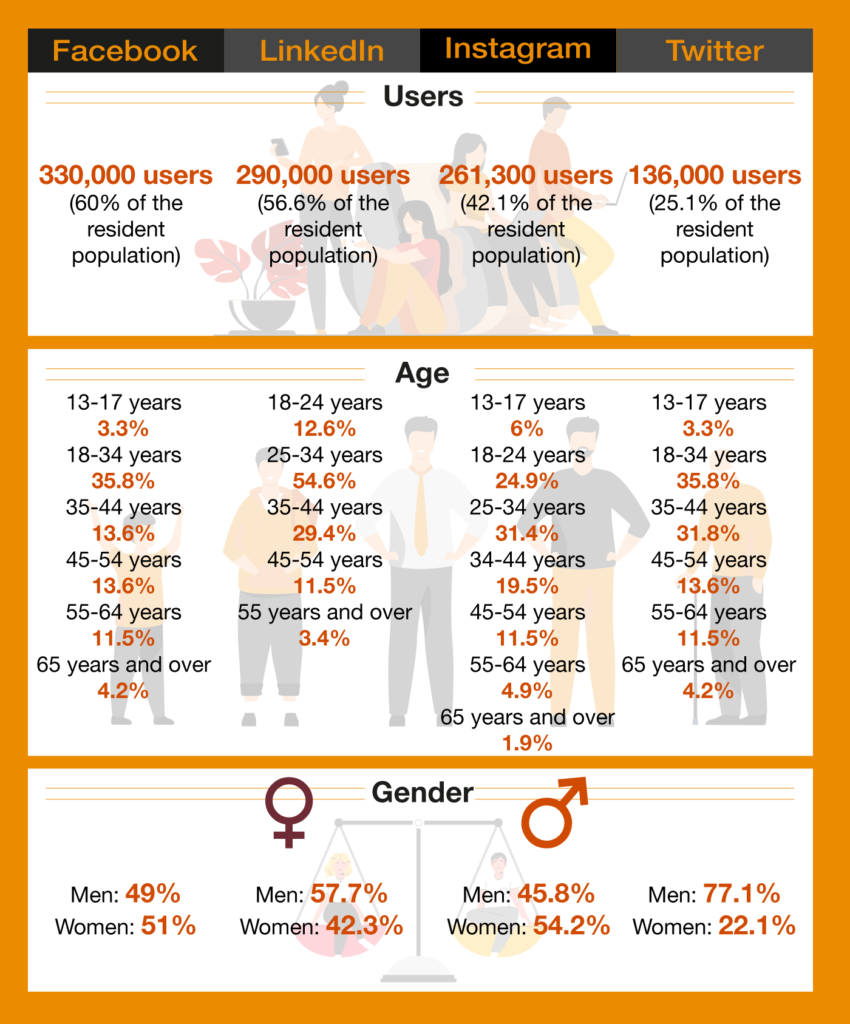 With so many demographics —both worldwide and in Luxembourg— active across social networks, it's where you want to be, whether you're a B2B, B2C, a nonprofit organisation, a small business or government. By showing up for— and engaging with— your target audiences, you can achieve a number of goals, such as improve brand awareness, direct and increase website traffic, and generate better quality leads.
We hope that by now—even before you read this blog—you are aware of and persuaded by the benefits of having a social media strategy in place. However, as we mentioned earlier, sometimes businesses are quick to forget that developing and implementing a social media strategy isn't a linear, permanent process that yields immediate results—a.k.a. leads or sales. On the contrary, it requires testing, patience, an open-mind and several other aspects. We list some of them below.
What to keep in mind to make the most of social media
We can't repeat it enough: today, social media is a necessary marketing tool to reach your business goals. While your business and social media goals will be different, the latter must support the former.
It's all about building strong connections
What is Social Media?
According to Merriam-Webster, social media is defined as "forms of electronic communication (such as websites for social networking and microblogging) through which users create online communities to share information, ideas, personal messages, and other content (such as videos)."
What does Six Degrees —launched in 1997 and widely considered to be the first social network— have in common with Friendster (2002-2015), Myspace (2005-2008), and Google+?
All these social networking sites were overthrown by another, better, more exciting one. For now, Facebook has held on to its sovereignty well, but TikTok is making things difficult for the platform— so, watch this space!
The question is, "Why did these companies cease to exist or went into oblivion? What are the ingredient(s) for long-term success? As Merriam-Webster's definition of social media points out, it's about creating communities. While networks like Friendster and Myspace had tens, and eventually hundreds, of millions of registered users, the bonds between them weren't particularly strong.
This demonstrates that strong social networks are made up of strongly linked people. And it also applies to your company page. Your goal shouldn't be to gather thousands of followers; well, you may have such numbers and that's great, but, ultimately, you want to nurture your online relationship with them and keep them engaged with your content; in other words, create a community.
How to achieve that? Well, posting frequently so they can see you in their feeds, and sharing interesting content—to them—is key.
It's not (only) about you
To tie it in nicely with the previous point, you might feel the urge to use your social media channels to solely promote your services and products, or to show off about that event you are sponsoring or simply attending. Fight the urge!
You need to think, first and foremost, about what your audience wants to know about you or hear from you. Whatever you want to share, ask yourself, "Is this information really something my audience would like to be aware of? Will the product/service/event truly address their needs or will help solve their problem(s)?"
If the answer is yes, your social media content must demonstrate it. But avoid being too "salesy" as that might put your followers off.
And it's not (only) about business either
While you should share content about your business and show thought leadership, it's also important to feature your brand's story, including corporate responsibility and inclusion and diversity efforts, as well as workplace policies.
That's because, today, companies that are creating long-term value for their stakeholders, employees and society are the preferred choice. And that applies to both attracting talent and building business relationships.
In the specific case of recruitment, it's clear that Gen Z and millennials cherish happiness and fulfilment over, for instance, financial compensation. They are also willing to refuse job offers that don't align with their values. Hence, it's important that you promote your work-life balance efforts, flexibility, nice facilities—you name it—to show your company is the right fit for them.
Social media marketing isn't about sales
We know that social media managers get asked a lot, "How do you measure the success of your social media actions?" And by that they mean sales.
Remember that while your ultimate goal might be to get leads that will turn into customers, the main purpose of your social media activity is to drive awareness and interest in your products, services and values.
Thus, the number of sales driven directly after a social media click isn't the right metric to measure success, and the reasons are twofold: this isn't the type of action social media can consistently deliver, and often it isn't easy to measure or make the correlation, especially in the case of B2B.
Remember the power of design
High-quality social media design should be a core part of a social media strategy to help achieve your desired goals. Users' attention spans are shortening and great design will have a thumb-stopping effect that engages users to consume and interact with your content as long as you make it insightful.
Be (and stay) open-minded
Social media platforms are constantly experimenting and innovating— so quickly and radically that it can feel overwhelming to keep up with the change. But just like them, it's important that you stay on top of the trends and be open to try new things— it could be new formats, types of content, frequency of sharing or even the time you post.
Here, testing is key. And when you do so, it's important to give it some time to collect enough data that you can analyse and measure against your Key Performance Indicators (KPIs). Then you can decide whether it works or not. That said, keep in mind that failure is part of the process… and that's alright.
Having "vision" is another major element. The new and hottest social media platform of the moment has impressive numbers, but still you roll your eyes. You think, "Oh no, not another one. Do I have to go there too?"
That's not necessarily the case. You need to choose the platform(s) that will give you the right exposure with the right audience. That said, sometimes platforms such as TikTok might not immediately seem appropriate for your business. But if you go beyond the obvious and look long-term —and apply strategic thinking— you might find out that you were wrong. In fact, businesses, including financial giants, are starting to figure out how to tap into TikTok for a piece of the action.

What we think
Carla Santos, Senior Digital Communication Officer at PwC Luxembourg

Today, businesses can't afford to underestimate the power of social media to reach and engage with their customers as well as prospects, and build relationships with them. But they also need to manage expectations as to what social media can achieve and understand that the key to success isn't linear and it requires resources and experimenting… a lot.