The Media and Entertainment industry (M&E) is going through one of the most fascinating transformations of all times. It is restless and dynamic, and placing all bets on testing and quickly adopting new tech. But, the tech we consider as new today is, quite likely, not going to be new tomorrow, meaning that the changing pace of the industry is close to overwhelming. 
Almost obsessively, the M&E industry looks to bring about better user experiences where personalisation is an axis. Who doesn't like to be individually pampered? Once users get used to those personalised experiences, they avidly search for the same in every single service or product. 
One could say, "Meh. That might be happening in the media industry, but financial services is an entirely different type of industry and much more sober." Well, we have a strong and challenging counter idea. Consumers, like you, don't change behaviours and expectations depending on the type of business they interact with. You are the same person when you deal with a bank as you are when you interact with your mobile service provider. 
Distinctive, enjoyable content is the life force of communication and marketing today, but producing quality content isn't enough. The way it's packaged and distributed is a game changer for any business to make it stand out from the noisy crowd. And when referring to personalised content we need to talk about personalised consumption too. 
So ask yourself, with this evolution in technology, and taking into account how customer expectations are rising in the M&E industry, is it on your radar to track how the industry you are working in is living up to these demands?
In this article, we took a closer look at our Global Entertainment & Media Outlook 2019–2023, a five-year projection of consumer and advertiser behaviour, to get a glimpse of the future of content production and distribution, and that of user experience, while considering at the same time  current technology trends.
Please take it personally
According to our Global Entertainment & Media (M&E) outlook, today's consumption behaviour seems to prefer isolation. You've seen people listening to music on the streets, or watching movies or series on the train seemingly lost in their own little world. This gives a hint of how the convergence of technology and innovative ways to distribute content—in this case via streaming services—is enabling a more personalised user experience. Isolation, consequently, is the expected outcome but, back in the 50s, when non-cyber mass media was booming, people were behaving similarly when consuming magazines and newspapers.
How does behaviour nowadays differ from that of our grandparents?  
While isolation is a trend undeniably attached to the way a considerable number of people consume content these days, there is a dimension of personalisation that is, contrastingly, social. Individuals use media as an enabler for social interaction, including sharing playlists on Spotify, contributing via comments and opinions about live television shows on YouTube, or even engaging in multiplayer battles in online video games. Certainly, these examples are about interaction using different digital means, but it is interaction nonetheless.  
Consumers are taking advantage of what new technologies offer and how M&Es are distributing content through them, so as to create their own immersive experiences. Whatever the reason consumers engage with media, the final destination is the same. They are moving towards an entertainment style where personal spaces thrive, powered by M&E services that offer unique experiences and features. These experiences are continuously shaped by the power of AI and algorithms that are able to recommend tailored content to each user.
In addition, advances in technology and service offerings are moving consumers from passive consumption to active consumption, not only on an individual scale but on an industry level as well. This consumer behaviour is wide spread in the M&E industry and spilling over to other industries as well. 
The OTT Market is heating up
In the M&E industry, one of the signs of this change is the trend for consumers to reject the bundles of channels that cable companies sell, turning instead to OTT (Over-The-Top) services, a complementary streaming offering that covers their tastes and interests. However, this goes beyond the media industry, much like consumer behaviour.
In one way or another, the model some M&Es are basing their business model on is incremental innovation, i.e. offering a service that allows for personalisation that, in turn, is updated and improved with new technology developments and the lessons learnt from analysing user behaviour.
Some innovative retail bankers seem to have understood this "new way" through which consumers are engaging with products and services. They are flirting with personalisation around financial health – the improvement of the state of one's personal financial situation. By experimenting with the subscription-based model, these banks are offering bundled services that mix common banking operations, services that help users save money, offer protection, etc. 
The personalisation wave, fuelled by technology and evolving customer behaviour, shows no signs of slowing down. If anything, it will likely be amplified by new tech developments, scalability, aggressive investing and competition. 
The global OTT revenue hit USD 38.2 billion in 2018. It is forecast to almost double by 2023. There are many well-known industry players—Netflix, Hulu, Amazon Prime Video, Sky Go, being joined by Disney—the entertainment giant, Apple—the world's first trillion-dollar company, AT&T—the telecom conglomerate, among others. Is there space for all of them in the market? The coming years look very exciting and also fierce in the OTT arena.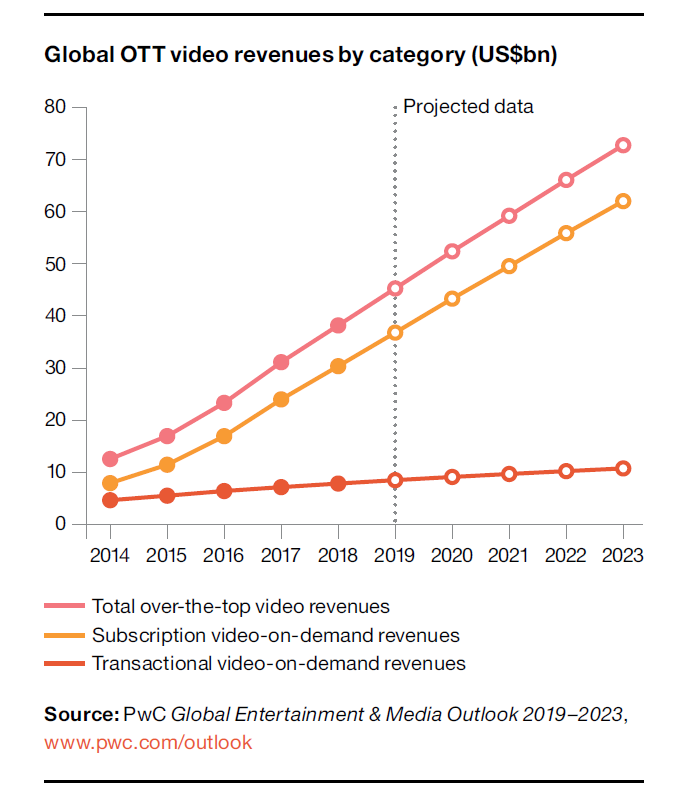 Talk to me, baby! The rise of smart speakers
Another sign of the move towards active individualised consumption can be witnessed in the rise of smart speakers. According to our outlook, the smart speaker will hold its place as a central device both in smart homes and connected cars, hitting 440 million devices globally by 2023.
As voice technology continues to develop and perfect, smart speakers are set to become the preferred channel for the audio industry—podcasts, music, news and ads—pulled by individuals or pushed by companies to smart-speaker audiences.
The future of mobile is 5G
The final piece of the jigsaw puzzle of personalised content will be the rollout of 5G, the revolutionary next-generation mobile communication technology.
Smartphones are already established as the most popular way of accessing the Web. The arrival of 5G will further push personalised consumption.
It will allow for the establishment of new pipelines for data streaming and content distribution to individual users. It's not only the M&E industry that will be positively impacted by 5G, manufacturing and healthcare are among the first industries to join the club.
Although M&E companies will be among the first to incorporate 5G into their offerings and business models, it will impact other industries where the technology won't be adopted yet. According to the study published by PwC's Strategy& Making 5G pay: Monetizing the impending revolution in communications infrastructure, companies from other industries will be more willing to partner up with OTT service providers to bundle their services with connectivity subscriptions.
The message is clear. As 5G expands, so do the opportunities for cross-industry collaborations.
One size does not fit all
The move to personalised, active M&E experiences has, and will continue to have, a deep impact on how companies—both inside and outside the M&E industry—frame and develop offerings and products. At the same time, it'll impose new responsibilities and, in some cases, limitations on how they market them.
These new dynamics apply across different industry platforms, types of content and both digital and physical experiences. However, one size or one strategy doesn't fit all companies.
Innovation brought about by OTT services in terms of personalisation and user experience is triggering new service offering models in the M&E industry. Other industries are prone to follow. For now, access to a pool of unlimited, always-available content that users can choose from for a monthly fee seems to be the most conspicuous model.
It's crucial for companies to learn local market trends so the segmentation around consumer preference is possible. By adapting their business, communication and marketing strategies to local market dynamics and consumer habits, companies will be able to offer quality, personalised services to their customers. This includes the financial services industry.
You say you know me, but do you understand me?
Personalisation is one of the hottest topics in business nowadays; it goes beyond being a mere buzzword. When embraced purposely, it's both a valid approach and a necessary mindset for shaping and delivering better user experience.
According to this article, around 40% of the largest financial institutions still see themselves as being "static", or not offering any personalisation in their services and applications.
Bear this in mind: each client you work with, each individual that visits your online website, uses your app, calls your call center or visits your business, is unique. Each one of those people has their own goals, aspirations, interests and pain points. By helping them find solutions to solve the latter that are also unique to each business and situation, you're adapting and customising your services to their needs.
As technology continues to evolve and customer expectations and demands grow with it, how can financial services continue to be on top of their game?
A personalised experience is often a synonym of competitive advantage in the financial services industry, and a customer-loyalty driver. Developments in machine learning, big data and the use of AI are making personalised experiences increasingly common.
As user experiences with personalised-content consumption, and the platforms they use as access, continue to develop in the M&E industry, people will expect to enjoy similar experiences from all the industries they interact with. Personalisation is bound to support sales, business development and customer loyalty in financial services.
With great technology comes great new responsibility
Business must assume the role of explorers on ships in the 15th century, willing to navigate through unknown waters. As they discover new horizons, tasks are made more challenging by the rapidity and degree of change.
There is no business that will not want to arrive at the lucrative shores of personalisation, but they will also have to keep up with the pace of the winds of change. To stay relevant, there are some steps to take into consideration:
Don't play a guessing game with your customers
Effective and engaging personalisation is becoming an imperative. The need to adapt content to each audience and, going further, to the interests and demands of individual users, is undeniable.
Personalisation, however, also means that companies will need to gather information on consumer behaviour. The increase of privacy-related regulations like the GDPR will push businesses to look into new data sets and information gathering methodologies if they want to stay compliant. Similarly, they need to look into new types of contextual behaviour.
Transformation and context share the kingdom
Many traditional media companies have realised that business and operating models that contributed to their success in the past no longer apply to the present or the future.
To remain competitive in the long run, it's necessary to act quickly and efficiently. How? To many, the answer is transformative efforts. For some, this might translate into climbing the value chain, moving from content aggregation or third-party content production to in-house content production.
Others may bet on and Merger & Acquisitions strategy, acquiring businesses that are key to remaining relevant in the content and personalisation game.
For any of these evolutionary efforts to succeed, businesses must follow a customer-focused approach, which, in turn, calls for a continual desire to innovate.
Another variable to add to the equation is context. Businesses are required to assess which new technological developments are suitable for their business, what challenges and compliance regulation is bringing and how the competition gets around these challenges.
There's an individual behind every user ID. Don't forget it!
Eat your spinach to build stronger capabilities
Businesses are required to continuously rethink and build their capabilities to remain in the competition.
Along with the need for a whole new set of digital skills to keep up with technology developments and match evolving consumer behaviours, comes also the urgency to enrich and further develop human skills. Put simply, the more robots come to the business scene, the more valuable human interaction will be.
Mobile, big data, AI, VR, AR have shaken our idea of how to create, distribute and consume content. Certain business functions such as marketing, communication or sales are growing in complexity, requiring updated skill sets that include data analysis, data visualisation, coding, cross-team management competences, active listening. These functions are becoming the domain of multi-skilled professionals that can deal with new types of platforms such as live events, apps and e-commerce, but are also able to court influencers.
To build market influence, focus on user experience
Remember Cinderella? How she tried the glass slipper and it was the perfect fit? That's the next level for user experience, as the focus on the individual tightens.
The new models of content delivery, distribution and display have to feel right for each user, need to be easy to access and to allow users to customise and enable their own preferences on a product or platform. Businesses want to accept consumers' new power, allowing them to make the user experience as personal as they want it to be.
What we think
Luis Salerno, Digital Communications Manager at PwC Luxembourg

I've wondered more than once if Napster ever imagined the enormous change it inflicted on the way we consume content. What came after is familiar to most of us: iTunes' smart assault on the music business with personalisation as a Trojan horse. Netflix and Spotify, to mention some, have made both accessibility and exclusivity seductive to a large majority of users. But I don't think this is the end game. Other industries are already adopting models with these characteristics as pivots, including financial services. We want services that are timely, smart, simple, accessible and tailored. If they can entertain us, that's even better.