In our previous blog, we looked at an overarching summary of the results of our CEO Survey Report 2021 – Luxembourg Findings and asked the question, "Why are Luxembourg CEOs embracing the future with optimism?". (p.s. If you want to know the whole answer, you have to read the blog).
This week, we will focus on one of the areas that adds nuance to this positive outlook – concern with over regulation.
What we discovered, looking ahead, CEOs are optimistic about the recovery
To quickly give you some background context, PwC has surveyed chief executives for our Global CEO Survey annually for the past 24 years. At PwC Luxembourg, we take part in this initiative every two years to provide more specific insights from and for our local CEOs. This year, 82 respondents participated in the survey, 70% of them coming from the financial sector (FS) and 30% from the Consumer Industry Product Services (CIPS) sector. 
To 76% of the global CEO respondents, the economy will improve over the next 12 months. This percentage is slightly higher when narrowing the scope to Luxembourg, where 79% of respondents share the same sentiment.
What we discussed in our previous blog was that, emerging from a historically negative year, the optimism our CEOs demonstrated is rooted in the fundamentals of capturing new opportunities, recognising the accelerated imperatives of digital change, upskilling and building for a sustainable future.
Another way of summarising this is to say that, after the post-COVID dark clouds we have all been living under for more than a year now, CEOs around the world and in Luxembourg see a silver lining. And we all cherish silver linings.
There are some areas that throw a little shade on this positive outlook, however. The one we discuss in this blog entry is concern with over regulation.
In business —and likely in (almost) every twist and turn of our lives— optimism without realism can make us unwise. By adding a tinge of realism, one does as much as possible to obtain the desired results. In the previous blog, we stated that our CEOs are typified by their ability to deliver reliably, with the inherent insinuation that, to be able to do this, they adhere to a key practice of setting realistic expectations. So we need to also listen to where there is caution and concern, to be attentive to the cloud that is shading the silver lining. 
Concerns surrounding over-regulation remain prevalent for Luxembourg CEOs
For our global CEOs, pandemics and health crises top the list of threats to growth prospects, overtaking the fear of over-regulation, which it needs to be pointed out has been the perennial number one concern for CEOs globally since 2014. Luxembourg CEOs are greatly worried about over-regulation, with 63% of them voicing concerns that it may jeopardise their organisation's growth —about 20% more than at the European and global levels.
Let's do a deeper dive into this and take a look at a graph from the survey.
How do European, Global and Luxembourg CEOs differ?
Let's have a look at the chart below. It presents the Top 10 potential business, economic, policy, social and environmental threats to organisations' growth prospects both in Luxembourg and globally. For Luxembourg, it also compares this year's answers with the ones in the 2019's edition of the CEO Survey.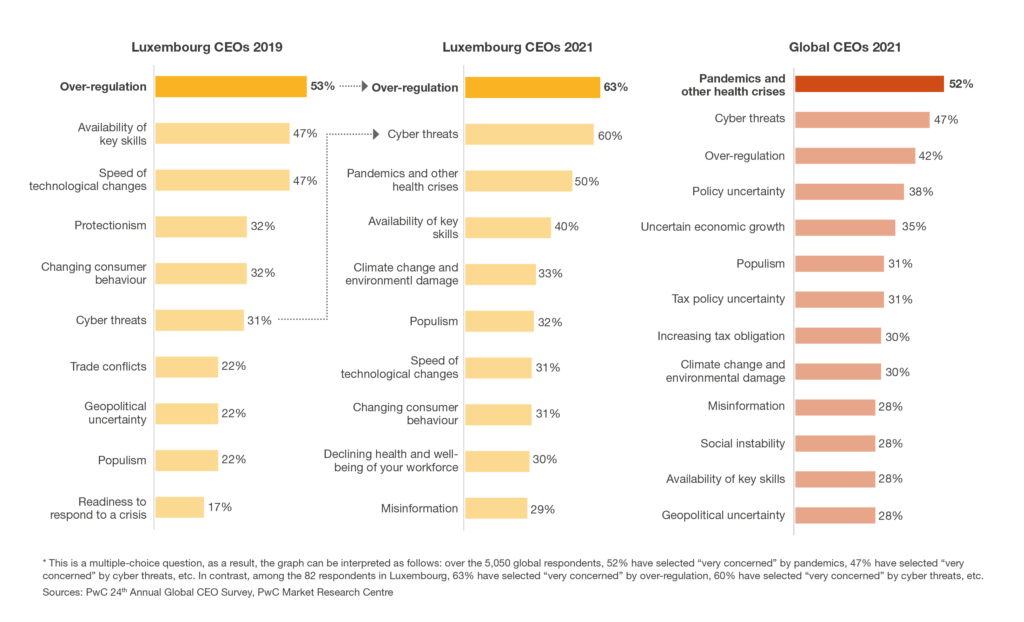 Over regulation is the biggest risk
The concern surrounding over-regulation is rooted in what's at stake —investment, resources, time— when it comes to compliance.
Luxembourg CEOs continue to face more stringent regulations, having to adapt their business structure/model, creating more costs and uncertainty for their company. There is a mutual feeling amongst them that regulation is hindering business. A combination of reducing and simplifying regulatory requirements for businesses in Luxembourg could alleviate this burden even though most of the new regulations are set at the European level. To anticipate this burden, 51% of Luxembourg CEOs are factoring these topics in their risk management activities. 
Now, mind that, as we mentioned earlier, there are CEOs from both the FS and the CIPS sectors in this survey, therefore, their responses will be different. Their business has been affected differently by events in the past year and more so naturally their outlooks are different. 
In terms of the financial sector, Luxembourg CEOs are most likely anticipating the increased compliance costs from the EU regulation on sustainable finance, which will have a far-reaching impact on their business. This explains why a slightly higher share of FS CEOs are concerned with regulation (66% of FS CEOs vs 58% of CIPS CEOs). 
Those that are able to see past the compliance burden and leverage the regulation to implement a transformative change —integrating ESG into their strategy and thereafter into their operations and product offering— will benefit the most in the long-term. Or you might say, recalling the silver lining metaphor, they just need to see their way past the cloud!
Overall, the fact that Luxembourg CEOs already pointed out over-regulation in 2019 may reflect a long-standing concern about the slow deterioration of Luxembourg's competitiveness vis-a-vis other destinations such as Ireland, the UK or Singapore. Thus, it would be worth considering, especially coming out of the crisis, stepping up the efforts to reduce and simplify some regulatory requirements for businesses in Luxembourg to alleviate this burden. This is true both for the financial sector, but also for the CIPS sector.
That being said, while 38% of global CEOs are worried about "policy uncertainty", this issue does not appear in the top 10 threats in Luxembourg, indicating the favourable Luxembourg business environment characterised by stable regulation. sector.
Today's economic weather report is "Optimism with shades of concern"
The fundamental narrative is quite clear. The past year and some months have seemed to many as if there was a dark cloud over us. Now, looking ahead, while CEOs are, generally speaking, optimistic about the recovery, the concern surrounding over-regulation remains prevalent.This prompts the question of how to address this concern in a very competitive international environment.
Finally, we leave the last word to Olivier Carré, Financial Services Market Leader, who recently said: 
Over-regulation is seen as the biggest threat to growth by Luxembourg's CEOs, even more than the pandemic. But while chief executives and their business might struggle with the cost and complexity, Luxembourg has largely been a beneficiary of regulation, such as financial services passporting.

Also not to forget that the likes of KYC/AML and GDPR rules are the result of policies of democratic governments backed by popular desires to keep checks on some business activity. A similar dynamic is playing out again with new green investing regulation, the SFDR and the coming taxonomy. It is super complicated, but there is certainly also an upside to this regarding the products that can be offered.
So there is a silver lining after all.