Socio-demographic factors, technology and operational alternatives already shape the real estate market in Europe. The sharing economy shifts the focus from products to services, technology changes business models and social infrastructure becomes the investors' new sweetheart. Check our experts' views on coming opportunities.
What we think
Social factors drive the real estate sector beyond bricks and mortar
The real estate industry will engage in socio-demographic changes much more – healthcare, leisure, housing as opposed to retail, offices, industrial. The trend of wellness rather than just sustainability will become increasingly important in the way we plan and plot new development, in particular, new communities.
This is part of a larger human behavioural shift, changing how people interact with real estate. It's the emergence of the sharing economy and, with it, a focus on access over ownership. This trend is moving the centre of gravity from financial asset to product, or more broadly "space" as a service. The "Generation Rent" minds the quality of the service, as they strive to ensure that their working lives are better integrated with their broader lifestyles. As a result, real estate is attracting new players, with different business models, and different service offerings. Agility becomes crucial in businesses' survival on the short term.
Technology changes how we occupy, lease, buy, sell and value real estate
Technology is a catalyst for many and varied changes, especially on the demand side. Fortunately, it also creates the means to meet all these new demands. From data and analytics to the blockchain, 3D-printing and even drones, technological disrupters will pave the way for new ways of working and investing. Looking across the market, forward-looking real estate businesses recognise that disruption is an opportunity and are adjusting their short-term strategies and longer-term value models accordingly.

Building management
The single biggest driver is connectivity. The Internet of Things together with sensors is completely changing how we live and how we conduct business. It's also about how do we manage our buildings effectively. This includes using data and analytics to gain greater insight into the behaviour of both current and prospective users. Managers will combine traditional yield measures with customer data in areas such as tenant satisfaction, environmental performance, health and wellbeing.
Real estate 3.0
The modernisation and digitalisation of banking, automation of routine transactional tasks, the use of artificial intelligence (AI) and virtual reality (VR) will affect how much space is needed and how it is used. Blockchain will increase transparency, efficiency and security, not only for deals or property registers but also for mortgage lending. An example is a partnership between the Bank of China and HSBC which are implementing blockchain in mortgage lending, with values identified instantly.
The internet will definitely reshape real estate in the retail and logistics sectors. 3-D printing technology could mean that you don't have to store or move products. The Chinese company WinSun has 3D-printed 10 single-storey houses in a day, for less than USD 5,000 dollars, last year. This could be a game changer.
Operational alternatives: new sources of revenues and… risk
Student housing, retirement/assisted living and healthcare offer the best real estate investment prospects for 2017. These sectors help diversify and secure income returns when mainstream real estate looks expensive and vulnerable to economic uncertainty. Social infrastructure will be in the spotlight because that's the requirement that's under-invested.
The long-term benefits must be balanced with operational risk in sectors such as student housing. Investors forget at their peril that they need good asset management procedures in place to get the return. It's not an asset class you can just sit on. Investors have to be careful because there's a propensity to underestimate operational risk.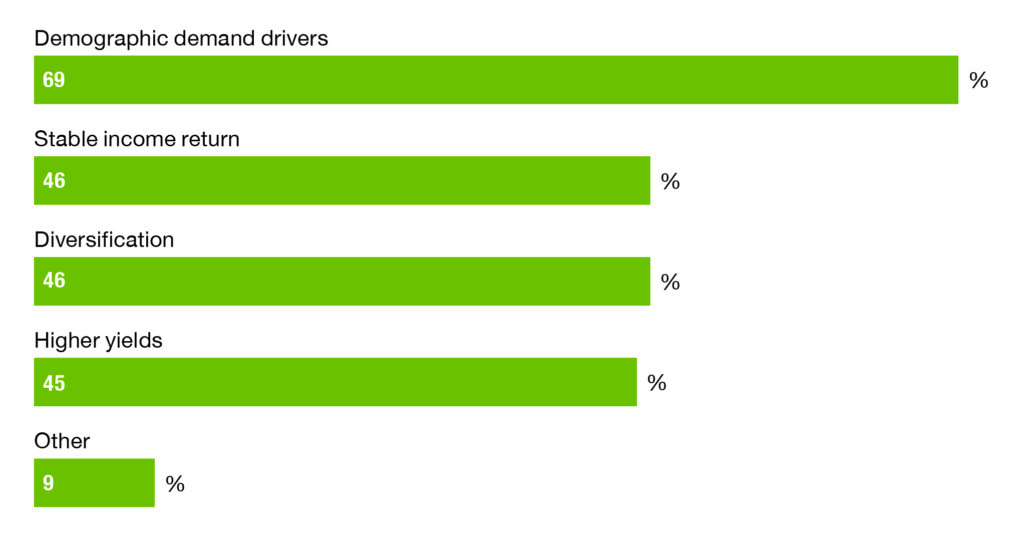 This post is based on the findings of the Emerging Trends in Real Estate Europe 2017 report, published jointly by PwC and the Urban Land Institute.