Anna. She aspires to work in journalism, but she's an engineer. Rumours in the corridors of the company hint that most of the production lines will soon be automated and that a bunch of people – no matter their job position – will soon be queueing at the Employment Office. Neither her academic background in computer engineering nor the years she's been working in a multi-national company can fight this fact: machines and robots will replace the tasks she performs so well. They are quicker, frighteningly accurate and cost savers.
Anna knows technology is changing the nature of work and that competition is in crescendo. How can she compete with the young engineering graduates who are digital natives and undoubtedly fitter for what the job market is demanding?
Anna wonders what the best approach is to fulfil her new journalism adventure. One way or another, automation, digital platforms, and other innovations are changing how we work, affecting most industries and the job functions they require. If you think neglecting machines is a good strategy, think twice. We need to ADAPT to them, coexist and take advantage of what makes us unique: our human touch. It's essential that decision makers, leaders and workers understand the way jobs and employment are shifting so as to move forward in a way that's sustainable and responsible.
In this article, discover Anna's story about how the company she works for faced automation and what she did to reinvent herself professionally and start a new professional career.
How is technology influencing the job market?
Technology has been transforming the nature of work since the Industrial Revolution. From mechanisation, robot process automation (RPA) to machine learning, production lines, business operations and logistics have been evolving since then.
Technology has become an indispensable support to human lives. Sometimes subtle, sometimes radical, the life changes we've gone through due to technology are almost countless. Think of this example: only 20 years ago, people looked for work openings in newspapers. Anna recalls this when she thinks of her professional future and what her mother was doing when she was in between jobs. "Preparing resumes and cover letters was likely harder, but jobseekers had more flexibility when it came to adapting their job experience", she thinks. "Nowadays, people have access to numerous job-matching websites like LinkedIn or Glassdoor to perform a detailed and effective search on the job market. They're more accountable too, because information can be confronted", she says to herself.
RPA, robots powered by machine learning or deep learning, drones, etc.; we will, as in the past, end up adapting to them and adopting them. After all, the economic system that reigns prizes efficiency, productivity, cost reduction and, increasingly, customer experience. However, adaption isn't a smooth path humans will have to walk, almost unavoidably.  The robotisation of business raises difficult and frequently ethical questions because it confronts social issues like the rise of unemployment and challenges the role humans have played in the world of work until now.
The "conventional" status-quo of how we work and where it is crumbling.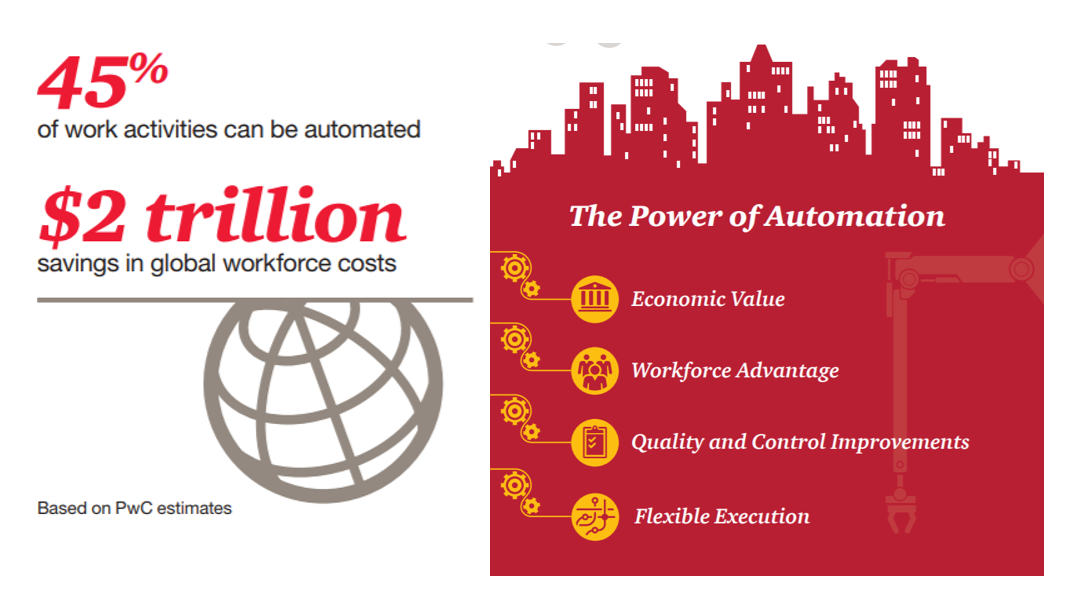 Businesses face the challenge of the century: managing through disruption. Never before have leaders rode waves of innovations with such a fast pace, demanding quick answers and forcing the creation of new business models, more flexible ways of work, different and more dynamic decision making processes, new approaches to bring value to customers and more transparent governance. And one more bullet point needs to be added to the list: Automation or "the robots" and "how to deal with them".
Anna knows this very well. In the last 6 months, automation has been a recurrent topic in meetings and plenaries when all workers gather to learn about the organisation's new plans. "The nature of work is on a fast development lane due to constant technological evolutions," the CEO said last time. "To be able to stand out in local and global markets, we need to be a step ahead adopting new tech as quick as possible, and hiring a workforce capable of dealing with the latest technological developments". Anna felt it was time to go, but she also thought she wanted to help the people that would likely stay.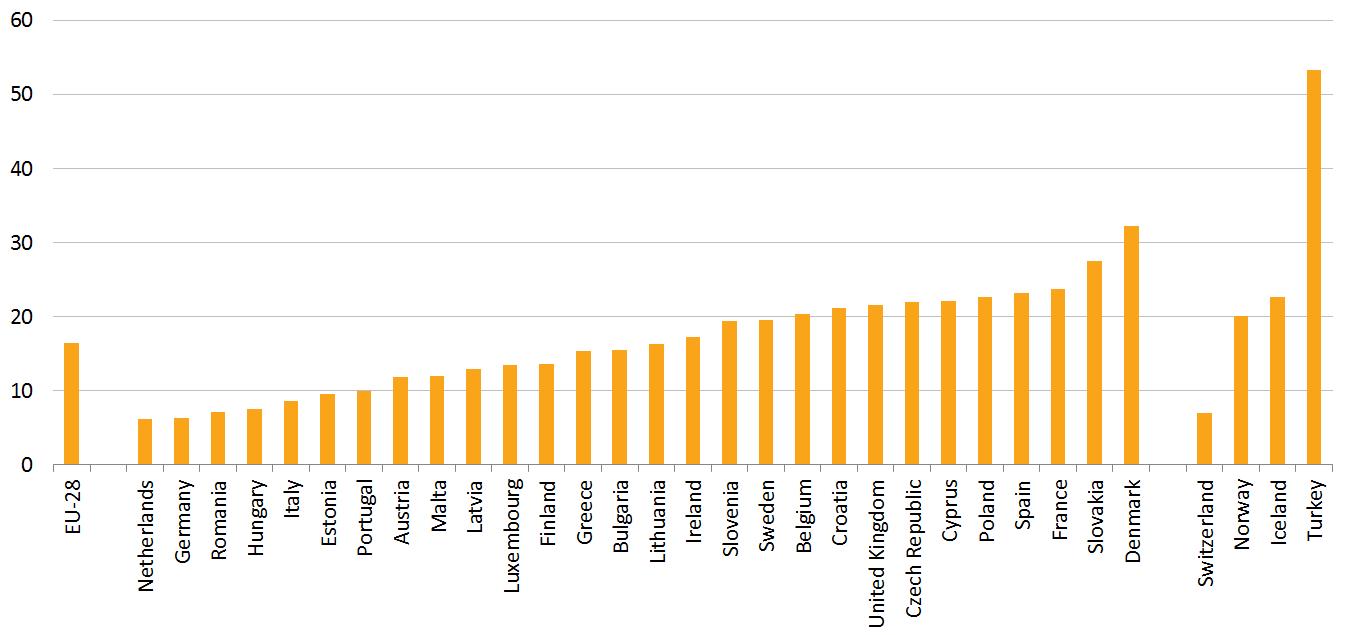 The challenges of today's workforce
Automation has brought to light other problems of the world of work: the gap between market demands and the skills of both young graduates and senior employees. They are very valuable, but the "robot-driven era" demands new ones.
Educational systems aren't fast enough to adapt to the constant change the nature of work faces. The outcome is employers' impossibility of finding workers with skillsets that responds to what businesses "on disruption mode" demand. In addition, almost foreseeable, young job seekers struggle to start their professional career. By the time they graduate, their skill sets no longer match market needs, or only partially.
The older workforce also finds itself in a labyrinth where the path to the exit is shadowy. As all industries move towards automation, even senior employees are at high risk of unemployment. Either they develop quickly a set of technological skills and knowledge to stay in the loop or they go.
"To the mismatch between market demands and skills, there is another variable to add," Anna reflects. When she was part of the hiring process of a pool of blockchain experts, almost nobody around the city fulfilled the requirements. Where there is demand for work, there isn't enough qualified talent available; where talent is present, the job market doesn't offer attractive opportunities.
While cross-border migration may help fill gaps, it creates political and social tension. Results of the political election in the last two years show a tendency to protect national job markets.
Bridging talent with the job market of the future
The benefits of automation are undeniable but governments and businesses require thinking thoroughly its social aftermath. "Accountable, we all have to be accountable for decisions we're making when transforming business and impacting people," Anna shared with her Product Management Director. "You know, I've got my way of overcoming my potential unemployment shock, but not everybody does. I want to propose something to you."
Government support is crucial for the automation and robotisation of business to become positive for all. With access to funding, and a dose of creativity and open-mindness, national employment agencies can put together programmes to tackle the conundrum the job market, the workforce and automation are trying to tackle.
Job transitioning, job recycling, employment conversion, technology mentoring, no matter the names given to the programmes to cope with the impact of automation technology, companies are in need of preparing employees to team up with "the robots" instead to fighting them, to adapt the nature of work to automation. Anna said to her director, "Let's join the Skills Bridge Project. Help me talk to our CEO."
Skill me. Don't kill me.
Skills Bridge is a Luxembourg programme all-size companies can implement to upskill employees whose activities will be transformed by technology. Opened to all sectors, it supports them in the move towards new functions and new jobs. By anticipating the impact of technological changes on employment, companies can remain competitive while supporting the long-term of their workforce's employability.
Anna, the engineer, convinced her CEO to take part in the Skills Bridge programme. The team running the programme assessed her competences and listed her career interests. Journalism was first in the list. "Why journalism?" someone asked her. "Because robots will come, but a bit later"," she replied laughing.
Several job openings matched her new job interest, she realised. The company needed some content creators with good "field knowledge" to cope with the new customer experience trend. She thought twice, then. Leaving the company was a fact, but the panorama seemed different now. While it's not the job of journalist she was considering, most of the job description fitted her career expectations. After discussing with her personal advisor and confirming her decision to stay in the company, the Skills Bridge team designed a development plan to make sure she had the necessary skills for the job.
Like Anna, other people started the professional reinvention process; others left the company, however. A key idea to keep in mind when it comes to programmes helping workers adapt to new technologies is "mitigation". The impact on employment can be mitigated, but rarely avoided. "Change isn't always comfortable but it's a universal law,"  Anna wrote in an article for the company's blog.
If you had to work with a robot tomorrow, what would you name it?
What we think
Valérie Arnold, Corporate Responsibility Leader

Blockchain, big data, artificial intelligence, 3D printing… technology affects companies of all sizes. The general thinking is that all these things will impact them positively; we cannot leave behind the human factor. There is a growing concern of the impact of automation in the job market. It's transforming both, the nature of work and the labour market; it's pivotal that employees' skills match market needs. Skills Bridge is a long-term solution that help both employees and employers to make a difference while being corporate responsible. It's good for the people, they keep their job; it's good for business, because automation is advantageous; it's good for the government since it mitigates potential unemployment raise. This is a good example of initiative companies together with the government develop to generate positive impact for all stakeholders. Everyone wins!