Over the years, Luxembourg has confirmed its position as an international distribution platform. The country's AAA rating, its international financial centre, as well as its political and social stability, have been strong arguments for asset managers from all around the world to distribute their funds in here. France is no exception. We've examined how big French asset managers are in Luxembourg and how they deal with corporate governance.
French asset managers in Luxembourg on the rise
With nearly 8.5% of the market share in Luxembourg in April 2017, the French asset managers have thriven. Indeed, the major French asset managers have been setting up for years their own Luxembourg SICAV including multiple compartments. In addition, medium-sized asset managers are more and more opening a Luxembourg fund's range. They do it either directly or through a master feeder structure, with their own existing French fund range.
Another sign of the strong French activity in Luxembourg is the ever increasing number of French funds and management companies operating here. Last year, around 30 French management companies were implemented in the country. To these, we add approximately 35 French management companies based in Paris were managing Luxembourg funds through the UCITS V passport.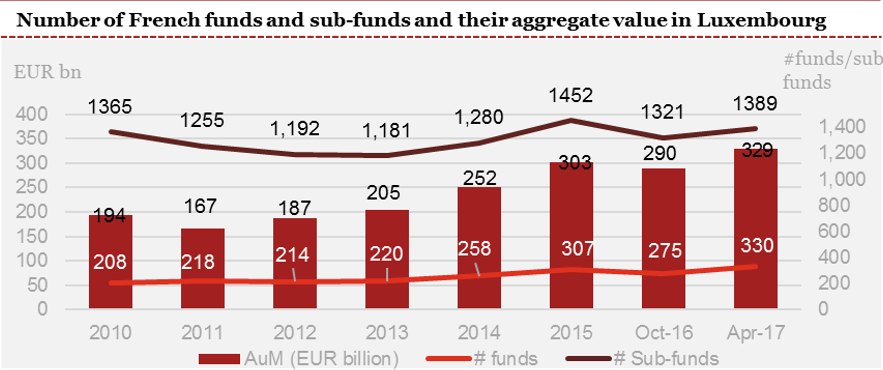 Luxembourg UCITS and AIFMD provide French managers with the ideal framework to run their operations.
Fund governance – a cultural gap?
When it comes to governance, French asset managers stand out from their foreign counterparts in Luxembourg.
While the number of directors (4) making up a French board is quite similar to the average (5), only 6% of it composed of independent directors, opposed to 23% for other asset managers. The contrast is even more striking when it comes to adopting a code of conduct. Only 33% of French managers have adopted such a code whereas 74% of their counterparts have one.
Emmanuel Chataigner, AM partner

French asset managers are increasingly active in Luxembourg. UCITS V, through the management company passport or master-feeder structures, opened many new possibilities.  And French players are more and more considering. For a few months, we've noticed a trend of new mid or small-sized managers taking advantage of UCITS V and setting up funds in Luxembourg.

One of the hot topics on French asset managers' agenda is the diversification of the Board of Directors, to include more women and potentially independent members.