In a competitive job market, transparency around progress on diversity can strengthen the brand with customers and potential recruits. Having diversity in points of view helps leaders think through the best course of action for their situation. How high is gender diversity on CEO's agendas and where do we stand in Luxembourg in terms of gender pay gap?
Financial services CEOs willing to boost gender diversity in coming years
The 20th CEO Survey sheds light not only on future business strategies and digital transformation, as seen from the top, but also on the importance of gender diversity across the financial world. 85% of financial sector CEOs promote talent diversity and inclusion. They see it as a means to broaden their talent pool and so bring in the fresh ideas and experiences needed to foster innovation.
Insurance CEOs are the most committed to investing in diversity and inclusion across the financial sector. 94% of those surveyed are keen to promote talent diversity and inclusiveness. We see the same trend, though weaker, among banking and capital markets CEOs. 80% of them think it's important to have different viewpoints around the table and value inclusiveness. Asset management leaders also believe gender diversity makes business sense. Over 70% of respondents to the survey agree that it attracts talent, strengthens business performance and reputation and aids collaboration within teams and with clients.
Yet, many women and other groups of people who are under-represented in senior management still face barriers to promotion. Policies alone won't overcome them. What we need is a change of mindset that stretches from more agile ways of working to how we meet targets and judge performance.
Luxembourg to become a champion of equal pay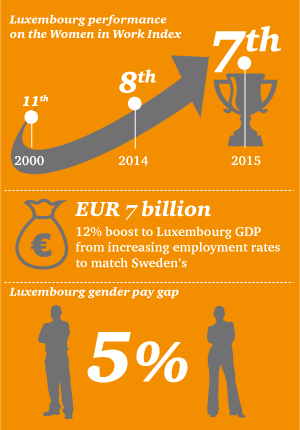 The Women in Work Index we publish yearly shows that the OECD has continued its gradual progress towards greater female economic empowerment. The Nordic countries, particularly Iceland, Sweden and Norway, continue to occupy the top positions on the Index. However, Luxembourg is not very far behind: the country ranks 7 among 33 OECD countries. In addition, based on the current convergence rate, Luxembourg is likely to close the pay gap by 2022.
With a female employment rate well above the EU average, Luxembourg saw the largest improvement (2%) in the gap between male and female labour force participation. Our analysis estimates the potential gains from increasing employment rates among women in Luxembourg to match those of Sweden, a consistently top performer in our Index. The Grand Duchy could see its GDP increase by 12%, the equivalent of EUR 7 billion.
What we think?
Vinciane Istace, Diversity and Inclusion Ambassador

About 40% of today's global workforce are women, yet just 5% of global CEO positions are held by women. Is it any wonder then that there's a growing sense of impatience around achieving greater gender parity throughout the business landscape? We need a permanent focus on everything related to diversity and, above all, gender complementarity. We shouldn't see gender diversity as a project, but as a way of living and working together. Let's overcome feudal social norms and embrace progress. Let's stir collaboration and translate ideas into concrete actions and experiences. This is a priority for us and we're confident to reach gender balance over the coming years. In 2016, 47% of our People were women, so we're already seeing the fruits of our hard work.