It's Christmas market season once again, and as you sip your glühwein and think about ways to show you care, 'tis a good time to think of how you can help your clients grow their business. Yes, the latest phrase is a bit cliché, but it's a better alternative than thinking about the hole burning through your wallet!
Being able to do business internationally is desirable for any growing business. While that isn't a disruptive award-winning statement, it's important to make the remark because walking the talk takes some guts and good advice too. Bearing that in mind, this week we went to Crystal Park's third floor to invite Catherine, from the EU Gateway | Business Avenues team, to have a nice, dark coffee, and to talk about entrepreneurship, internationalisation and successful business stories that happened to involve, guess what… food and coffee.
Catherine talked with us for about one hour, and out of the bunch of interesting ideas and lessons learnt on growing a business overseas, we chose five. Don't stop here.  Keep on reading, they are just…below!
5 real fact-based thoughts on growing your business overseas
1) Your growth is a gift to the economy
SMEs have significantly contributed to the recovery and subsequent expansion of the European economy. The 2018 European Annual SME Performance Review released just last month cites SMEs as responsible for close to half of EU growth in the past decade. This report we put together with an innovation and technology consultancy firm for the European Commission's DG for Growth shows how the successful penetration of markets has boosted the growth of many small and medium European enterprises (SMEs).
2) When expanding overseas, you can package your business in a number of different ways
By default, the export/import model is chief among overseas expansion options, but there are other interesting ways too. For instance, there's outbound foreign direct investment (or when you expand your operations to a foreign country), bringing a foreign investor into your business, joining a global value chain (or perhaps a national value chain with an international focus), doing cross-border R&D and collaborating on innovation, or licensing or franchising products or services.
Even if you aren't exporting, you can still be part of the global economy by supplying to exporting firms. Either way, SMEs that don't export and aren't part of a global value chain may still indirectly benefit, as increases in foreign demand generated by exporting enterprises tend to boost domestic demands for goods and services.
3) The right support beats the millions
The most frequent reason SMEs give for shying away from entering into a new market is the lack of market awareness. If you don't entirely understand a market, find its legal and regulatory environment daunting, and don't know what the local business practices are, why take the risk? CEOs see scarce information and uncertainty on how reliable potential international partners are, as downsides to expanding their operations overseas.
Opportunities of growing overseas are just too large to ignore, however. Working with European SMEs as part of the EU Gateway | Business Avenues programme (*) to accelerate exports into Asian Markets has been an invaluable teacher in understanding that the right support can beat all the money in the world. Until now, 89% of the 3,400 companies we've coached expect to grow their business in the target markets, 56% have concluded sales or signed contracts since participating, and 52% have employed more people as a result of their revenue growth.
4) Deciding on a market is like finding the perfect present
Is this the right product to go further than my country borders? Can I afford that strategic leap? Assessing your scalability and your value proposition for the target market is a useful exercise, along with looking into your product's relevance and comparing it to the local competition. Different markets have different nuances and having the right go-to-market approach can spell out the difference between hitting your revenue objectives in the first year or seeing your time and money go down the drain. Good, meaningful data can help you determine more accurately your competitive advantage, pricing and positioning, and feed into your business development and marketing strategy.
A good place to start is the European Commission's Market Access Database, a nice present for would-be starters. This online tool provides key detailed information on every country with whom the EU trades. You will find information from the duties & taxes on imports of specific products, procedures & documents to clear customs down to regulatory requirements and available services for SMEs. If you know your product's HS* code, the information is even more precise.
What's the HS code? It's a international 6-digit nomenclature system to standardise the classification of commodities. HS stands for "Harmonised Commodity Description and Coding System".
A readiness self-assessment exercise is likely the next best action to take before betting on going international. And, to do that, we've got you covered! We've developed an intensive Readiness Self-Assessment Tool based on six dimensions that a company needs to check out before entering a new market, regardless of industry or territory.
And because we want to be a gift that keeps on giving, here's an infographic with an overview of the readiness self-assessment tool to fill your Christmas stocking.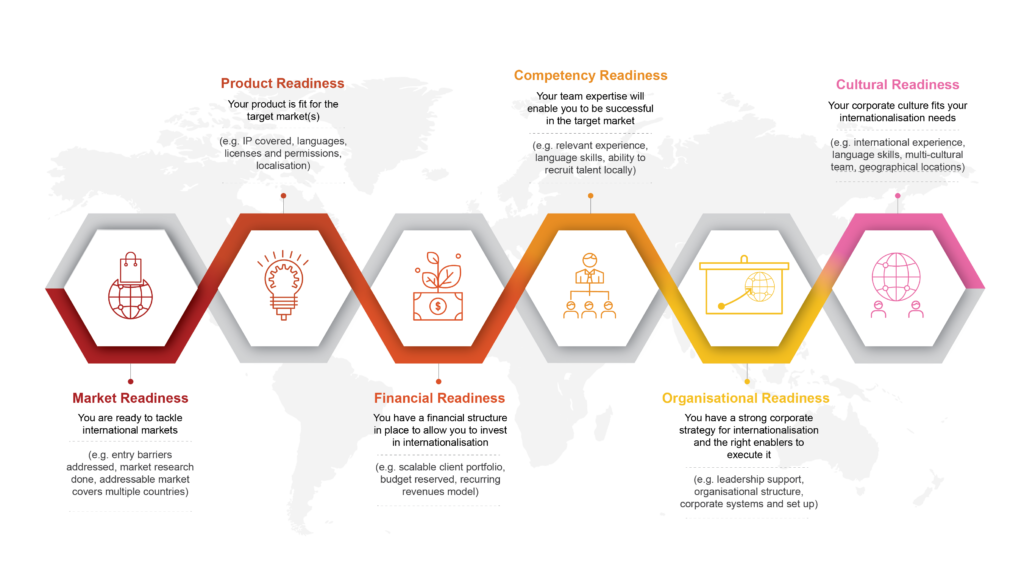 5) Motivation is…well, you know, key
Getting to the season's positive spirit, here's a twin-set of stories to inspire you from the Organic Food & Beverage industry.
When chia seeds meet a retailer giant
In 2016, when developing the EU Gateway | Business Avenues Programme, we identified specific opportunities in the Korean market for European organic food & beverage products. One of the companies we took on a business mission to Korea was AcanChia, a German company specialising in high-quality vegetable raw materials for food production.
The company whose brand has been certified as organic since 2013, supports sustainable growers in Latin America, the cultivation of products and the preservation of traditional food.
We organised 32 meetings for Wolfgang Neldner, AcanChia's General Manager, including one with HNI Korea, with whom they closed an exclusive agent agreement. A year after the mission, HNI Korea succeeded in launching AcanChia's organic high-quality Peruvian-cultivated black chia seeds as a key ingredient in the preparation of Starbucks' chia seed drinking yoghourt.
Just last summer, at HNI Korea's request, AcanChia's research department started developing a soluble formulation of the organic chia flour as an ingredient for special uses in food products. Pulmone, a key player in Korea's organic market, has been launching and selling extra fine chia flour as part of its 365 line.
Since the launch of its products in Korea, demand for AcanChia's products has been increasing at a rapid pace. Mr. Neldner reported that they are working on new releases and formulations specifically designed for the market, including a special chia oil formulation that is currently being evaluated by one of Korea's largest cosmetics companies for use in skin care. New opportunities in neighbouring markets Japan and Taiwan have also opened for the company.
What were the contributing factors to AcanChia's rapid success? Neldner notes that professional assistance before, during and after the mission was critical and without the programme, they would not yet be ready. Indeed, the logistical and financial support provided by EU Gateway | Business Avenues enables companies to focus on their core business strategy. More importantly, a guided approach to the market, combined with access to our strong local networks, lends credibility and helps to open doors.
AcanChia's story is far from over, and they aren't the only one.
Korea tastes coffee with a Spanish taste
Cafés Oquendo is a leading Spanish company with over 30 years' experience in organic beverage products, including whole coffee beans, ground coffee, teas, infusions and sweets. We took Oquendo to a business mission in Korea, organising 17 high potential meetings for Export Director Marina Rayón Martínez-Noreña. Oquendo's BIO capsules, compatible with Nespresso® and Dolce Gusto® machines, gained popularity among both both brick-and-mortar companies and e-commerce retailer buyers.
We introduced Rayón to a local distributor, with whom Oquendo signed their first large scale distribution agreement in South Korea. Oquendo's local partner helped them to develop all their documentation, local certification, validation, necessary product adaptations to meet Korea's export requirements.
Oquendo's products have found a suitable market in Korea, where coffee consumption reached 2.3 kg per person in 2016. Their sustainable methods, including a new product range that is fully compostable, appeals to a market that is increasingly demanding high-quality products that are also eco-friendly and can be integrated into the circular economy. Cultural readiness was a big part of Oquendo's market development. Not having had any previous experience in Asia, Rayón found that "South Korea has its own personality and is a very demanding market, very professional and precise." She admitted, "The programme allowed us to 'feel' the market, to meet very important buyers and distributors and to understand all aspects needed to start a business in a new country, like their culture, their way of working, their influences and the way South Koreans shop."
Korea is now leading the way for Oquendo's export strategy to Asia. Following their products' massive reception among Korean consumers and quick expansion through a local distributor, a more intrepid Oquendo is now looking at expanding to other Asian markets, particularly in South East Asia.
****
So, isn't it encouraging to read about these nice, successful cases of European SME's going abroad? Yes we know that making the decision to grow your business overseas and taking the leap isn't like deciding "black or white" but the European Union and its partners are working hard to ease the process and help European SME have a smoother internationalisation trip. Will you buy the ticket next year?
What we think
Catherine Frideres, Senior Manager, PwC Advisory Services – Public Sector

The best part of working for EU Gateway | Business Avenues is seeing that the difference we make goes beyond increasing a company's bottom line. Creating good matches between Asian and European businesses also seeds new ideas, new products, new solutions that contribute to society and help us to better understand and uphold our values.

I'm seeing this more and more particularly in the area of sustainability where, in the process of adapting environmentally-responsible products to a target market, more sustainable processes also end up being integrated into the local business practices. Just another gift that keeps on giving.
************
(*) EU Gateway | Business Avenues is a 5-year EU-funded programme to accelerate European SME exports from 9 industry sectors into 9 key Asian markets. The industries are: green energy, clean technologies, construction and building, environmental and water technologies, healthcare and medical, organic and food beverage, contemporary European design, information and communication technologies and railway technologies.
Within 3 years of operating EU Gateway, we've now contacted over 70,000 companies, coached over 3,400 SMEs, and assisted close to 1,700 companies in accessing China, Japan, South Korea, Singapore, Malaysia, Thailand, Indonesia, Philippines and Vietnam. We've arranged over 25,000 business meetings (and counting) between potential partners to facilitate long-term business collaborations.
To know more about the EU Gateway | Business Avenues Programme, please send an email to catherine.frideres@lu.pwc.com.