Luxembourg Management Companies (ManCos) are definitely not the new kids on the block, but the spotlight is now shining brightly on them. In fact, ManCos used to be just one element among others in the value chain of asset & wealth management. Today, they are at the forefront of the industry.
You may already be aware, there is no such thing as a spray can called "Instant Stardom", only talent can keep you at the top, as British actor Jim Dale once said. Or, in our particular case, the right mix of business decisions.
The thing with stardom is that it sets the bar high. To keep up with the expectations and remain in the leading role, ManCos need to take full advantage of two matters already on their radar: sustainable finance and technology. And because arguably almost everything in life, including business, is a dichotomy, both matters present opportunities and challenges. It all comes down to how ManCos will play the game.
This blog article examines Luxembourg ManCos' current situation based on the results of the 2021 edition of the Observatory for Management Companies, and gives an overview of where the industry stands, supported by recent trends and figures.
A confident picture of the Luxembourg ManCo industry
Despite the fact that the number of ManCo entities based in the Grand Duchy slightly decreased from 317 to 314 between December 2019 and December 2020, the results continue to look positive for both Super ManCos (that have both licences UCITS and Authorised AIFMs) and licensed AIFMs (Alternative Investment Fund Managers) ManCos.
While the number of Super ManCos has remained the same, there was a 12% increase in their Assets under Management (AuM), reaching almost 3,800bn euros. The biggest increase goes to authorised AIFMs though, which saw a staggering 84% upturn (232bn euros).
In total, the AuM of Luxembourg ManCos grew up to 4,323bn euros, an 11% increase compared to the previous year. Lastly, in 2020, the world of ManCos welcomed 12 new entrants in the market, 11 of which are authorised AIFMs. This already gives a hint as to the reason behind ManCos' success, but more on that later.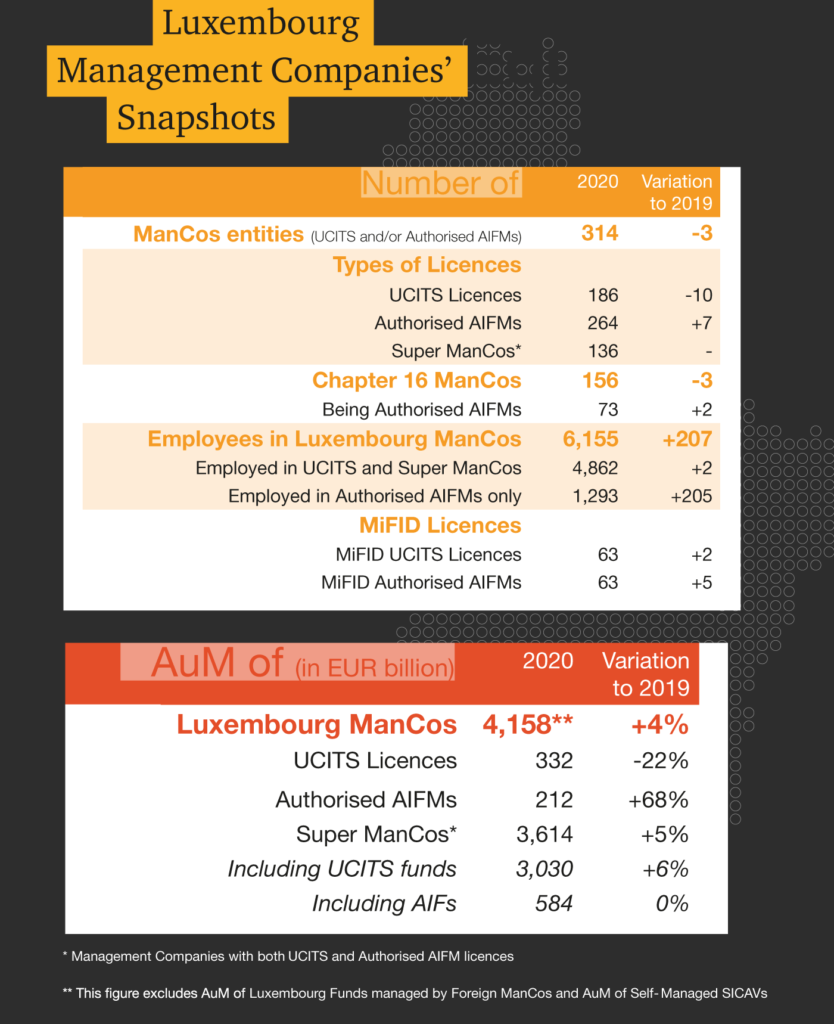 How did ManCos get here?
One of the key factors that explain the growth of the Luxembourg ManCos in recent years is the successful shift towards Alternatives, which led to attracting massive AuM in this segment. Why this shift? The answer is straightforward: a faster growing market compared to UCITS, greater choice of players than in past years, and broader service and products offering, providing tailored responses to investors' needs.
Moreover, recent Merger and Acquisitions (M&A) transactions of the past few months (see table below) underline the sector's attractiveness. This trend will likely continue contributing to the strengthening and consolidation of the industry. It will almost surely prompt the emergence of stronger players who can deploy stronger expertise, have the necessary means to respond to a challenging and resource-demanding regulatory environment, manage increasingly complex assets, and respond to clients' demands and needs.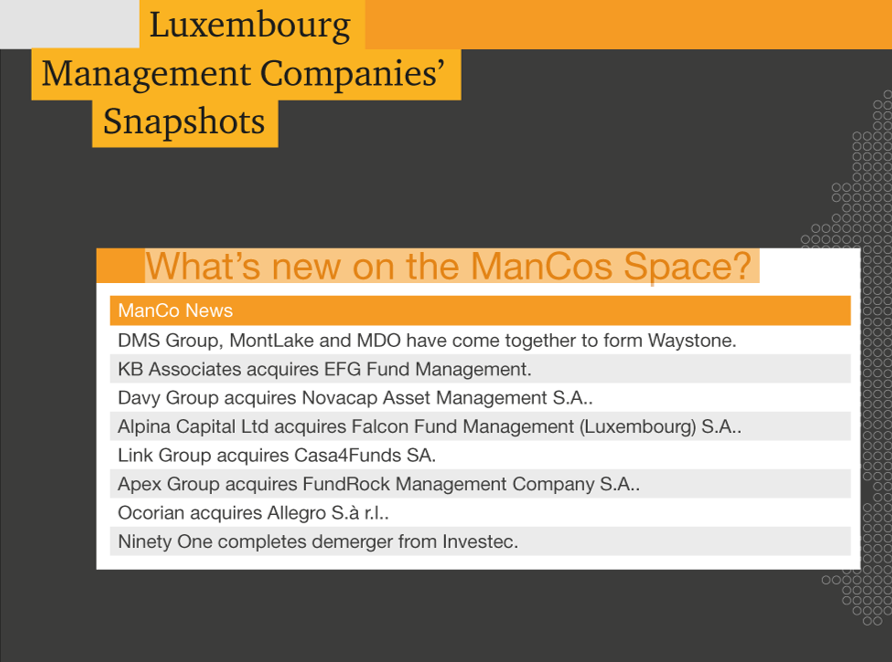 Seizing the Sustainable Finance momentum
Over the last few years, politicians, lawmakers, businesses and citizens have come to the realisation —some slower than others— that the current socio-economic model is unsustainable and that if we persist with our boundless ambitions, nature will strike back. In fact, as we well know, it's already doing so: the COVID-19 pandemic is an indisputable example and has increased pressure, particularly on businesses, to take environmental issues more seriously and to make changes within their organisation and how they do business and understand growth.
So, it's not surprising that sustainable finance and ESG (Environment, Social and Governance) matters gained more ground during 2020. They are clearly moving from niche to mainstream, their status gradually being updated from trend to necessity. This change in perception will further accelerate in the coming years due to the regulatory developments in Europe as well as a growing demand from investors towards sustainable investment. This demand comes from other fronts too. In recent PwC research, 80% of consumers and 84% of employees stated that they are more likely to buy from, or work for, a company that stands up for environmental matters and invests in making sustainable improvements. The other two variables – S and G – also got very high percentages.
When we asked ManCos about their positioning on Sustainable Finance back in 2019, their answers were rather modest: 15% said they were listening and learning, 45% were giving their first steps and 40% considered themselves as leading the way.
Coming back to 2020, ManCos are catching up with the trend and are slowly, but surely, becoming active players in the ESG wave. Proof of that, they got through the 10 March 2021 stage, which marked the application of the ESG Sustainable Finance Disclosure Regulation (EU) 2019/2088 (SFDR). Moreover, a stunning 84% of Management Companies said they are currently applying ESG criteria within their own organisations, and they consider that 17% of their AuM are SFDR compliant (80% for Article 8 and 20% for Article 9).
Looking ahead, they are confident that 36% of their AuM will be considered as 'Sustainable Investment compliant' within the next 12 months, and 50% within the next 24 months.
However, no new opportunity comes without its challenges. ManCos need to undergo both strategic and operational changes to stay ahead of the curve, including:
Being credible and consistent in the ESG approach (that's when

taxonomy

comes into play)

Moving to the next level of ESG integration at a product level

Tackling the

ESG data challenge

Developing a strong

ESG Risk Management framework

Reporting to investors
Now the question is less about why to integrate non-financial factors and more about how to integrate and make sense of them. That's where technology can be ManCos' best ally and they are aware of that fact.
There is a "technology momentum" as well
ManCo leaders consider digital tools as a means of processing and managing their data, of optimising their client relationship management, while also allowing them to supervise their activities from a centralised dashboard. That is reflected in the amount of budget allocated to their business transformation journeys and/or technology, with 28% of ManCos assigning between 100 and 500 thousand euros.
On the other hand, leaders of Management Companies are also somewhat concerned about the digital and technological revolution, process optimisation being particularly challenging for them.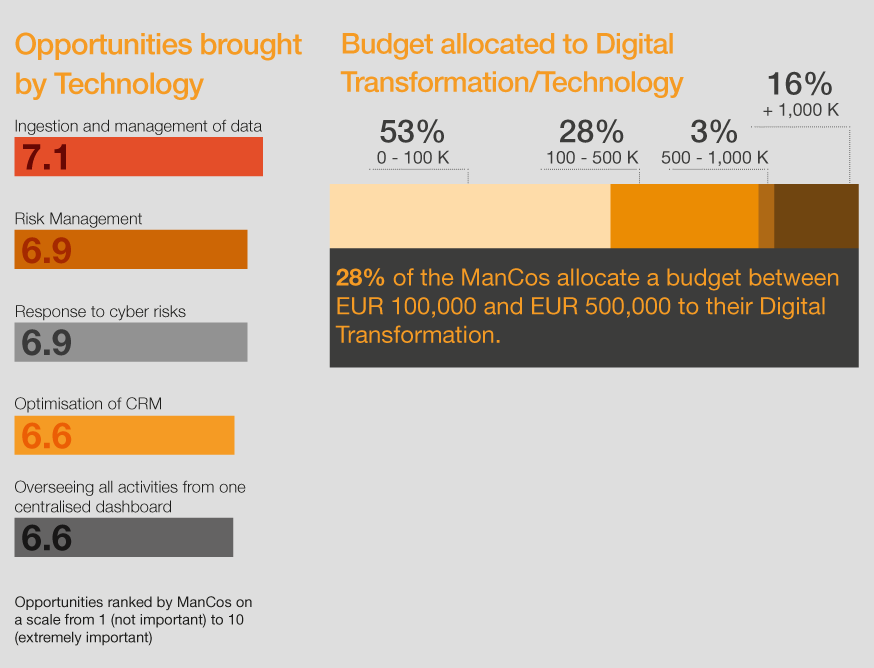 Not everything is a bed of roses
The number of employees in Luxembourg ManCos increased by 224 (from 5,948 in 2019 to 6,172 employees in 2020). This increase, however, doesn't yet translate to a more gender balanced work environment. As the table below shows, the gap between female and male employees is 10%. The disproportion is even starker as we climb the hierarchy ladder, with percentages for conducting officers and board members far from being considered in equilibrium.
On a more positive note, if we compare these figures to those of 2019, we can see that there's a slight improvement, but ManCos still have a long way to go to reach gender equality.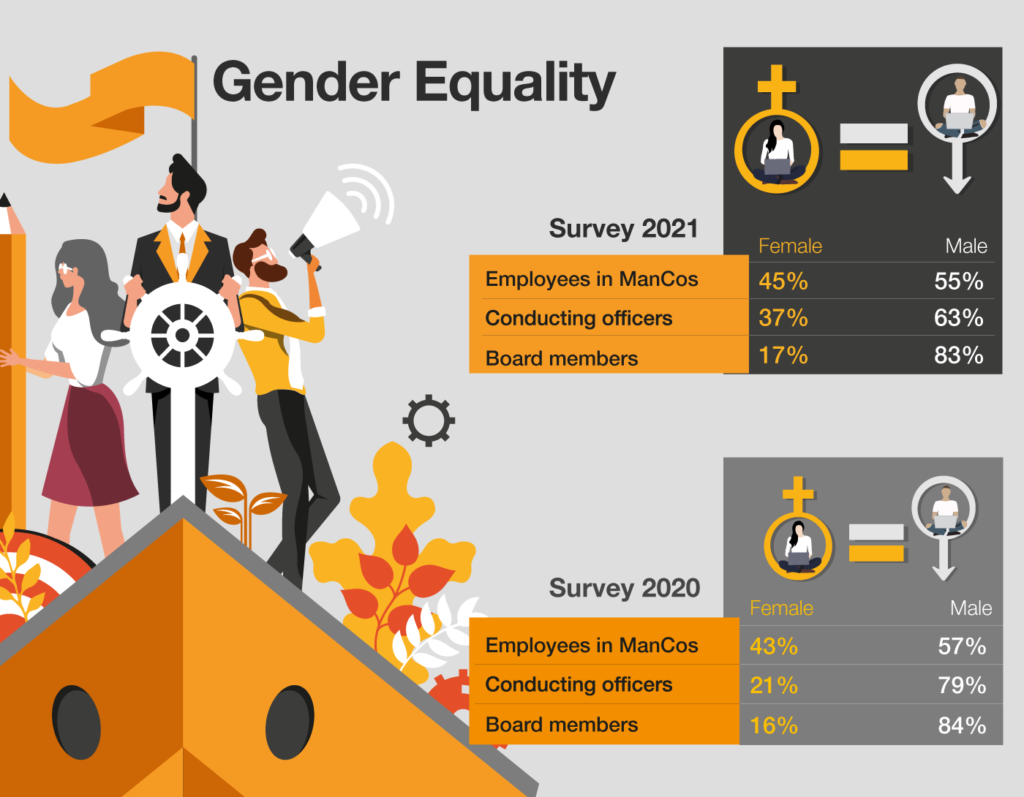 A little note on COVID-19
This article would not be complete without touching on the challenges the COVID-19 pandemic brought to the fore. According to the Observatory for Management Companies, the main hurdles ManCos faced during this period were firstly, the management of human resources, and secondly, the management of client relationships. As in many organisations, the pandemic forced them to accelerate their digital transformation journey and assess, on a real-time basis, their business continuity plan.
What's on the ManCos' horizon?
Although it might seem like ManCos have mixed feelings towards technology, when looking ahead, they view digitalisation and automation as opportunities for the fund industry.
On the other hand, rationalisation of ManCos structures across Europe is right behind. Contrarily, the biggest concerns lie mostly within the delocalisation of activities to low-cost countries and regulation and supervision matters.
When it comes to trends, unsurprisingly, ManCos believe ESG/Sustainable Finance will have the most impact in the Luxembourg fund industry, followed by alternative investments and digital/technology development.
The future looks bright for ManCos. They themselves see it with a positive lens, but there's also a shade of caution. Whether they will hold their starlet position in the Asset & Wealth Management sector will largely depend on how fast and well they will fully consolidate the sustainability and technological expectations of the current times into their business as well as respond to their investors' needs.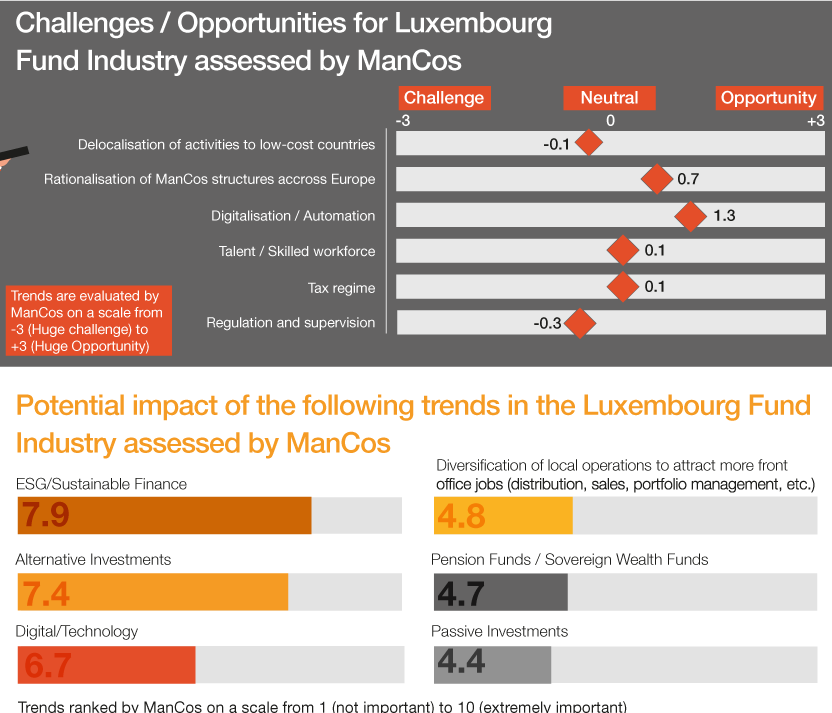 What we think
Bertrand Jaboulay, Audit Partner at PwC Luxembourg

The existing margin pressure on cost, the need to always improve the quality of the services provided to their clients and the consequences of the pandemic pushed management companies to accelerate their digital transformation and to put on the top of their agenda technology and data management. Our survey has also confirmed that Management Companies identify as opportunities the continuous growth of demand on alternative products and ESG compliant products from their clients and investors of the funds.
Want to know more about the Observatory for Management Companies? Click here!