"People ignore design that ignores people," stated Frank Chimero, Brooklyn-based brand and product designer, some time ago. 
Design is and has been an integral part of any successful business for centuries. However, only recently, businesses across the globe have acknowledged more noticeably the value that design adds to any outcome they are pursuing. Ultimately, in every single industry, financial services included, people decide whether to purchase or invest in something commonly assessing value. 
The words 'design' and 'design thinking' have joined the list of the 'buzzwords' of the decade, being thrown around in summits, workshops, conferences and even in the office's small break room. It's to reckon, though, that not everyone using these terms fully understands what they stand for. 
This article is introductory, a sort of 101 content piece to revisit and discern what design and design thinking are; this, in turn, gives us room to introduce business design and how important it is for the future of the consulting business.  
Yes, design is a key, staple factor in the value equation. 
Thus, what is design?
Let's debunk a common belief first. 
Design is not about making 'things pretty' or creating aesthetically pleasing forms and products, although often, well-designed products or services are delightful. In truth, form follows function and, therefore, aesthetics and design semantics need to be functional.
Design, put simply, is the process of envisioning and creating new solutions—objects, methods, systems, business models—to solve real problems faced by real people and, possibly, bring  innovation with them, should they turn into a commercial success. 
But let's go a little deeper. We can dissect "design" to familiarise ourselves with its components.
The empathetic component works to understand problems and the associated users' emotions, to be able to bring a solution that is relevant. 
It also includes a technical component that makes sure that the solution being designed is feasible.
Finally, it has a business component that makes sure that the solution is economically viable. 
We could say, in summary, that's a problem-solving thought process. And it's precisely under this realisation that design thinking came around. 
Design thinking: what it is and what it isn't
Design thinking is neither a workshop nor a bunch of markers and sticky notes on the wall. These are merely co-creation gatherings, useful to ideate or conceptualise. 
As defined by Tim Brown "Design thinking is a human-centered approach to innovation that draws from the designer's toolkit to integrate the needs of people, the possibilities of technology, and the requirements for business success." 
Since early upstream in the development process, design should accompany product or service creation, involving the user. That's the foundation approach that designers have adopted to solve problems accurately and innovatively, or as Sherif Labib, who was actually key to writing this blog entry, likes to say,"It is a structured way to break out the structure and bring in innovation."
Rather than being a set of steps you follow, design thinking is a mentality one adopts. 
Each problem is to be treated uniquely and approached accordingly. With the right mentality, we will know what to prioritise in the process and for whom, based on a rooted understanding of the problem and who it's being solved for. 
Why is design an integral part of a successful business?
We are currently living in a state of feverish abundance of services and products. In most life spheres, the variety of options to satisfy our needs is almost as countless as the number of end users, and, on top of that, we have the power of choice. 
This highly competitive market has tipped the scale. It's the user and not the producer who has the decision power. This is why, as businesses, we no longer can rely solely on the 'market push' approach that has been widely used in the previous decades. 
Design and design thinking come in just at this point. By default, design is a conversation and not a monologue. That little sentence is priceless in today's user-driven world. 
By" listening before speaking", the resulting products or services are empathetic and resonate better with the end user, winning the choice and purchase decision battle. 
As Steve Jobs said in 1997, "If you want to sell 10 billion dollars worth of product a year […] you've got to start with the customer experience and work backwards for the technology. You can't start with the technology and try to figure out where you are going to try to sell it."
At this point you may have come to the conclusion that the line between business and design is thin. The truth is design is business and business is design. 
Understanding business design
By now, you are likely more familiar with the design and design thinking concepts and what they entail.  
Now is the right time to discuss the main subject of this article, business design. Let's start by introducing it as a role and as a practice. 
Business design is a new role that, chronologically speaking, is still a child. In fact, It was first used in the context of the consulting business at the end of the last decade. Today, though, the areas where it's used are vastly different, ranging from public sector, education and entertainment to banking, technology and automotive. And the list is far longer. 
A business designer is one that merges both design approach and mindset with business tools and methodologies to solve organisations' challenges. In this regard, Tsukasa Tanimoto stated that "Business design applies the design approach to business problems with the purpose of bringing innovation to life." 
In the context of the consulting practice, the main functions of a business designer are:
To frame, direct and/or inform the design process through a business lens to ensure design solves problems effectively.
To translate design solutions into value and impact through a language that business stakeholders are familiar with to prove design provides solutions to business problems.
To apply human-centered methodologies to strengthen business and financial components of design work to create services and products that are viable.
Business designer, team player or subjugator?
Before going forward, let's bear in mind that business design as a practice has no intention to outdo or compete with advisors, management consultants or service providers in general, regardless of the industry in which they operate. 
It has, on the contrary, arrived to complement, and help firms stay competitive and capture new market value. But we will get to that point later taking the future of the consulting business as an illustrative example. 
As for now, let's pit the business designer and the management consultant roles against each other: 

Management consultants and business designers face to face
What follows likely clarifies better the role and conceptions that frame the work of business designers and business consultants. 
Human-centred approach vs Function-centred approach. While management consultants focus on business efficiency and optimisation, business designers argue that all business activities are ultimately social in nature and social innovation will always be human-centric.
Driven by user needs vs Driven by market trends. While management consultants focus on bringing new technologies to optimise existing solutions, business designers work closely with end users to come up with innovative solutions that are human-needs based.
Leaning towards action vs Engaging with stakeholder management. Management consultants focus on maintaining good relationships with the people who have the most impact on the work. Business designers, in turn, find it essential to transform ideas into tangible prototypes and test in real environments, trying  to avoid, as much as possible, any miscommunication.
Embraces ambiguity vs Worried about uncertainty. Management consultants focus on averting risk while business designers take it as an opportunity to experiment at these limits, to bring out-of-the-box innovation.
Business design, important for the future of any organisation
With the whole buzz around design and design thinking in recent years also came a certain maturity in understanding the value of business design. For instance, we increasingly recognise that business success is not exactly a matter of errorless efficiency and (obsessive) optimisation, but of innovation.
We've come around to the idea that business success is no longer about making existing solutions more efficient; it's about bringing new creations and "unleashing human brilliance" as Phil Lewis mentions in this Forbes' article.
You could argue that businesses do exist and make revenue and eventually a profit from the current form of operations, but will they remain relevant and sustainable on a longer term without a human-centered approach?
The answer seems obvious. For instance, most consulting and professional services businesses, regardless of their size, are catching up to and working on embedding the creative industry's competencies. This explains their creative industry acquisition spree over the past years. But the endeavor isn't a minor one.
We need to know that our future is not only about optimising our clients' operations to make sure their revenues and profits are intact in the short term.
We need to help them innovate their models, processes, product lines, etc, to keep them relevant not only 10 years from now but 40 and 100 years ahead of time.
This way we won't only keep our clients strong and sustainable, but we will also be able to capture a new market, one whose name is 'the future'.
How can we integrate the practices and leverage on this practice for the firm's benefit? That's a topic we'll develop in upcoming articles on the matter.
What we think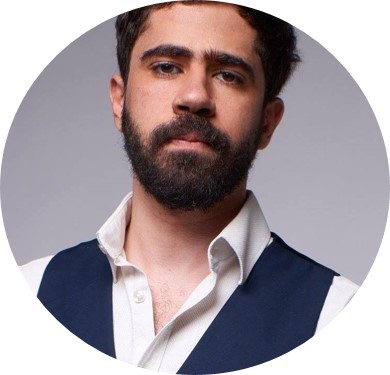 "…business success is not just a matter of errorless efficiency and (obsessive) optimisation, but of finding innovative ways to resonate with and solve human problems…this is where business design adds value."