Although product and service innovation is, more often than not, driven by unhappy customers whose demands for seamless, delightful and outcome-driven experiences are not being met, it's up to smart, visionary businesses to seize the opportunity and, nimbly, cover those needs.
In the pandemic (and post-pandemic) world the need for business to remain relevant has accentuated. The pace of change hasn't, by any means, slowed down. Proactive businesses that are more successfully navigating the pandemic and its aftermath have looked to scale out their commerce and digital sales capability —engage customers via self-help platforms, bots, automation and portals— increase their reach and be more targeted and personal. Results are positive so far. Cost savings, revenue growth, product innovation, brand enhancement and improved decision-making are benefits they are enjoying.
There is a common characteristic among these businesses. They are well advanced in their digital and customer transformation journeys and their foundation for investing in transformation has been the desire to reconfigure the organisation and return to growth. However, it has to be said that this commitment started before the pandemic and will continue beyond it.
Let's explore more in detail what businesses that are winning in the "next normal" are doing to not only remain relevant but to stand out and move forward with a firm footing.
COVID-19 hasn't been the only trigger to transform
According to recent PwC research, some European companies were already well-advanced on their digital transformation journeys by the time COVID-19 unset the world that we knew. In other cases, the pandemic provided organisations a timely boost to accelerate much-needed transformation efforts, or simply pushed them to keep up with the rest of their industry.
In all, seven in 10 respondents have either already implemented transformation or are currently going through a transformation, with a success rate of around 30%. Let's make this very clear, though: when pursuing transformation, all that glitters is not gold. While successful transformations improve company performance, some businesses struggle to sustain those improvements for multiple reasons.
Right now, the main obstacle cited by most respondents (37%) is the COVID-19 pandemic itself, which has put unprecedented strain on operations and resources. However, issues around technology, infrastructure, cost, business culture and cybersecurity are the most commonly cited among research participants.
What makes some businesses rise above the rest in the "next normal"?
Businesses thriving in these unique, even rare, times have defined a strategic roadmap for transformation. Open to change, they have understood that strategy and leadership are key to sustain that transformation, and recruitment, development of key talent and agility are key elements to enable it.
And all that is supported by the adoption and deployment of digital technology, for instance, adding or changing the CRM tool. As a result, they have been able to place the customer at the centre of their transformation, enabling a digital or virtual experience through technology.
Some technologies commonly mentioned by the research participants are artificial intelligence (AI), the Internet of Things (IoT), and advanced neural machine-learning techniques.
Front and back office, two sides of the same coin
One of the most critical elements in any successful transformation is the ability to connect the front office—the services and interactions that the customer sees—and the back office or everything that happens behind the scenes. Being truly customer centric requires these two functions to be well connected.
Marketing, product and service offering and customer relationship management (CRM) are the primary focus when it comes to front office transformation. On the other hand, transforming back-office functions includes financial systems, operations and supply chain. In the case of PwC's Research respondents, they mentioned CRM transformation and supply chain being among their top priorities.
What businesses transforming successfully are doing right
Breaking down the silos
Apart from implementing key technology and digitising for growth, winning businesses in the pandemic era have broken down the silos. They are investing in the capability to connect the key parts of the organisation from sales and marketing. As a result, they are more capable of delivering the services their customers want.
After all, great operations support great experiences, an approach that is complemented by the continuous interactions between stakeholders and customers.
Customer experience (CX) is at the core of digital transformation
Also, businesses that are transforming successfully during the pandemic are relentlessly focused on CX because the customer experience and needs have shifted so dramatically: more virtual, more channels, and different needs. They are far more likely to continuously refresh their CX based on customer insights, and have a clear understanding of the customer journey from the customer's perspective.
On the client side, businesses advocate the ease of use and faster processes to encourage customers to adopt new technologies.
It's important to point out that CX has been a key pillar of any transformation, especially digital, even before COVID-19 came along. Good customer experience does not happen by chance, it happens by design and is the result of consistent enablement and demonstration of a small set of critical behaviors by employees and leaders in all daily interactions.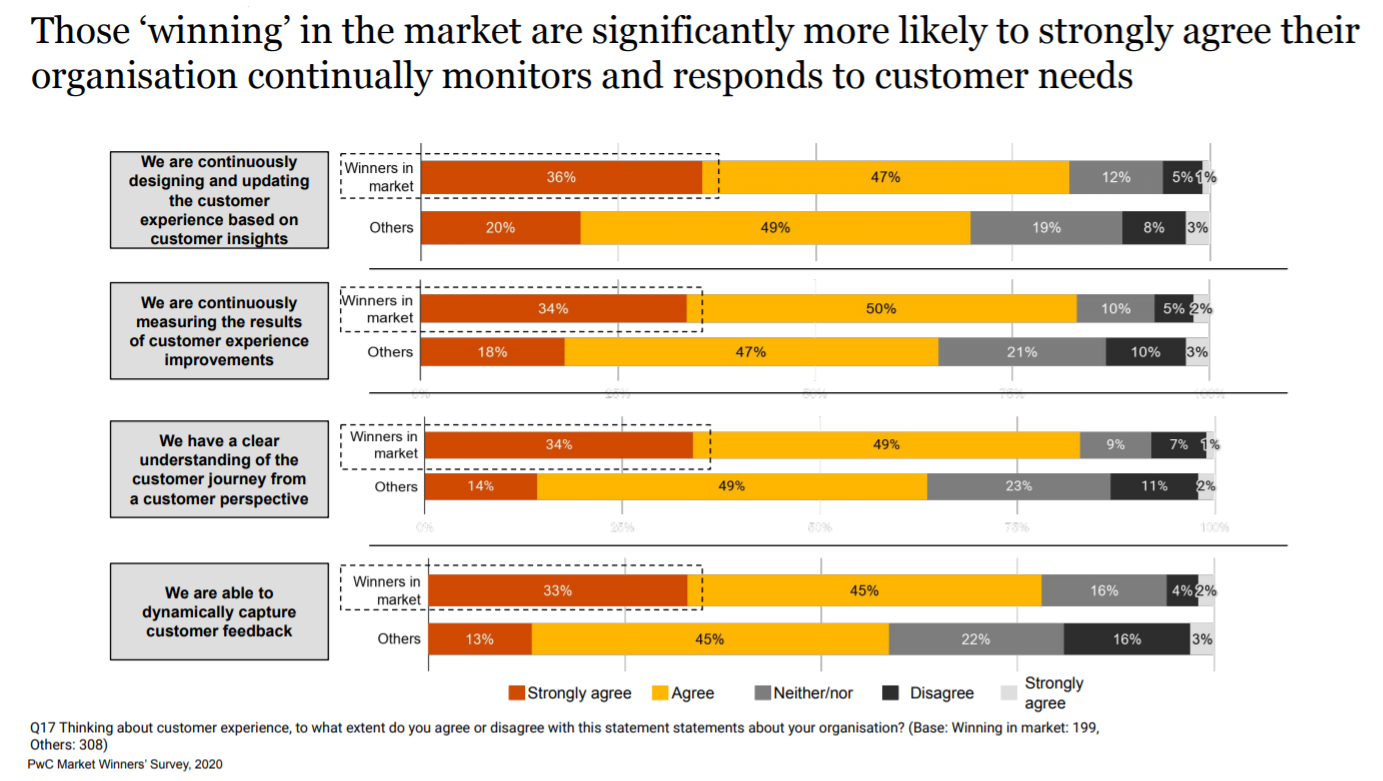 Trust is a key market differentiator
Trust is a business imperative, especially in disruptive times.  Reputation of products, services and the brand in itself is a key market differentiator. Customers expect businesses to deliver on their promises and keep their best interests in mind.
A strong emerging theme we're seeing, also observed in the research, is that customers increasingly want to do business with purpose-led organisations. This means they need to know what your business stands for and how it makes an impact on society. 
During the COVID-19 pandemic, proactive businesses have been pivoting their product and service offering to drive future growth. The others have been focusing on creating efficiencies and savings within the next year.
  The support of the top leadership is crucial 
PwC research shows that the top internal enablers for successful transformation include a well-defined strategy (49%), supportive leadership (48%) and an innovative culture of continuous learning (46%). 
Strong leadership supports the cultural changes required to innovate and deliver new solutions. It's important enough to consume leaders' time, and leaders must both inspire the workforce and create an environment where their staff both accept the rationale for the program and then commit to change.
  Technology is the vehicle of a successful transformation 
We cannot be more emphatic when prizing technology as key to supporting any business transformation aspirations and to differentiating the customer experience. The ability to implement technology well and quickly is an imperative in today's disruptive and volatile business environment.
Companies that are "winning" in the market have already deployed technology as part of their transformation with 52% using big data, and 44% rolling out some form of Internet of Things. And the months to come, AI and 5G will be a priority as companies look to interact more strongly with customers, gather more data and feedback, and increase brand awareness.
Technology allows businesses to differentiate themselves in the market. It provides the ability to scale, create insight, and enable better customer outcomes and experience that organisations require to improve the bottom line.
For instance, combining the promise of technologies such as 5G, IoT and Artificial Intelligence (AI) might just introduce a wave of new products and services as organisations aim to capture their clients'' interest. They'll be able to provide more engaging experiences, giving them more of what they want, when they want it.
Why is transforming crucial for business?
In a time of a global health crisis, the case for transformation has never been clearer.
Business betting on transformation strongly enabled by digital technology expect to realise results in the next two years. These include cost savings, revenue growth, product innovation, brand enhancement, improved decision making and operational efficiency. These factors all contribute to both top and bottom line growth. The benefits of transformation overpass costs.
While the research shows the priority for Business to Consumer (B2C) companies is adapting to changing consumer and market conditions, Business to Business (B2B) organisations are structuring for scale and growth.
To successfully transform a business, get to know your customer
Whatever the initial motivation for transformation is, there is no doubt about the single biggest factor that determines whether a transformation journey is successful or not.
PwC's research puts a clear understanding of customer needs (49%) as the top external factor to achieving successful transformation, followed by responding to changing customer needs and behaviours (39%). In the case of organisations in financial services, 30% ranked understanding customer needs as the number one most important factor to enable them to successfully implement a transformation programme.
In summary, there are four common steps, prioritised by winners, to ensure a successful transformation journey:
Continuously update CX based on customer insights.

Continuously measure the results of their CX.

Have a clear understanding of the customer journey.

Dynamically capture real-time customer feedback.
As a result, they're able to differentiate themselves in the marketplace and drive loyalty based on better customer experience and a clear bet on sustainability and brand purpose.
Knowing your customer and responding to their evolving needs is
considered critical to inform successful transformation.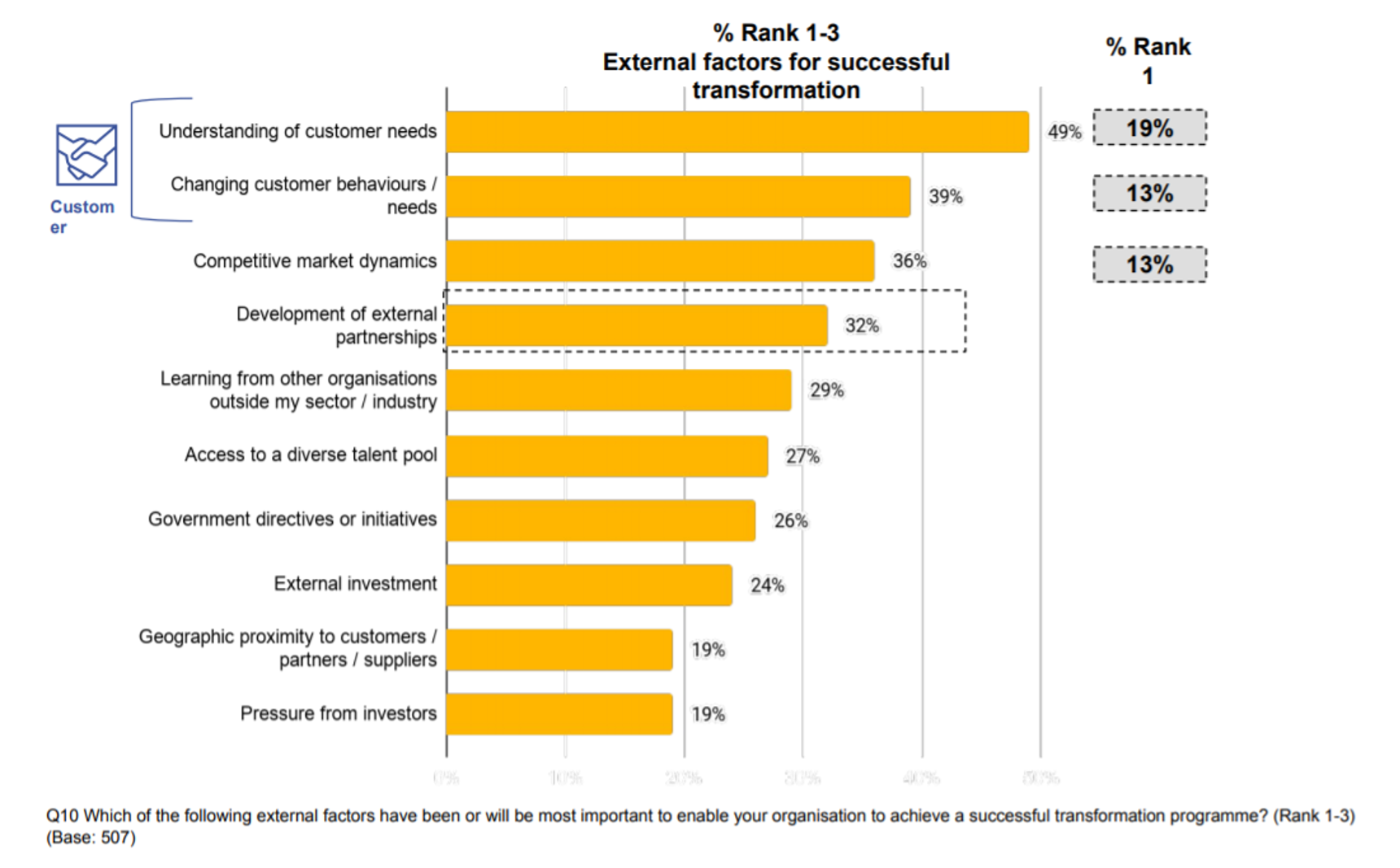 Final thoughts
A successful transformation programme needs a change story: one that unpacks what that change (or changes) means for all stakeholders. It has to show people the big picture and prioritise what matters most in a people-centric way. Involvement and sense of belonging are key to success.
A seamless and unique customer experience is what leads to disruptive innovation, but disruption in itself isn't the ultimate goal. Creating unforgettable experiences through products and services is.   
What we think
Edouard Nollet, Senior Manager at the PwC Luxembourg Experience Center

If COVID-19 pandemic hasn't been the only trigger for company transformation, it has significantly accelerated the presence of digital and highlighted some winning strategies:

Technology is a key vehicle for transformation but it will only benefit for companies whose leadership supports a culture of innovation,

2. Digital tools help to break the silos: connecting front and back offices is definitely a big gain in customer understanding, efficiency and long-term growth,

3. Every success story starts with a customer need. In COVID-19 times, success is the bottomline of how companies have understood the new customer needs and have been able to propose desirable solutions while maintaining trust.